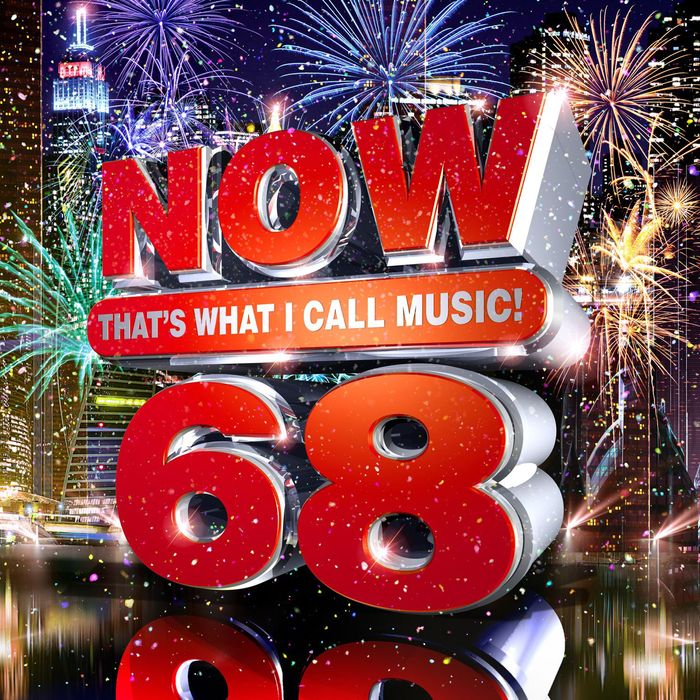 Can you spot the Christmas tree obscured by the fireworks?
Photo: Now That Music
Before streaming services let people listen to any song, before iTunes "cracked open" the album, allowing consumers to purchase an individual track, and just as WinAmp was allowing users to create a playlist of their MP3s, there was Now That's What I Call Music. NOW essentially created the first take-home "playlist," a group of songs taken from the tops of radio charts that wouldn't be laden with commercials. The original edition went platinum just a couple of months after release.
More than 500 featured artists, 1,000 curated songs, and 101 million records sold later, Now celebrated its 20th anniversary with its 68th (!) edition, along with a two-disc compilation of some of the biggest hits of the series' first two decades. But today, if everyone can make their own playlists on the streaming services of their choice, where does NOW fit in?
Vulture caught up with the brand's A&R head Jeff Moskow, who has been with NOW since 2000, and chief operating officer Jerry Cohen, who has played various roles with the series since it's U.S. beginnings, to talk curation and the future of a brand once inexorably tied to compact discs.
The U.K. series had been running for 15 years before Now came to America. Was the staff nervous about bringing it to the U.S., or was it seen as a sure thing?
Jerry Cohen: Totally nervous. I think it was somewhat maverick, to be honest with you. There were a number of executives that felt that it would be a success here, as it has been obviously for quite a number of years in the U.K. But then there was genuinely some concern that it wasn't the right market for it. First of all, physical retail didn't really have the sections for multi-artists compilation-type releases. Second of all, the labels didn't really work together in as friendly a fashion. There were lots of labels back then and they were somewhat antagonistic, not just competitive with each other. The relationships weren't there, so it really was going out on a limb to try and put something like that together.
How do the songs for a Now compilation get selected? Has it changed over the 20 years?
Jeff Moskow: Initially, it was very straightforward. It was, "What are the biggest radio hits?" If the song is big on the radio, that's the type of song we want on Now. And radio is still a very big piece. You want the songs that are embedded into popular culture. You want that songs that people have heard. But these days, with the advent of streaming, you can have a song that is a very, very big cultural song, but isn't a very big radio song. There's lots of songs that don't get a lot of radio play, that still get, literally, hundreds of thousands, if not billions, of streams.
So, our job is to look at it and say, "What are the biggest cultural songs of the previous couple of months? How do we reflect back to the consumer what the biggest songs are in music, popular music in this period of time?" And that means we go to lots of different places to look for that. The perfect Now record is a blend of a couple of songs that are a little bit older but are really big radio songs, married with songs that are really popular right now, and then a couple of songs that we're kind of betting on. Songs that aren't necessarily massive right now, but songs that we think will be big when the record drops.
Is that where the "What's Next?" section comes into play?
Moskow: On [Now] 67, we put on Ella Mai's "Boo'd Up." We put on 5 Seconds of Summer's "Youngblood." Those two songs, specifically, were not as big when we put them on as they were when the record came out. … The perfect record is a blend of all those types of songs. Big radio songs, big streaming song, and big cultural songs, which usually relates to being a big streaming song.
Britney Spears has been featured on the compilation 19 times, and Taylor Swift has been on 18. Meanwhile, Kanye West and Jay-Z have each placed only three songs on Now [each emcee has appeared as a guest on another artist's song]. What place does hip-hop have in Now's vision of pop music?
Moskow: In the early days, when you had the first wave in the 2000s of crossover hip-hop, artists like Petey Pablo and Juvenile, we had to decide if we thought that stuff is pop music just like Backstreet Boys is, just like 'N Sync is, and of course the answer is yes. So we made a very diligent effort to evolve our brand and to make sure that all music that was popular was represented. We're not going to exclude country or exclude hip-hop because we don't think it represents pop music. It's all pop music. … If a hip-hop song has a cultural moment, we want it.
There are certain songs that … one example was the Childish Gambino song "This Is America." We very much wanted it on the compilation, but frankly we had a conversation and an executive said to us, "Look, here's the issue … maybe this isn't necessarily the type of song that is best for a pop compilation … it is a heavy song with a heavy video. Maybe it isn't the right fit." And we were like, "You're right. That's a great point." It's not our decision, it's their decision, but we just backed off because we respect that.
But generally, if it's a big song we want it, we don't care. One of the first rules I made when A&R'ing this project is this is not for me — we're creating, painting this picture, taking this music, and we're presenting it back to the fans of the Now brand. I don't have to like every song on it. Generally, I do, but I don't have to. Consumers already voted for that.
Who is Now aimed at today?
Cohen: It's certainly shifted, I think, just to go back to where you may have started out [with the series], it was a lot of heavy advertising to tweens and teens. That still happens. We still have a lot of tweens again and some teens, kids that experience music from their parents. What we also have is those parents. You know, all those people who bought that first album 20 years ago are now in their 30s or even 40s and they have kids. We haven't lost that audience. It's become somewhat more of a stretch demo. It really goes anywhere up to late 40s in that respect. So, broader is how I would describe it.
Moskow: Part of the issue is that, if you research the average age of an American car on the road you're going see that it's going come up about 11-and-a-half years. And that means that all of those cars have CD players.
Now, is that to say all of them don't have an interface with streaming? No, of course, a lot of them do. Is that to say that new cars all have CD players? No, that's not true at all, a lot of new cars don't have CD players. But a big quantity of those cars still do and those consumers both want CDs to be able to put into that in dash player and they want to have something clean that they could play for their family on a road trip. They buy a Now CD because they know it's going be current hits and it's going to please everyone, they throw it in the dash, the end, it's simple.
Is that for everyone? No, but it is still for a very significant chunk of people who grew up with this brand. This brand has been around in the U.S. for 20 years. They've literally gone from being teens and tweens to being young adults. This is an experience of theirs. They started as a kid and now they have their own families.
How do you future-proof a brand whose existence in its early days was completely tied to a physical format?
Moskow: I think there is a brand essence. When you listen to a Now compilation it's not a bunch of songs thrown together. It's got a very specific, deliberate feel. We spend days in the studio, thinking about the order we're going to put these songs in, the space between those songs and how to make it feel right. If we all the sudden starting randomly putting our songs together it wouldn't have the same feel, it wouldn't have the same flow.
And how do we deal with that going forward is we've evolved that sense of curation into obviously curating for the DSPs, Digital Service Providers. So we have curator profiles on Apple Music, we have a curator profile on Spotify. Especially in the case of Apple, they're very supportive, and we've had a bunch of playlists that have been featured by them very aggressively and those playlists have done very well. That same sense of curation that we bring to the albums, we're bringing to the playlists that we curate on these platforms as well.
Cohen: If there is future-proofing, if there is a life without CDs, then yes, I think we are prepared for that with the playlist strategy we have. There's so many playlisters. It's a very competitive field. The history of the Now brand, the investment of marketing all these years, the awareness of the brand, I think it lends itself to something that has a future outside of just CDs. Right now, we can live the best of both worlds, and work with either one.
Two different discussions were combined and condensed to create this interview.