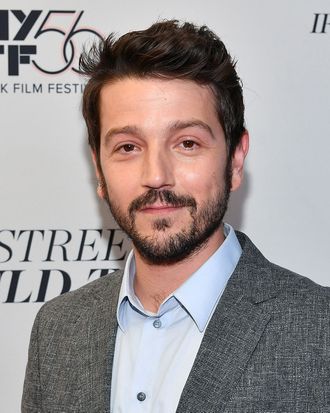 Diego Luna at the New York Film Festival premiere of
If Beale Street Could Talk.
Photo: Dia Dipasupil/Getty Images
Diego Luna appears briefly in If Beale Street Could Talk, playing a charming waiter at a downtown restaurant. At the movie's New York Film Festival premiere, Luna told Vulture about his surprising motivation: Barry Jenkins himself. "It's a tiny role, but it's so important, and it brings so much warmth to the story," Luna said. "When I was chatting to Barry — and this is not anything I told him — but when I was chatting to him, he was describing to me the role and what [the character] was supposed to bring to this love story. I was like, He's describing himself. He's telling me it's me, but no — I'm serving as a mirror, because he's actually talking about himself."
Luna's character appears in two scenes, offering young lovers Fonny (Stephan James) and Tish (KiKi Layne) a free meal after Fonny is cornered by a racist cop. "I felt that warmth, I felt that love when I sat in front of him," Luna said of Jenkins. "I felt that understanding, and I decided that I'm going to play him. Without telling him, obviously!" Luna said maybe he'd tell Jenkins after the night's premiere. "I am going to see the film for the first time, and I want to make sure that came out well!" he laughed. "Otherwise, I'll lie and say something else."
When Vulture caught up with Jenkins later in the night and told him about Luna's secret inspiration, he seemed tickled. "Ha! He did not tell me that but now," Jenkins began, "I can see it. I can totally see it." Swoon.