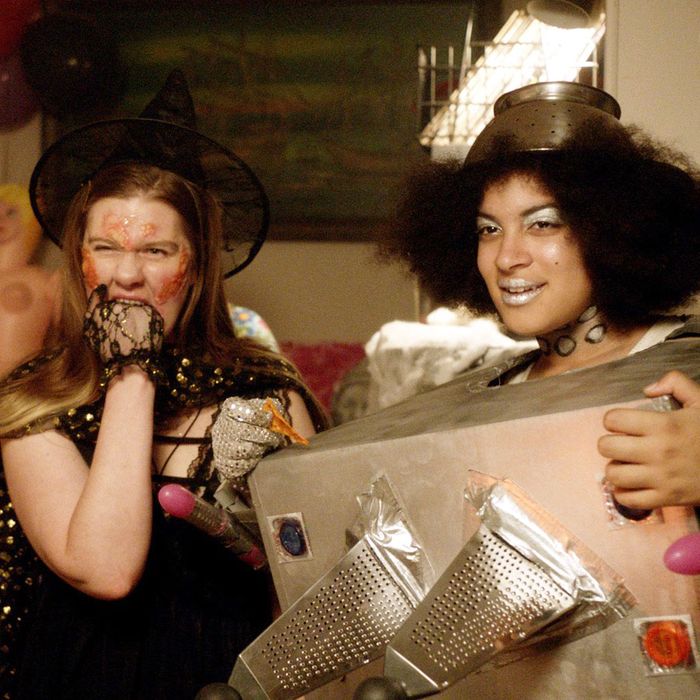 You might discover the next wave of great independent filmmakers at a marquee film festival. Or you might discover them at a Kansas City porn theater, where papier-mâché–eyeball-wearing go-go dancers abound, roller-derby teammates skate, and a punk band performs.
The latter destination, the Strand Theater for an appearance created in partnership with Kansas City film collective the Canonball Roarers, was one of Dan Schoenbrun's recent stops in an October tour across America on behalf of The Eyeslicer, an underground mixtape-style variety show that Schoenbrun created last year alongside the filmmaker-producer Vanessa McDonnell. The show, named after a Pixies song and Luis Buñuel's Un Chien Andalou, brings together the vanguard of short film and the weirdest corners of the internet. The first season, which had ten episodes ranging from 42 minutes to an hour, featured works by the likes of Ari Aster (pre-Hereditary), Augustine Frizzell (the seed of Never Goin' Back), and the Zellner brothers (pre-Damsel), as well as this and this. You can stream the show on The Eyeslicer's website, but you need a secret password that you get by attending an episode screening or knowing someone in the know.
Schoenbrun, who wears square glasses, has dark, frizzy hair and a voice that could easily be mistaken for Michael Cera's, was touring on behalf of the show's new Halloween special. The episode begins with a violent short in which Carrie Coon plays a woman stuck in a looping Red Lobster commercial — and it gets stranger from there. Schoenbrun and McDonnell curate each episode so that the different shorts are in conversation with one other. Throughout the Halloween episode, there are two recurring motifs: the horror of liminal spaces and the terror of being a woman in a patriarchal society. The majority of the episode is directed by female filmmakers, and though the shorts are in turn spooky, funny, and altogether trippy, the episode is also more thought-provoking than your run-of-the-mill slasher flick.
"The Eyeslicer really captures the feeling that you get at film festivals when you see a really great shorts block," says Ghost Story director David Lowery. "It doesn't always happen, but when you see a really great one, you come out a little breathless, feeling like you've been taken on a ride not just by the individual filmmakers but by the programmers, who have stitched a cohesive whole together from an assortment of disparate works. It's artistic expression masquerading as curation."
Between the tour for season one and the Halloween tour, Schoenbrun has spent much of the past couple years driving around America. (McDonnell wasn't able to participate in this interview because she was touring Europe with Aaron Schimberg's Chained for Life, a feature she and Schoenbrun produced last year.) In that time, The Eyeslicer has held about 70 shows in venues both big (Tribeca Film Festival) and small (DIY artist spaces). And though not all of those screenings have featured go-go dancers and punk bands, the screenings are usually more of an experience than a typical trip to the movie theater. There's usually a party before or after a screening that is like a salon for cinephiles, and Schoenbrun and McDonnell set up a merch table with a zine they've created and VHS copies of the show's Halloween episode.
"Their presentations are continuously evolving so the audiences' expectations are always subverted," said Nighthawk Theater's Director of Programming Caryn Coleman, who booked Eyeslicer's Halloween special for October 25 and 26. "They've done smell-a-vision here, they've screened Halloween horror films, they've dressed up."
The shoe-leather, IRL promotion Schoenbrun and McDonnell have undertaken is a bit ironic in the context of the show. With the show's computer animated interludes, its referential aesthetic, and surrealist sense of humor, The Eyeslicer is very visibly a product of the internet. But in a landscape saturated with content, building a following exclusively online felt futile. "As we got closer to releasing [the first season of the show on our website], we had this realization that if you just sort of dump it online, it's like a tree falling in the woods a lot of the time," Schoenbrun explained over the phone from a "nice patch of dirt" in Oklahoma. "We've released things in the past and got lots of views or whatever. But it's just like, what are you getting?"
Instead of clicks, likes, or a streaming deal, Schoenbrun and McDonnell wanted to build a "sustainable cult following" that, in Schoenbrun's words, would "then allow us to make work in a wider arena without having to play by usual rules." In other words, he and McDonnell didn't want the experimental show to be beholden to algorithms or watered down by studio notes.
Though the touring and fan interaction has yielded modest streaming numbers (the show has purportedly been viewed 70,000 times through The Eyeslicer's website), it has created an enthusiastic fan base. I attended a screening last year at Voyager, an arts space in Bushwick, and it felt like being let into an underground club dedicated to the most vibrant fringe filmmaking. "What's cool is that each time we've shown some of [Eyeslicer]'s work, no one really knows what they're getting into and they walk away from it loving these films that they would not have seen otherwise," said Andrew Hutcheson, Voyager's executive producer. "I think there is so much content coming at us left and right today that to find a very well curated voice for independent film is very rare. And I think what they've tapped into with The Eyeslicer is just an antidote to the current state of Vimeo and every other place people would try to go to find good work online."
But beyond cutting through the clutter, Eyeslicer serves as a showcase for a dynamic form that often goes unseen beyond film festivals — and for the often unestablished filmmakers working in that form. The director Laura Moss, who has two shorts in Eyeslicer's Halloween episode, contended that because there is less of a burden to make money with a short film, they give filmmakers more freedom to make interesting work. "A short is amazing because it can be a poem," she said. "It can be an experiment. You can take off some of the pressure of delivering or recouping a profit. It really is a medium where you can be creative and tell smaller or weirder stories."
Moss is one of the stand-out directors from Eyeslicer's Halloween special, demonstrating wide range and the ability to get strong performances out of unknown actors. One of her shorts, Fry Day, is a traditional narrative about a night gone wrong at a small town's Ted Bundy burning celebration; the other, Allen Anders - Live at the Comedy Castle (Circa 1987), is shot in the style of an old VHS recording, and takes on the surreal experience of a stand-up expressing his existential fears onstage. It's quite possible that the episode helps Moss advance in her career. But while both she and Schoenbrun hoped — and believed — that the show would give talents like her greater exposure, neither viewed the show as an audition for a gig directing mainstream features. Instead, each preferred to think of The Eyeslicer — and the work within it — in a vacuum.
With season two — which includes the Halloween special, and is slated to be released in mid-2019 — The Eyeslicer has begun to produce and help finance shorts in addition to curating them. The funding is still small but the goal for Schoenbrun is "that this grows into this sustainable model where in five, ten years time we can be commissioning series' and shorts and features, and almost become a new Roger Corman-type studio or something." But, he added, "we also know that the faster you grow and the bigger you grow, the harder it becomes to be the weirdo. For us, it's about keeping the stakes both high enough so that we can do really amazing work and low enough so that the house doesn't collapse on top of itself." It's go-go dancers and smell-o-vision for the foreseeable future.
Eyeslicer's Halloween episode will be available from October 25 through Halloween on Vimeo.