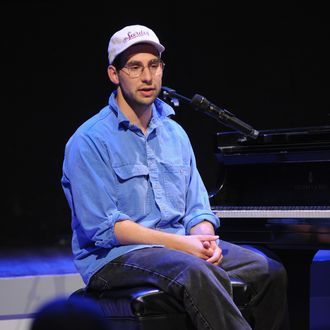 Jack Antonoff.
Photo: Brad Barket/Getty Images for The New Yorker
On Friday night, Bleachers frontman Jack Antonoff, a co-creator of the modern pop sound, spoke at length about his feelings about Kanye West and how he frequently talks to his therapist about him. "What I said to my therapist is it hurts," he explained, onstage at the New Yorker Festival. "It hurt like Woody Allen hurt. There are people that have changed you artistically and they turn out — it's not about being a bad guy, not the best guy, kind of a dick, doesn't take pictures with fans. People who on a gut level let you down in a way that you never thought possible. And with Kanye it's also become artistic too. I mean that SNL performance hurt."
While reflecting on how he started collaborating with artists like Taylor Swift, Lorde, Carly Rae Jepsen, and now Lana del Rey, Antonoff paused to address Kanye, an artist who meant a lot to him. "It's so emotional what's going on with Kanye for all of us," he said. "I tried to explain it to my therapist." The audience laughed. "No, no, no," responded Antonoff. "You guys can react however you want, but dead seriously — my therapist is older and she sees Kanye as someone she hears about in the news. I said, 'No, no, no. You don't understand.' His music, everything he does, he's done so many incredible things, artistically."
Antonoff continued, despite several interruptions from an audience member, "There's a crazy grieving going on because everyone I know — first of all, we so deeply disagree with his politics. Forgetting his politics, the way he's using his position. But then also what's clearly mental illness. It feels a little like what we went through with Amanda Bynes where we're sort of looking at our culture and our press and saying, 'You guys gotta pull the plug here.' All that aside, I have to say that because at this point in time that's a name that when it comes out enough there are things that I feel a duty to say about that. And it hurts."
Going back to Antonoff's come-up, long story short, West and Jay Z once cut a version of "We Are Young" for Watch the Throne. It eventually got dropped from the final album. But, Antonoff says, the attention helped his band, fun., get taken more seriously at their record label and allowed Antonoff to get in the room with other artists. The song eventually came out to huge success, but Antonoff still has never heard the version Kanye and Jay-Z made.
"The way the universe has worked and where Kanye's ended up, I don't know if I want to hear it anymore," said Antonoff. "If they didn't grab that song, I don't know if it would have lit that fire at the record label. I owe a lot to that song."