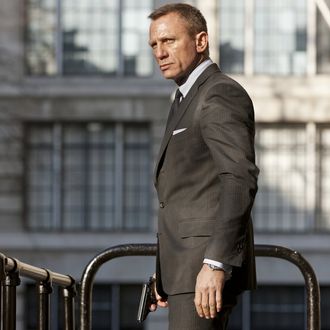 Daniel Craig.
Photo: Columbia Pictures
While one certain, timey-wimey British franchise has recently embraced the X chromosome as its lead for the first time in its history, don't expect the James Bond universe to follow suit. Ever. In a new interview with The Guardian, longtime Bond gatekeeper (a.k.a. executive producer) Barbara Broccoli is asserting that the martini-loving chap will always be played be a man, as she doesn't consider the character to be a "feminist" property. "Bond is male. He's a male character," she explained. "He was written as a male and I think he'll probably stay as a male. Let's just create more female characters and make the story fit those female characters … It was written in the '50s, so there's certain things in [Bond's] DNA that are probably not gonna change." The way she looks at it, the world has "changed," and that's reflected in the franchise in other ways — such as the increasingly empowering nature of the Bond girls.
"I think Bond has come through and transformed with the times," Broccoli continued. "I've tried to do my part, and I think particularly with the Daniel [Craig] films, they've become much more current in terms of the way women are viewed." The next Bond outing, directed by Cary Joji Fukunaga, will likely be Craig's last hoorah. Which dude should replace him?