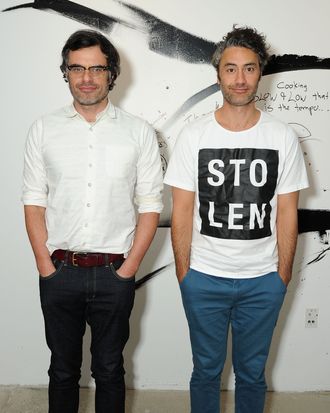 Vampire friends
Photo: Andrew Toth/Getty Images
Long before their 2015 movie What We Do In the Shadows, co-creators and co-stars Jemaine Clement and Taika Waititi were honing their vampire comedy. At the New York Comic Con 2018 panel for the upcoming FX television adaptation of the comedy, the long-time friends revealed the origin of their undead antics.
According to Clement, a version of the characters dates back to a stand-up night:
"One of us was telling vampire jokes, I think it was me, like, [exaggerated vampire accent] 'I flew from Transylvania, why are my arms so tired?" and stuff like that. And Taika, as a vampire gets up and starts heckling me. [Vampire voice] 'Oh my old vampire rival, every gig I've done for 200 years you come and you heckle me.' This was like 15 years ago."
Later, influenced by their love of movies like This Is Spinal Tap, the two Kiwis decided they should make a vampire comedy in the form of a mockumentary. In the movie they played vampire roommates, and while they never officially lived together, they revealed that they also spent a lot of time together in the same flat in their younger days when Waititi dated Clement's roommate. "I just wanted to be closer to Jemaine, so I got that girlfriend," Waititi joked.
The new series, which they executive produce, also follows a group of vampire roommates, but they've moved the show from Wellington to Staten Island. Though the series has a very similar vibe to the movie, there are some original elements, including a new supernatural being into the mix, an energy vampire who drains people (and fellow vampires) by being incredibly boring and low-key annoying. The show debuts in 2019.