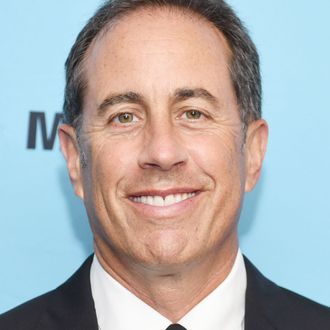 Photo: Andrew Toth/Getty Images for GOOD+ Foundatio
The New York Times published a new interview with comedian Jerry Seinfeld today, and it touches on practically every hot topic in the comedy world right now. Notably, Seinfeld was asked for his thoughts on Hannah Gadsby's Netflix special Nanette, and he did not hold back heaping praise on it. "Loved it. She did a beautiful job, and the way she braided it with the art history she studied in school, that made it fascinating and fantastic," he said. When asked about how the special led to a debate over what qualifies as a stand-up special versus one-man show, Seinfeld said:
But isn't that great, that she stretched the form of stand-up to encompass that? This is why people are excited about stand-up now. And how valuable is that, for other people that are going through or have gone through what she has? To see, here's a person that's thrived despite it. An incredible contribution. That's the thing that's quite powerful about what we're going through. We're figuring it out as we go along. And there's something very stimulating and empowering about that. We don't really know what the rules are. We're trying to make them up, other people make up rules and want everybody else to go by their rules.
Elsewhere in the interview, Seinfeld claimed that his much-publicized comments about not performing on college campuses because he thinks students these days are too politically correct have been misconstrued. "I play colleges all the time. I would never say there's any place I don't like these audiences. My job is the opposite of that," he said. "I want to make them like what I do. I don't always succeed but that's my job. And never blame them, never. The worst possible situation — the deadest, most hostile crowd — I don't care. It's still my puzzle. That's a professional attitude that I'd never ever compromise."
Additionally, Seinfeld was asked about nearly every comedian who has been the source of controversy in recent years. Is it too soon for Louis C.K. to perform in comedy clubs? Seinfeld says no, but that doesn't mean he disagrees with the blowback, either. "We know the routine: The person does something wrong. The person's humiliated. They're exiled. They suffer, we want them to suffer. We love the tumble, we love the crash and bang of the fall. And then we love the crawl-back. The grovel. Are you going to grovel? How long are you going to grovel?" he said. "And people, I think, figured they had that coming with Louie — he owes us that … I can't say what he should do. You do whatever you want. If he does it wrong, he's going to suffer. And that's his deal."
When it comes to Roseanne Barr and Bill Cosby, Seinfeld says the most notable thing is how swiftly their legacies were taken away. "So much work, gone so fast. We're upset at the speed of it, because it's new. I would say about Roseanne, I never saw anything that bad happen from a finger-tap on a screen. A whole career: gone," he said. "That's an aspect of this unease we feel, that you just wake up — 'Oh, by the way, the Lincoln Memorial's gone.' 'What?' 'Yeah, they took it down.'"
Read the full interview over at NYT.