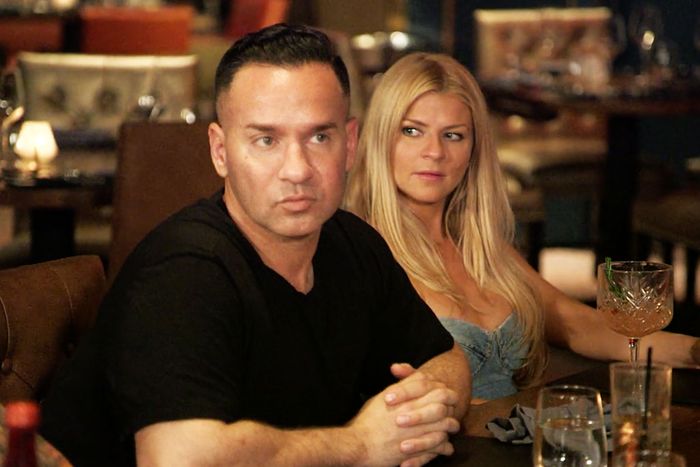 Deena's gender-reveal party has pink-and-blue everything: balloons, Mardi Gras beads, candy, and beyond. I'm surprised each guest wasn't handed a pair of pastel horror contacts at the door in order to pledge their bone-chilling allegiance to either Team Boy or Team Girl.
The gang's all here, almost: Jenni taking on the extremely stressful task of driving the cake over in her backseat, Vinny and Mike demonstrating an alarming lack of reading comprehension in their failure to understand what a "gender reveal" party could possibly be (that said: gender isn't a binary, gender is distinct from anatomy, love you, enjoy the crudites, bye!). "Remember how you were in my belly and I pooped you out?" Nicole asks her adorable daughter Giovanna, who must be terrified of going to the bathroom. In his absence, Pauly sends pink-and-blue balloons decorated with obligatory DJ Pauly D stickers.
What to my wondering eyes should appear but Ronnie, in pink, making a surprise appearance. Nicole says it's like seeing a "ghost," albeit a "hair-gelled," "showered" ghost. The mood is happy, if confused; Deena is genuinely touched that he made it. (Remember how upset she was when he didn't reach out to her after her dad passed away?) Mike and Vinny try to press Ron for details about the sequence of events that led to his getting dragged from a car driven by his baby's mother and subsequently hospitalized, and to her arrest. To the boys' dismay, Ron characterizes what sure sounds like a terrible instance of abuse as an "accident," a "bunch of unfortunate events." He and Jen are still, even now, trying to work things out.
The method of gender reveal is a smoke bomb that fortunately results in no casualties. Some brave volunteer futzes with it until blue vapor comes out: It's a boy! This is exactly how new popes are chosen. The child's name will be Christopher John, after Deena's husband and her late father. We are all very excited to welcome CJ, the first official male meatball, to the extended Jersey Shore family!
Mike and Pauly celebrate a joint birthday party at Dave & Buster's, with a cheeseburger cake for Big Daddy Sitch and an Italian-flag-colored New Jersey (or at least, a coincidentally New Jersey–shaped blob) cake for the other non-Vinny member of MVP. Mike unwraps a cop hat and a digital scale; Pauly gets a giant blowup photo of his husband's face and a bedazzled megaphone, in a masochistic gesture from Nicole. Pauly cannot not use the megaphone, perhaps the most thoughtful gift anyone has ever given him.
Everyone (except Nicole, who's got a wedding to attend) is heading down to Atlantic City that weekend to watch Pauly DJ — and, in an unprecedented  turn of events, the guest list includes their significant others. That's one thing for Lauren and for Deena's husband, Chris, who have already made positive, chill impressions during their brief appearances in this nine-years-running booze-vomit nightmare parade of ours, but quite another for, say, Angelina's fiancé, Chris, who has yet to meet the group. More alarmingly, Ronnie's girlfriend (???) Jen is "maybe" coming, too. Their Harrah's suite (in which all parties will share two, count 'em, two bathrooms) is decked out with gold balloons that spell out "DJ PAULY D" and "OH YEAH" in honor of Atlantic City's own Sam Rothstein.
Angelina and her fiancé prove to be the Staten Island version of Punch and Judy. "Try to not fight with me as much in front of people, 'cause that's embarassing," Angelina tells him. "Who started all these fights?" Chris asks. "Not me!" she yells. "You're getting me mad now," he says. Rim shot, goofy vaudeville piano theme, end scene.
"Is Ron coming with a plus-one or no?" Mike asks, hesitantly. Does a demon possession count as a plus-one? There is palpable relief when Ronnie arrives by himself.
At a fancy steakhouse, the waitress wheels out a truly demented raw meat display cart, with mirrors behind each red hunk of flesh. Pitching a daily massaged, classical-music-serenaded cut to Mike, she tells him, "You've never had a piece of meat like that in your mouth." Congratulations on knowing exactly what show you're making a cameo on, lady.
It takes Jenni no time to find a conversational lull in which to insert a very important question about Vinny for Angelina's fiancé Chris: "Do you know that they did sex?" He weathers this as well as can be expected. "He's a good-looking guy. Nothing wrong with that," Chris says, instantly making himself even more popular with the group than his bride-to-be is.
Angelina offers Chris a bite of food, but he declines, which turns into an argument. Then they differ as to whether they dated "almost a year" versus "seven months" before getting engaged, which also turns into an argument. Then they invoke the "hot dog situation," a previous argument, which turns into a brand-new argument. Given that Angelina could get into a physical altercation with a gust of wind that failed to respect her personal space, they seem perfectly compatible. Mazel tov!
Anyway, a much darker fight is brewing around the table. "Oh my God, stop," Ron unsubtly whispers to his insistently buzzing phone. "Can I get everyone's attention for a second?" he asks. Jen is in town, and he wants her to spend time with them this weekend — is it cool if she joins them at Pauly's DJing gig? "We've actually been good, like, recently," he reassures his friends, convincing exactly no one.
Hey — you know that interview with Patsy Ramsey where she says with her mouth that someone who isn't a family member killed JonBenét, but keeps on shaking her head no, no, no? Of course you do. That's about the strength of the "yes" that Ron gets from his friends.
Something wicked this way comes.