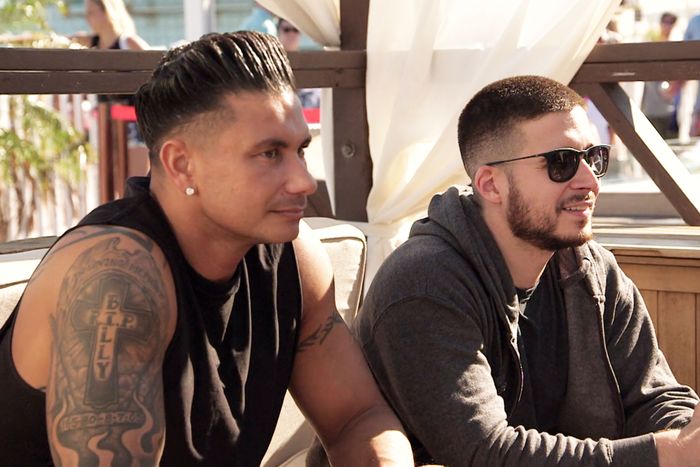 The moon over Atlantic City turns blood red, then black. The angry ocean overtakes the dunes and rips the boardwalk to shreds. Every slot machine in every casino displays a result not of BAR, or LEMON, or 7, but 6-6-6, 6-6-6, 6-6-6.
That's what it feels like, anyway. Jen is coming.
Let's start with the calm before the storm: Mike, Vinny, Pauly, and Pauly's bedazzled megaphone take Deena's Chris and Angelina's Chris out to eat. The latter Chris in particular is earning major points, mostly for being able to kid around about his fiancée's sexual past with Vinny, but also for generally not being as terrifying as she is. He's so cool, in fact, that Ronnie thinks it's "weird," and given Ron's record as a judge of character recently, I'd consider this a compliment. (In my capacity as a federally appointed Circuit Judge for the United States Court of Attractiveness Appeals, I rule that Staten Island Chris is hot, a laboratory crossbreed of Bobby Cannavale and David Puddy. I am not accepting feedback on this verdict at this time.)
At the ladies' brunch, Jenni — who is apparently angling for Megyn Kelly's slot on the third hour of Today, but with less racism — wants to know why Angelina has been engaged three times. (That's nothing, by the way. Talk to me when she has Danielle Staub's numbers.) Is it because she's insecure? What's her relationship with her dad like?
Angelina shares that her father was in and out of jail throughout her childhood, and that when he wasn't, he was an abusive cheater. In fact, Papa Pivarnick only got her mom pregnant with the aim of getting a reduced prison sentence. No, that's not pessimistic speculation on Angelina's part — he, uh, specifically told her so. Well, shit. Even Jenni, the supposed Jersey Whore herself, is moved.
But no heavy personal revelation or joke about Angelina boning Vinny can change the fact that every minute that passes brings us closer to Jen's arrival. No one has any idea how to behave, especially given that their friend has (literally! physically!) not yet healed from the last blowup with his girlfriend. Jenni feels she's in a particularly precarious position, given that Ron already got pissed at her in Vegas for maintaining an open line of communication with Jen. I give her a lot of credit for straight-up asking him, "How do you want me to act?" Just be her friend, he says! But is it possible, really, to be Jen's friend while also being Ron's friend?
Jenni astutely predicts that Ron will never, ever be the one to leave a relationship, no matter how bad it gets. As with Sammi, it will be up to his girlfriend, whomever she may be, to break up with him. And Jen shows no signs of retreating.
At dinner, the collective fear is palpable; I'm sure the whole place stinks of cortisol and stress sweat. Jenni compulsively futzes with her hair, petting her extensions like they're a lap dog.
A cold wind rushes through the restaurant. The table-side flowers wilt, then crumble into dust.
Jen and Ronnie have entered the building. There's a long, uncomfortable lull in the conversation until episode MVP Jenni pipes up: "Your mugshot, you look hot."
Jen, mercifully, more or less takes this as a compliment, which is smart, given that the first rule of getting arrested as a reality TV personality is to own your mugshot. "I know everything sounds so psycho and, like, crazy," Jen says, explaining to the group that she and Ronnie have both signed up for anger management, and even apologizing for her past behavior. Hmm. Mike diplomatically tells her that all they want is for Ron to be happy — she'll just have to be on probation for a while, with each of the Jersey Shore crew as one of her probation officers, that's all. Nobody's forgiving, and certainly nobody's forgetting, but there's something resembling progress here.
"She loves me and respects me enough to know these people will be a part of our lives forever," Ron says in a confessional. I would submit that she also loves him and respects him enough to drag him from a car. That said, this went … surprisingly okay? The vibes are good enough to allow Vinny and Angelina to segue seamlessly back into their fight about exactly how far away from one another they grew up, until Vinny's own phone makes a loser of him: Google Maps confirms the houses were a measly 1.3 miles apart (insert fax machine emoji).
Briefly, it seems like Ron and Jen might not be able to join in for Pauly's DJ gig-slash-birthday celebration when a representative for the hotel appears at the suite and asks to speak to them outside. You see, Jen was banned from Planet Hollywood after her Vegas hallway meltdown, and Harrah's is technically owned by the same company, so … I love this awkward conversation so much, I cannot tell you; I have never been more thankful for the alarmingly wide reach of a massive corporation. But when the couple promises to be on their very best behavior, an exception is made, and they're allowed to stay. Surely nothing will go wrong.
At first, it doesn't. DJ Pauly capably entertains his hordes of screaming fans, welcoming his Jersey Shore family to the stage. Even Vanessa, Pauly's former "stalker," wisely rebranded as his "number one supporter," is on hand.
It seems like a genuinely fun night, maybe because everyone is (sober and pregnant folks excluded) blissfully drunk. Angelina is remarkably huggy and cheek-kissy with Vinny — right in front of Chris, which is a little disorienting, but whatever! Friendship is a rich tapestry! Even Ronnie and Jen seem like they don't hate each other.
Then something changes. Jen's drunkenness gets a little less blissful. Ron suggests that she not take another shot, which is perhaps an even bigger mistake than letting his girlfriend take the shot without comment would have been. Jen's furious. We're suddenly in the midst of an ugly fight. As resident astrophysicist Mike explains, "It's kind of like the Big Bang. Do you know how it started? No."
From the next couch over, Deena tries, uncomfortably, to pretend none of this is happening, despite the fact that it is indeed happening, and loudly, just several feet in front of her. "Get me the fuck out of here," Jen snaps at Ron — who, at least according to the version of events presented by this episode's edit, doesn't seem to have done anything wrong — before storming out on her own. "You cause so much fucking drama, it's ridiculous."
Back up in the suite, a cart stacked with about a dozen boxes of pizza is wheeled to their door. Several of these pies, thanks to overzealous rummaging for his preferred toppings on Mike's part, will end up face-down on the carpet.
Pauly has to leave for his next show, in Rhode Island, in just a couple of hours, so he excuses himself to shower. Vinny is displeased to be left alone with the mathematically imbalanced equation of the two girls he and his heterosexual life-mate had brought home to his singular self, so he sees them out. Only he and Ronnie are still awake.
Vinny wants to talk about what happened with Jen — but what is there to say? He puts his face in his hands. I don't know that you can convince someone that we just witnessed erratic, disproportionately angry behavior, and of how alarming that is, if they don't see it for themselves. Ronnie is not prepared to accept that he shouldn't accept this.
"If you truly didn't do anything tonight and she just, like, did this out of nowhere, I hope you just add this to your list of why possibly she has issues," Vinny says. That's becoming a long, long list.