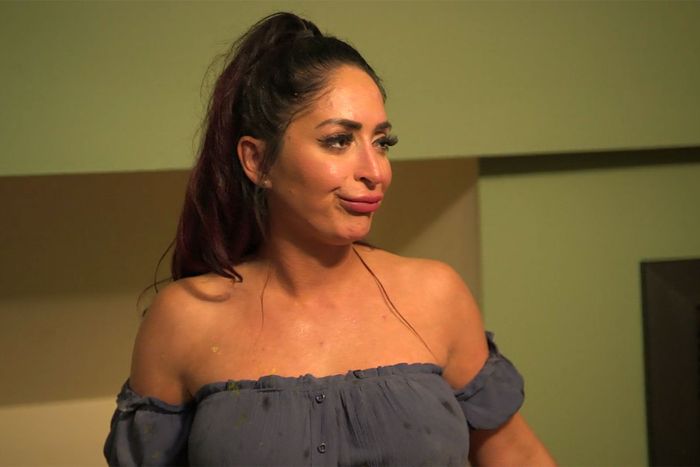 Some sad news, to begin with: Mike has been sentenced to eight months in prison for tax evasion. The entire Jersey Shore squad was by his side in court, and — along with Lauren, no doubt — will continue to be a source of support once our dear friend demotes Joe Giudice to the status of second most prominent reality star currently incarcerated in the Garden State. At least Mike and Lauren are due to get married early next month, before he'll need to self-surrender. (By the way, may I direct you to their Crate & Barrel registry? Please give me one good reason why I should not buy the happy couple a $4.95 silicone egg poacher. Okay, two good reasons.)
In Seaside, Danny has left a note asking the cast not to trash the house, and if you believe that these people are capable of lasting 24 hours here with committing a serious act of property damage, then I've got a poorly installed and subsequently broken stripper pole, a couple of free-pooping dogs, and a tank top of mysterious origin flushed down the toilet to sell you.
The gang prepares a grilled cheese, burgers, and hot dogs for a good old-fashioned family dinner. Mike calls upon Angelina to say grace. She embraces the opportunity with great sincerity, until Vinny cuts her off mid-sentence. He's playing a dangerous game. Angelina says she has a "loaded gun" with "pieces in the chamber" to use on Vinny, but she won't reveal whatever information she's holding onto just yet. Pauly emits a 15-second "oooooh," takes a breath, and then begins again. The other women, who could plainly not be more delighted by this development, start chanting, "Chamber! Chamber!" All in all, Angelina lasts about a minute before spilling, which I consider impressive.
"You know you used to hit me up back in the day and try to fucking eff me," Angelina reveals in what is easily my favorite sentence I have heard in the last, I don't know, decade, and not least because of her creative linguistic flourish in dropping the full F-bomb in "fucking" but censoring herself for "eff me." Everyone screams.
"Are you guys going to listen to this lunatic?" Vinny protests, weakly. Yes. I unreservedly 100 percent believe Angelina on this matter. And worse still, she says, he wanted to take her on a date. Hearing this, Pauly can't physically stay in his seat, dance-convulsing around the room.
Vinny, wasting no time in entering paranoid murder-wall wrongful conviction mode, grabs a bottle of ketchup and a bottle of Italian dressing to model how they grew up "miles and miles and miles away" from each other. Then they're standing on their chairs, screaming at each other, and then she's chasing him around, out of, and back into the house. Jenni calls this a "Staten Island mating ritual," and the entire house is convinced the sexual tension between Vinny and Angelina  (Vingelina? Angina? Miss Vanjie?) will inevitably boil over.
Angelina gets her hands on the ketchup and mustard, and in the blink of an eye, the dining area is a Jackson Pollock bloodbath in red and yellow. "Protect the pregnant girl!" Jenni shouts, and Deena is quickly wrapped up in a comforter shield like this is Children of Men. The battle comes to an effective close when Vinny blasts Angelina, indoors, with a fire extinguisher. It is a terrible mess, but on the bright side for Danny, no one is shelling out thousands of a dollars a night to rent 1209 Ocean Terrace who isn't a massive Jersey Shore fan — maybe they'd consider some condiment outsider art courtesy of the cast themselves an added bonus?
To Mike's anxiety, the gang must leave their not-quite-ready Funfetti cake lingering in the oven while they pay a visit to Danny at the Shore Store. Danny looks the same, which is to say that Danny is still hot. I feel that America hasn't talked enough about Danny being hot, and I'd like to rectify that grievous error now: Danny is hot. Thank you. They're pleased to learn that the first season of Jersey Shore Family Vacation has already inspired new merch designs: "Spiral Squad," "Ronpage," "You Cheated," and "Pass the French Fries." This is the first time Angelina "I'm a Bartender, I Do Great Things" Pivarnick has seen the man who was very briefly her boss since he fired her for refusing to show up for her shift. Technically, I guess, she didn't see him when he fired her, because she was hiding in the bathroom for some reason. Why do so very many Jersey Shore plot points hinge around one bathroom or another?
Back at the house, Mike's eyes open about 25 percent wider than I believed to be anatomically possible with his first blessed bite of Funfetti. Vinny passes Angelina a slice of cake that fell on the table; she flicks a blob of icing at him with her spoon.
"You should put your ass in that and sit on it," says Jenni, who knows exactly what she is doing, and deserves every penny of every one of her MTV paychecks. Angelina cannot, molecularly, resist a dare. Lo and behold, she plops her bare butt directly into the full pan of Funfetti cake, then pulls her shorts right back over her freshly frosted cheeks. This truly seems like more of a punishment for Mike, and really for everyone, than for Vinny specifically, but here we are.
Inquiring minds, namely Jenni's, want to know: Does Angelina want to bang Vinny or what? She says she doesn't — she's engaged. But then again … She "threw her ring off" her finger the other night after a big fight with her fiancé, who'd effectively disappeared off the face of the earth for 24 hours.
We're overdue for a dispatch from Jersey Shore's Western Sadness Bureau. We witness a few minutes of Ronnie feeling depressed and Baby Ariana being very cute in Vegas, where Grandma Connie (remember Ron's mom?) has come to visit and help out. Things remain "unsettled" with him and Jen, he says, and it continues to be a huge bummer that this toxic relationship persists. Speaking of: Mike definitely wants Vinny and Pauly to be part of the wedding party, but has been torn about asking Ron — he wants very badly to include him, but worries about overwhelming his already precarious emotional state of affairs. No matter what, though, Ronnie can't be trusted with a plus one.
The Jersey gang spends a rainy day enjoying the rides and midway games of the Seaside Heights boardwalk, which has totally rebuilt and refurbished since Hurricane Sandy. Deena offers a sincere, if belated, apology to the proprietor of the restaurant where she was arrested, and from which she was legally banned by the state for two years. (This is true — the restaurant was also fined $15,000 by New Jersey regulators.) Nicole, meanwhile, is rocking a Where's the Beach? baseball cap.
It's time to say farewell once again to the Shore House, with a poignant exit scored by an emo-y pop punk cover of "The Story of Tonight" from Hamilton that I have to rewind and listen to again in order to convince myself that, yes, somebody recorded an emo-y pop punk cover of "The Story of Tonight" from Hamilton. (Obviously I love it.) Vinny gives Angelina a surprise goodbye kiss on the cheek; she screams and runs, and the girls call her out for blushing.
But we're not saying goodbye just yet: Pauly expresses his intention to find them a different summer house to stay in. "Something nice, something more for 30-year-olds," Jenni agrees. Where will the chilly, salty winds off the Atlantic blow them next? Elsewhere in Seaside? Wildwood? Long Beach Island? Lavalette? Brielle? Cape May? I could go on, but I won't, but know that I want to. (Ocean City? Asbury Park? An abandoned garbage barge drifting half a mile out from Sandy Hook?)