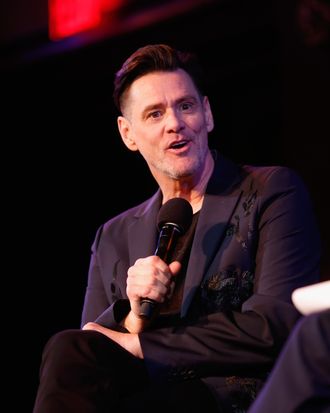 Jim Carrey.
Photo: Thos Robinson/Getty Images for The New Yorker
It's well reported that auditioning for Saturday Night Live is a harrowing process. Even America's sweetheart Kevin Hart wasn't immune to rejection. But what if it's not your fault you bombed? What if you encountered something traumatizing as you were walking into your audition? At the New Yorker Festival on Saturday night, Kidding's Jim Carrey, who unsuccessfully auditioned for SNL in the early 1980s, shared a story about just that.
Ten years before his breakout role in In Living Color, a bright-eyed, floppy-haired Carrey was on his way to an audition for SNL. "I got out of the car in the parking lot, and there was a person trying to work up the guts to commit suicide on the building on NBC in Burbank, and I walked into the building not knowing whether he did it," he said. "All the new crews were gathering around the building. I went, That's not probably a good sign."
What do you say to that, Lorne? Anything to add?