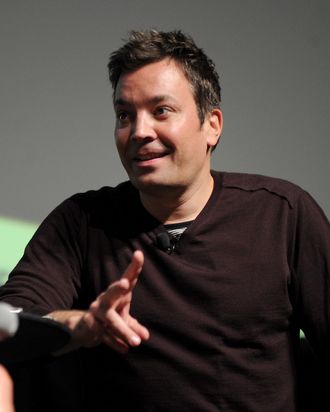 Photo: Brad Barket/Getty Images for The New Yorker
The aughts were a simpler time for the late-night television universe, when Jimmy Fallon reigned over NBC's Late Night with a goofy fist and even goofier stream of musical impressions. (Jim Morrison singing the "Reading Rainbow" theme song? Classic!) Late Night soon transformed into the coveted Tonight Show gig for Fallon in 2014 — where he's been met with a divisive audience since a certain campaign trail visit — but, if the network kept with its initial impressions of Fallon, he wouldn't have had any of those opportunities at all. As Fallon recalled during his talk at the New Yorker Festival this evening, the Peacock was pretty against him hosting Late Night from the beginning — and it was SNL czar Lorne Michaels who helped him secure the gig.
"NBC didn't even want me. I remember them saying, Really, Jimmy Fallon? His movies are terrible," Fallon explained with a laugh. "But Lorne was like, Don't worry, he works well and plays well with others. Like I was a kindergartner. I remember having to go to three or four dinners with NBC, trying to convince them I was the guy. And then finally Jeff Zucker was like, Are you sure? This is a lot of work. I was like, Yes, I'm sure."
The same thing, in fact, happened when Fallon wanted to secure the Roots as his house band — despite their indisputable virtuosity as musicians, the network was iffy on their appeal to a wider audience. "NBC didn't want the Roots. They were like, The Roots are too urban or something," Fallon remembered. "I went, you're totally wrong. Do you know these guys? Go see them. Have you seen them? These guys have played with everyone from Jay Z to Tony Bennett. There's no band that exists like them at all." It's true. And the rest, as we know, is history.