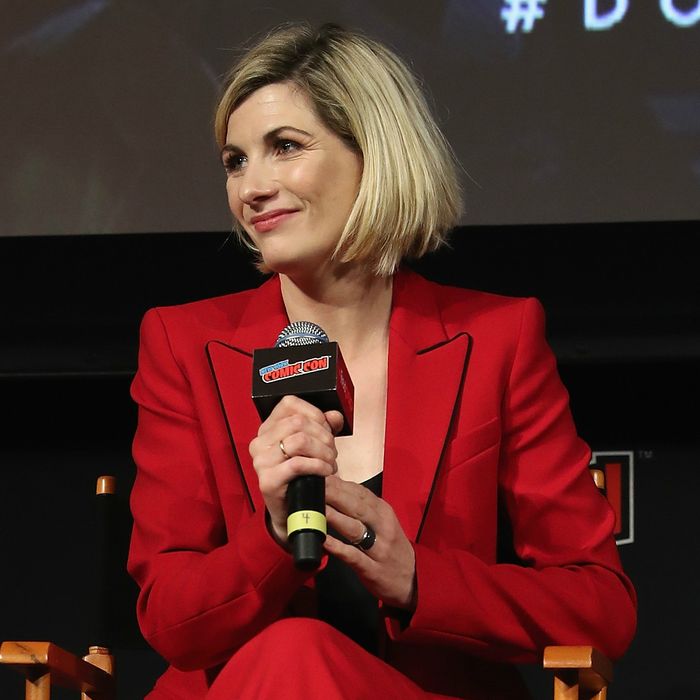 Jodie Whittaker.
Photo: Cindy Ord/Getty Images for BBC America
The Doctor is in, and it's about time. At New York Comic Con 2018, Doctor Who executive producer Matt Strevens, showrunner/writer Chris Chibnall, and the 13th Doctor herself, Jodie Whittaker, took a trip across the pond for a press meet, panel, and global simulcast screening of the first episode of season 11. Whether you're an old Whovian from the days of William Hartnell or a potential new fan of everything Gallifrey and magical police call boxes (that are bigger on the inside, of course), here are the five things you need to know about this new season of Doctor Who.
Forget the previous Doctors; Whittaker is coming to the role fresh.
"For me, I came to this as a new Whovian, and I didn't grow up in a Who house," Whittaker told Vulture at a press round-table. "I want to enjoy this at the end when I hand over these shoes. The majority of my research was reading and taking it from that, purely because you can never be wholly unique and wholly inventive, but I wanted to feel I was open and responding and using my instinct and not thinking, Have I just nicked that from somebody else? I mean, I probably have, and there are happy accidents within the comparisons, but none of it was intentional."
Three Companions? It's a callback to the old Who.
In the most recent incarnations of the Doctor since Christopher Eccleston took on the newly revived role in 2005, the Doctor has had only one steady companion, usually female, and occasionally with a reluctant third party in the form of a cautious or begrudging boyfriend (looking at you, Rory and Mickey). The 13th Doctor, however, has three companions: Ryan, Yasmin, and Graham. Strange? Not really. In fact, it's a callback to the old series.
"It sort of goes right back to the original series in 1963," said Strevens. "There were three companions. There were two teachers and a schoolgirl, so they were very real and relatable characters. Our characters are very real-world characters. It was really important to us that they felt like the audience watching, that you could relate to them, that they're the reality and the magical element is the Doctor. This magical alien comes in and teaches them and shows them that they have wonderful gifts and they can make a difference, and the Doctor relies on them. She doesn't just pay them lip service and get them to validate her view. She often uses them, in our version of the show, to help her out with problems, and I think that is what's great about it."
But, according to Strevens, the fact that this season contains three companions also creates the opportunity for different character-arcs and more varied lenses through which audiences can view the Doctor. "We get three wonderful, very different perspectives, and very different people going on a different journey and needing different things from their journey with the Doctor, so I think it's allowed a lot of emotional exploration in the show," he said.
The aim with the new season is to invite new fans in.
The new season will be ten episodes long, with all stand-alone episodes, a distinctive turn from previous showrunner Steven Moffat's infamous inclination toward connected stories and long-building arcs. The aim, according to Chibnall, is to provide new viewers with easier access points into the show. "If you come in at episode one, you don't need any prior knowledge; if you come in at episode nine, you don't need any prior knowledge. If you've got prior knowledge, it's going to be more rewarding," he said. "But what I think is exciting is any new Doctor's first year is hopefully one long recruiting video for the series. We think it's the best idea television ever had, so what you want to do is express that. You want to communicate that passion and love to new viewers and go, 'Come in this year, and guess what? There's 55 years of back catalog.'"
We're in for a more inclusive Who.
With Whittaker representing the first ever female Doctor, and with a cast full of people of color (as well as a male black companion with a disability), this new season will be more diverse than previous ones. "What does Doctor do in 2018, for the next few years? That was it. It was about [diversity] on the writing team, on the directing team, on the edit suites, across the production, and onscreen as well. There is a lot of diversity in our casting, and the stories we will tell will go to places the show hasn't gone to before in that sense and will tell stories from perspectives perhaps the show hasn't visited before," said Chibnall.
A teaser trailer played at Comic Con revealed the diverse characters we'll see this season, including figures portrayed by Alan Cumming and Chris Noth, as well as at least one important historical woman of color, Rosa Parks, who will be played by Vinette Robinson in episode three.
Whittaker had a lot of suggestions for Thirteen's playful ensemble.
Whittaker herself had plenty of say in her Doctor's look. From the start, she said, the creation of the Doctor's fashion was a collaborative process. Even from the audition process, before she got the role, Jodie was sending photos to Chibnall for costume suggestions, and later worked with costume designer Ray Holman on what would become the 13th Doctor's final look.
In her search, Whittaker came across a "black-and-white image of a woman walking with purpose, deep in thought, with cropped trousers, boots … and a T-shirt" and took the look as inspiration, with her own personal flair in mind. "I'm quite a colorful character, and I wanted to reflect what moments of brightness there would be," Whittaker said.
It seems fitting, based on the season premiere, which features an empathetic Doctor exuding energy — and yes, brightness — while still managing her regeneration hangover. Fezzes are still cool, and always will be, but now so are rainbow shirts, yellow suspenders, and cropped pants.
Doctor Who had its global premiere today at 1:45 p.m. and will have a special encore at 8 p.m. ET/PT on BBC America. The rest of the series will premiere at 8 p.m. ET/PT on Sundays on BBC America.