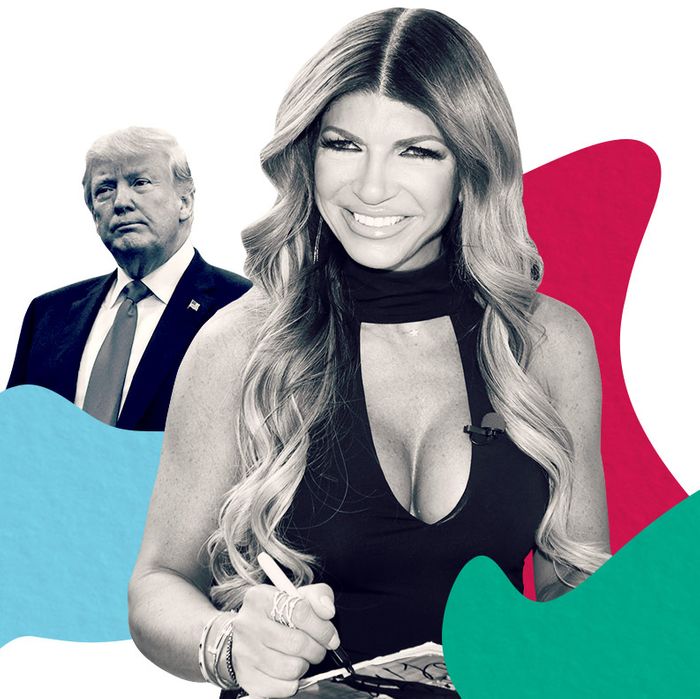 Photo-Illustration: Vulture and Photo by Getty Images
Ever since Real Housewife of New Jersey Teresa Giudice and her husband Joe were convicted of bankruptcy and wire fraud and sentenced to separate stints in prison, reality-TV fans knew that Joe had a chance of getting deported after being released from the clink. Now, it is no longer a chance but a definite future.
On Wednesday, a Pennsylvania judge ruled that Joe would have to return to his native Italy after he is released from prison in 2019, following his 41-month sentence. "Based upon the law, I find you deportable and ineligible for any kind of relief," the judge said, according to RadarOnline. Teresa was not at the hearing and reportedly hasn't visited Joe in months. TMZ is also claiming that Teresa won't move herself and her four daughters to Italy with Joe, even though the Giudices starting a new life in Italy would make for a great reality show.
That's not all the news from TMZ, though: In 2012, Teresa reportedly wrote to Donald Trump asking if he would pen a character letter for Joe, in hopes of helping him avoid a long prison sentence. (For those who aren't reality-TV junkies, Teresa was acquainted with Trump because she came in fifth on Celebrity Apprentice season five.) Unfortunately for the Guidices, Trump turned her down.
Well, the intrepid reporters here at Vulture have obtained a (completely fake) copy of that letter. We present it for you below.
Deer Mr. The Donald,
Isn't it weird that we start letters saying deer? Like you're not a deer. You're a person. Shouldn't we say Deer Person? Whatever. I dunno.
Anyway, Mr. The Donald (remember you told me to call you The Donald after I won a challenge on TV show Celebrities Appreciated?), I'm writing today for my husband Joe Giudice who has been convicted of a crime. I don't know what is wrong with this judge. We didn't do nothin'. I mean, the bank has money, right? And the bank should give us money, right? We just got the bank to give us money.
Joe is going to go to prison and I would like you to write a character letter for him. This isn't like a letter of the alphabet, it's like on a piece of paper and you send it to a judge. Everyone admires you so much and you have a very nice way of treating people, especially women. I thought this might help to get the judge to stop being so mean to Joe.
My husband has all the ingredientses of being a good man. He is so wonderful to me and my four daughters, Gia, Gabriella, Milania, Audriana, and Milania. Wait, that's five. Well, there's four of them and Joe is just the greatest dad and best husband. He bought us this giant house made only out of onyx and other stones. He did it because I wanted it. He always says, "Happy wife, happy life." He made that up! I told him he should put that on T-shirts and aprons and bottled pre-mixed cocktails like Fabulini.
Joe is a really great man and even though he, like, you know, used his brother's ID to try to get a license when his was suspended for a DUI, that was all a misunderstanding. He just doesn't understand the rules here in America. He's Italian. He moved here when he was a baby, but still, that doesn't mean he should know how things work. He's just an immigrant here trying to make the most of an American job. You support immigrants, right Mr. The Donald? You should because when Italy sent Joe, they sent you the most bestest.
I promise that Joe is of the very best character and I know the judge will love anything with your name on it. If you can sell water, vodka, and steaks that say Trump, you can definitely sell a letter that says Trump on it. Right?
Sincerelee,
Teresa Giudice, the Skinny Italian