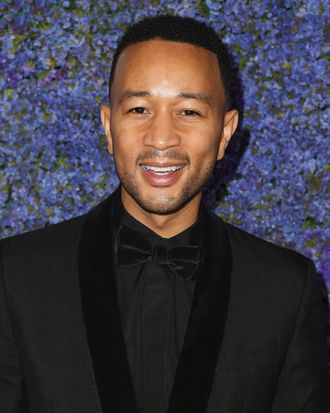 Photo: Jon Kopaloff/FilmMagic
As if John Legend's voice wasn't already like listening to several thousand black angels sing in harmony, the musician is releasing a Christmas album filled to the brim with classics. A Legendary Christmas, executive-produced by Raphael Saadiq, is due just before Halloween (October 26) at which point not having the halls decked becomes a crime.
The album features Esperanza Spalding and Stevie Wonder, who will be breaking out the harmonica on "What Christmas Means to Me." Along with holiday essentials like "The Christmas Song (Chestnuts Roasting on an Open Fire)," Legend also wrote some original songs. Finally, since once you have an EGOT, you're allowed to be as extra as you like, John Legend is also taking A Legendary Christmas on a 25-date tour. Starting November 15 in Clearwater, Florida, and wrapping up December 30 in San Diego, John Legend will be going full Jesus Christ, no Superstar needed.
Explore the full track list for A Legendary Christmas below.
1. "What Christmas Means to Me" (featuring Stevie Wonder on harmonica)
2. "Silver Bells"
3. "Have Yourself a Merry Little Christmas" (featuring Esperanza Spalding)
4. "No Place Like Home"
5. "Bring Me Love"
6. "Merry Christmas Baby/Give Love on Christmas Day"
7. "Christmas Time Is Here"
8. "Waiting for Christmas"
9. "Purple Snowflakes"
10. "The Christmas Song (Chestnuts Roasting on on Open Fire)"
11. "Please Come Home for Christmas"
12. "Wrap Me Up in Your Love"
13. "By Christmas Eve"
14. "Merry Merry Christmas"