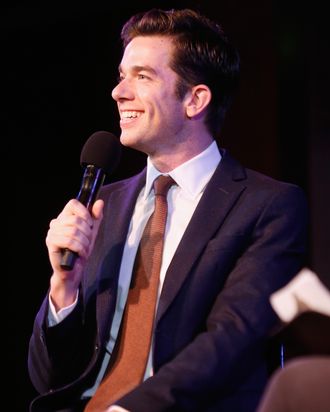 John Mulaney.
Photo: Thos Robinson/Getty Images for The New Yorker
During the widely watched Senate Judiciary Committee hearing for Supreme Court nominee — and now, associate justice — Brett Kavanaugh last week, the judge waxed poetic on multiple occasions how fantastic his high school experience was, listing off a bunch of superlatives and academic accolades he was privy to at the time. ("I've worked my tail off," he put it.) It might seem like a small detail to bring up in the hearing, but John Mulaney doesn't want you to be fooled, America! During his Saturday evening talk at the New York Festival, Mulaney believed these were the musings of a deranged fella as opposed to one fit for the highest court of law. "Imagine being proud about how you did in high school. Ignoring everything else, I worked my butt off! Imagine bragging about your high school achievements," he said. "That's the sign of a demented person. Not analyzing anything else about the proceedings, that alone — someone talking about how hard they worked in high school — should lose their citizenship."
Mulaney can add his firsthand expertise, he reckons, because he, too, benefited from similar privilege at the same age. "I knew those guys in high school, and they didn't work hard," he continued. "I got into Georgetown College because my dad went to Georgetown College. If he didn't, I wouldn't have gotten in. It was unfair I got in. But I went." Hey, if he didn't go to Georgetown, he wouldn't have met Nick Kroll, and we don't really want to think of the darkest time line right now.