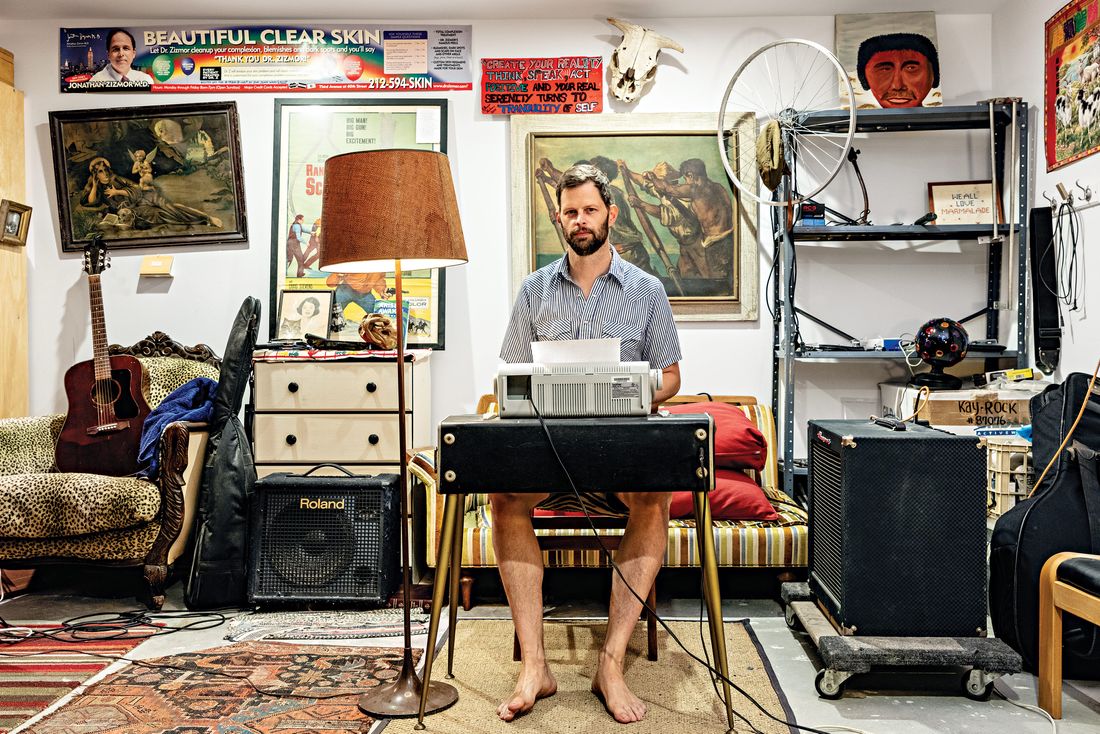 John Wray.
Photo: Stefan Ruiz
When I ring the novelist John Wray's doorbell on a blindingly hot September morning, the sound of howling wolves fills the air. "It's permanently on the Halloween setting," Wray explains. Slender, with the slight stoop of a tall person who spends a lot of time bent over a writing table, he is wearing an inside-out Violent Femmes T-shirt and looks more like the indie-rock musician he started out as than the 46-year-old owner of a Park Slope townhouse. He bought the place in 2011 as a "wreck and a ruin" with neither plumbing nor electricity and spent the next few years painstakingly renovating it. The downstairs bathroom, with bright geometric wallpaper and a round mirror like a portal, is an homage to the David Bowie movie The Man Who Fell to Earth. The tiles in the foyer are based on watercolors by an artist friend.
These days, however, Wray's home is no longer entirely his own; it's a cross between an artists' colony, a co-working space, and a frat house. A few years ago, realizing that he had far more room than he needed, Wray started renting out bedrooms as offices for writer friends — all of whom are a fair bit better known than the average guy tinkering with his novel at a WeWork. Camp Cedar Pines, as Wray calls the place (he found a pennant bearing the name on the street and tacked it above the door), currently hosts fiction writer and translator Nathan Englander, novelist Akhil Sharma (who came to stay "for a few weeks" two years ago and has yet to move out), Booker Prize–winning author Marlon James, and science-fiction writer Alice Sola Kim, who works upstairs and lives with her fiancé, writer and BuzzFeed TV host Isaac Fitzgerald, in the ground-floor apartment.
"We're the token freak house of the block," Wray says proudly. He serves as landlord, den mother, and emcee, hosting dinner parties for 20 or so guests at a long oblong table in the kitchen, sometimes followed by drunken foosball. (The table, smack in the middle of the living room, was an impromptu gift from the Chilean writer Alejandro Zambra.) A profanity-laden sign outside the bathroom reminds "campers" to turn off the lights — James, Wray complains, is the worst offender. "So many writers never had to fully grow up," Wray says with a sigh.
Wray writes at a decades-old Brother electric typewriter perched on a tiny table, entering the previous day's text into his laptop before he begins each morning. "There's a slightly annoying electric hum that starts when I turn it on," he says. "It's the ugliest, least aesthetically attractive machine you can imagine, but that weird noise is very motivating. I don't want to sit around staring off into space when this thing is on and its little eye of Sauron is watching me." His preferred place to work, he says, is the basement, which he's converted into a hipster man cave complete with Ping-Pong table — he plays with Englander — and drum kit. James chortles at the idea: "John may say he works in the basement. I think he means he plays drums in the basement." (Wray admits to taking frequent drumming breaks while writing.) "He actually works in the café across the street," James tells me. "Sometimes your own house gets on your nerves. You have to get out in order to work."
That was clearly the case for Godsend, Wray's fifth and latest novel (out October 9), which grew out of a trip he took to Afghanistan and Pakistan in winter 2016. He was there tracing the path of John Walker Lindh, the so-called "American Taliban" — a teenage convert to Islam from California who was captured by American troops in November 2001 while fighting alongside hard-line Islamists in Afghanistan — and thinking of writing a nonfiction book about him. Then someone he met mentioned offhandedly that another outsider had also fought with the Taliban: "the American girl." Wray dug for more details about her but came up empty-handed. "I could never get any more concrete information," he says. "And at some point I realized that I had the great good fortune of being a novelist and not a nonfiction writer." So he set about writing the story as fiction instead.
The plot, which unfolds around September 11, takes the outline of Lindh's story and adds shades of Yentl: Eighteen-year-old Aden Grace Sawyer travels from her comfortable suburban upbringing in Santa Rosa, California, to a remote madrassa in northwestern Pakistan. She disguises herself as a boy, buzzing her hair and binding her breasts with an Ace bandage, and eventually falls in love with her mullah's charismatic son, who has rejected his father's life of study to become a mujahid. But Aden's emotional life — the tension between her joy in pursuing her spiritual quest and her guilt at constantly committing the sin of lying, not to mention her growing desire to take up armed jihad — feels uniquely hers.
Right after September 11, terrorism seemed briefly as if it could be a new subject for novelists looking for a purpose. Most of them stumbled, including no less than John Updike, whose portrait of a radicalized American Muslim teenager in Terrorist (2006) was a huge flop. (Reviewing the book for The New Republic, the critic James Wood wrote that Updike's protagonist "sounds like a septuagenarian Indian aristocrat.") Today, with the attack on the World Trade Center receding into an earlier, panicked era of American history, the choice of a would-be terrorist as a sympathetic protagonist no longer feels as politically fraught. But what does seem bold, at a time when writers who venture beyond their personal experience run the risk of being called out, is entering the mind space of a character different in just about every way — age, sex, religion, attraction to jihad — from the author himself. Over tea in his kitchen, I ask Wray how he managed it. "I'm inhibited when I have to write about myself. That inhibition falls away if the person I'm writing about is a step or two or three removed from me," he replies. Punctuating his sentences with long pauses, he goes out of his way to avoid clichés, even in speech. "It's less a matter of getting into the character's head than gradually extracting the aspects of yourself that might apply and then trying to shape those ideas — putting them in some sort of petri dish and allowing mitosis to continue until they've formed some sort of animal that only bears the most distant relationship to you," he continues. "The seeds are all coming out of your own understanding of the world and the things you're afraid of and the things that you covet and your own prejudices."
It's obvious from Godsend that Wray set foot in the places he writes about, where, eager to blend in as much as possible, he dressed as a Talib, with a full beard and kameez. At one point early on, he and his guide pulled over on the Khyber Pass so he could take a leak by the side of the road. As he got out on the side of the road and assumed the usual stance, his guide leaped frantically from the car: Wray was about to blow his cover. "Everybody in Afghanistan squats when they piss," Wray explains. "You drop your pants, you raise your kameez, and then you squat on the ground the way a woman might … And I'm standing up like this," he continues, gesturing at his fly. "It brought home to me that I should make no assumptions about things being universal."
Wray's personality, so evident in his house, is more difficult to spot in his books. With each novel, he reinvents himself anew as a writer and then disappears, chameleon-like, into the background. "I would go insane if I had to do what I think of as variations on a theme," he says. "It's a very bad business model … You create a readership and then with the next book they're like, What the fuck is this?" His previous novel, The Lost Time Accidents (2016), was a 500-page mock epic about time travel, steeped in theoretical physics and written in a rollicking, almost Rabelaisian style. Much of it takes place in Austria, where Wray spent his summers while growing up (his mother's family is Austrian) and still visits frequently.
Godsend shares its stripped-down tone and single-minded protagonist with Lowboy (2009), Wray's third book, which follows a schizophrenic teenager over the course of a single day spent on the lam in the New York City subway system. Wray, who didn't have an office at the time, wrote the first draft while riding the trains. "If you have good headphones and you pick the right subway lines and the right times of day," he says, "you can almost feel like you're alone in a little room."
The Spare-Bedroom Fiction Factory
*A version of this article appears in the October 15, 2018, issue of New York Magazine. Subscribe Now!