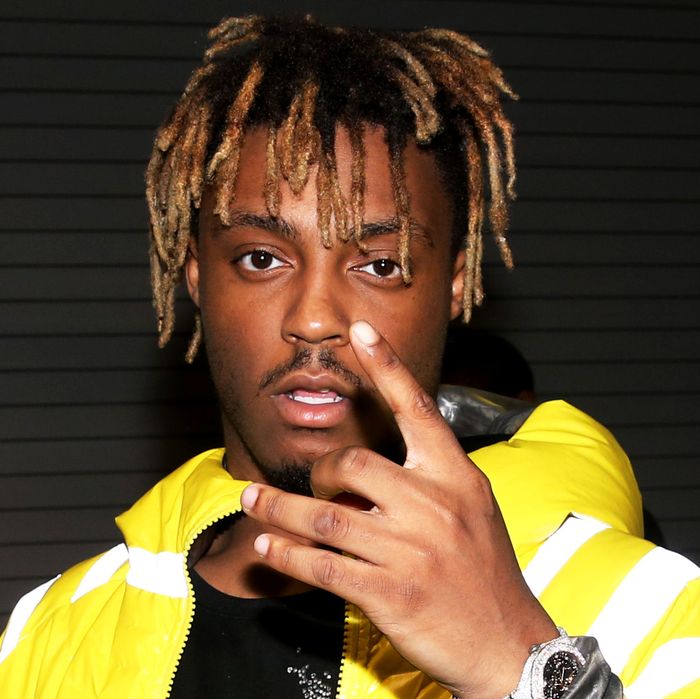 Juice WRLD.
Photo: Bennett Raglin/Getty Images for Power 105.1
In a year that has felt like an extended waking nightmare, one of its biggest songs embraces the atmospheric psychosis while searching for some control. 19-year-old Chicago rapper Juice WRLD struck chart-gold with "Lucid Dreams," his glum one-time SoundCloud freebie turned mainstream hit that has steadily hovered around the number one spot on Billboard's Hot 100, just below the big dogs like Travis Scott and Cardi B. A newcomer to the game, Juice WRLD has only been rapping seriously for less than three years but cultivated a self-made online following with his intensely confessional lyricism — subjects including high school heartbreak and heavy drug experimentation — eerily reminiscent of emo's wounded appeal. "I'm saying the things about feelings that people don't know how to put into words," Juice WRLD tells Vulture of his sudden popularity. On the phone from Philadelphia, Juice spoke to us about his new collaborative album with Future, Wrld on Drugs, why he called out Drake's baby drama in a lyric, feeling conflicted about hometown hero Kanye West, and getting sober.
Walk me through how your album with Future came about. I wasn't aware y'all were even that close.
We kinda got cool over the last couple months and we met in the studio and clicked automatically. We linked up in the same place in Atlanta and made a lot of songs.
When Future did that album with Drake, they said it took only six days to make. What about yours?
I think we did it in five. We made probably twice as many songs as we dropped, as well. I gotta go back and listen to them [to consider releasing them]. I learned some life lessons from him, like how to move and be smart.
Your feature on Lil Yachty's new album also caused a stir when you called out Drake for having a baby with a former porn star ("But I ain't on no Drake shit, I won't get her pregnant"). Yachty said he gave Drake a head's up and Drake laughed it off. What do you make of all that?
I mean, I'm probably one of the biggest Drake fans you could ever find. I'm also a big fan of Eminem and sometimes I use his point of view, his style. When Eminem was coming up, he used to crack jokes [about other artists] in his music. It was like satire. I incorporated the same thing. It was really a joke. People can take it however they wanna take it, but I'm pretty sure Drake knows it's a joke. It was out of fun. I think he's the greatest in the game right now.
You've said that Future was the artist who first influenced you to experiment with lean. Did you talk to him about that?
That's the first thing I told him. He just was like, "Wow." He kind of apologized.
You've since adopted a more sober lifestyle. How has that affected your creative process? I was wondering if you had gotten used to recording under the influence.
I try not to let it affect me too much. It doesn't really have that big of an impact on me. More recently, I've just kind of realized certain things about myself and my coming up, the way that substances played a part in my life, whether it was me doing them or other people. It's something that I'm trying to separate myself from.
Is it difficult then to perform those songs from your debut that are almost exclusively about self-medicating with substances to cope with heartbreak in high school? Do you almost have to disassociate?
Nah, because I was speaking from a standpoint of listing the positives and the negatives. I feel like I'm kind of acting like a sacrificial lamb.
How have you adjusted to leaving your home of Chicago? You're still so young.
Well I did just have a five or six day break, but usually I'm traveling every day, which is another reason I want to live a healthier lifestyle. In such an unstable career — something is always moving — you've gotta have a foundation just so you can keep your sanity. I most definitely miss certain things [about Chicago], but this is for the better. If I wasn't doing this, what would I be doing?
Had you given that much thought before pursuing rap right out of high school? Was college an option?
It started to cross my mind but I would draw a blank because I literally don't know. I never thought about college, but my mom thought about it for me. I knew 100 percent it wasn't for me. I would've been going for all the wrong reasons. I'd go, but it would have to be for something I'm passionate about. That was what was preventing me from over-excelling at school in the first place.
Your debut feels like a child of Kanye's 808s & Heartbreak. Was that album on your mind at the time?
Yeah, I think I kind of live with that record on my shoulder.
What's your opinion of Kanye right now?
I just had this conversation with a friend of mine. It is hard to separate the art from the artist. But at the end of the day, that's kind of what you have to do to enjoy some stuff — not think about it. Nobody on this earth is perfect. Everybody has their flaws, everybody has their dark secrets and vices. You gotta look at somebody and take into consideration how they might be bad for you and whether you want them in your life. But then there's the standpoint of: You'll probably never meet that person or ever get on a personal level with them, so just take them for what they're good for.
Do you have any personal relationship with Kanye? He's now suddenly saying he's moved back to Chicago.
I actually haven't had the pleasure of talking to him. I feel like I will soon.
Did the success of "Lucid Dreams" sneak up on you as much as it did me? The Sting sample alone threw me.
I feel like it's just relatable. I'm saying the things about feelings that people don't know how to put into words. It took me about 15 minutes to make. My mom told me that [the song's producer Nick Mira] sampled Sting so I went back and listened to his version. I haven't heard from Sting but he said publicly that "Lucid Dreams" was a beautiful interpretation of "Shape of My Heart."
The song's cathartic impact really solidifies, for me, emo's resurgence in this next generation of rap, which continues to take ownership of it. When you were developing your sound, was emo something you intentionally wanted to channel in your work?
I think it's only a part of me. There's more to me as an artist than that type of music, but I don't have a problem with [the emo-rap label] all. Emotional shit is life, so why shouldn't music be?
Your career has taken off in a year. What's a specific moment where you remember your success really starting to sink in?
When I hit my first million streams for "Lucid Dreams" on SoundCloud. I did it without any type of promotion or help. The true hardcore supporters did that. SoundCloud's like the new Myspace.
This interview has been edited and condensed.