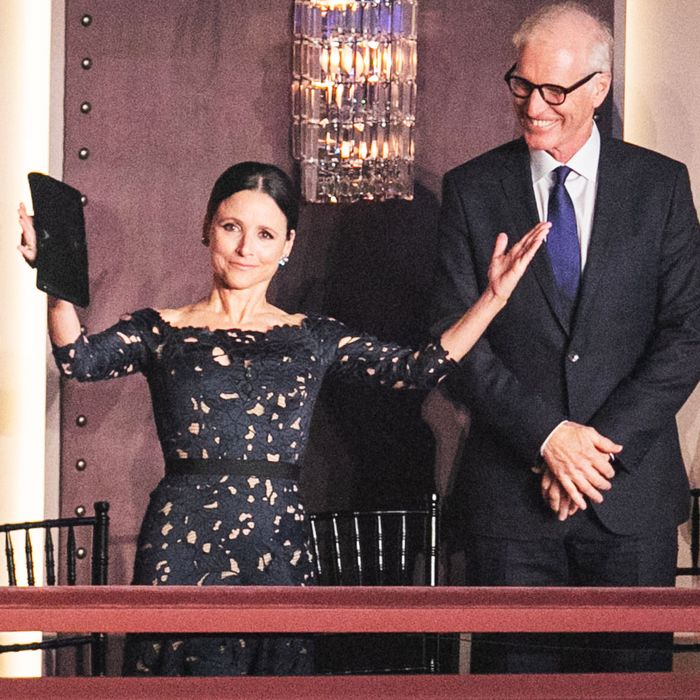 Julia Louis-Dreyfus at the John F. Kennedy Center on Sunday.
Photo: Tracey Salazar
The C-word came up during Sunday's Mark Twain Prize for American Humor at the John F. Kennedy Center in Washington, D.C., where Julia Louis-Dreyfus became the sixth woman to receive comedy's top award.
Because this is real life and not an episode of Veep, the C-word in this case is cancer, the disease that Louis-Dreyfus overcame rather publicly over the past year. During the two-hour-plus ceremony, which will be broadcast in edited form on PBS on November 19, the first person to overtly acknowledge the subject was Larry David, who delivered a videotaped tribute in the most Larry David way possible: by deliberately making things uncomfortable.
"I gotta say, the lengths that she went to to get [the Mark Twain Prize], frankly I was a little surprised," David said. "I mean, come on! That whole cancer thing? Cancer? Honestly, I gotta take my hat off to her. What a scam. It's diabolical. I'm a little jealous I didn't think of it, because that is right up my alley."
After slyly noting to the Mark Twain Prize committee that he may be combatting his own health problems, David turned sincere in his praise of Louis-Dreyfus, with whom he worked on Saturday Night Live, as well as that famous Show About Nothing. "Working with her was like being in charge of the Hope Diamond: I felt vastly protective and constantly in awe, a condition in which I still remain to this day," he said. "Congratulations, Julia. I love you." Then he started coughing uncontrollably.
Lest you be concerned that perhaps Louis-Dreyfus was offended, please know that she was in a Kennedy Center box, looking luminous in a navy blue, lace-bodice gown while seated between her mother and her husband, Brad Hall, absolutely cracking up at what Larry David was saying.
Several members of the Veep cast followed the same template, mining Louis-Dreyfus's cancer treatment for humor. In another taped segment, numerous co-stars joked about having illnesses of their own that were ignored because the nation was too busy rallying around the woman who portrays Selina Meyer. Gary Cole, who plays strategist Kent Davison on the brutally funny political comedy, claimed that he also found a tumor in his armpit. Matt Walsh, who plays Selina's inept communications manager Mike McLintock, announced he was diagnosed with "face cancer." "Frankly, the public's attention was still really on Julia," said Kevin Dunn, a.k.a. Veep's Ben Cafferty. "So when I had my stroke, there was really no press at all."
The vibe that both David and the Veep cast captured — sincerity undercut with dark humor, which defines so much of Louis-Dreyfus's groundbreaking work — was in abundance during Sunday's ceremony. Numerous colleagues and friends — Jerry Seinfeld, Tony Hale, Tina Fey, Kumail Nanjiani, Keegan Michael-Key, Lisa Kudrow, Bryan Cranston, Abbi Jacobson, Ilana Glazer, singer Jack Johnson, and Stephen Colbert — paid tribute to the decorated actress, singing her praises with references to her kindness, generosity, and appeal as a performer. At one point, her praises were even danced, when Jacobson and Glazer led a modern dance troupe in a performance of Louis-Dreyfus's greatest physical comedy hits, including, of course, the Elaine Dance.
"People are always asking how I feel about this being the last season of Veep," said Hale, who plays Selena Meyer's overly devoted right-hand man, Gary, and who appeared in-person to honor his friend. "It's a job. I'll be fine. My identity is not based on this show. That's ridiculous." He laughed, then paused. "My identity is based on Julia."
The Louis-Dreyfus magnetism is also what defined Jerry's identity on Seinfeld, according to Jerry Seinfeld. "People bought it. They believed it. They believed the relationship," he said of Jerry and Elaine, exes who somehow managed to remain friends for nine seasons of TV. "And I think it's fair to say, the show went on to do very nicely. Here is how: I just really, really liked Julia. I could not get enough of her. I never said or did anything inappropriate, but that whole time, nine years, I was not acting. I couldn't! I thought she was funny, beautiful, intelligent. Every single second I spent with her onstage and off — bingo, no acting required."
No acting was required Sunday night on the political front, either. While jokes and comments about the Trump administration were a part of last year's Mark Twain Prize salute to David Letterman, they were much more prominent during this year's ceremony, and met with louder applause from a vast swath of the audience.
"You Washington people, you guys, you're used to politics," said Stephen Colbert while opening the show. "Let me tell you, there are some terrible people in show business" — long pause for comedic effect — "who recently switched to politics."
Kumail Nanjiani made a case during his remarks that Louis-Dreyfus should run for president in real life, noting that she is "diplomatic." "That used to be part of it!" he added. He also pointed out that "Julia has the experience to deal with Congress, because she already knows what it's like to get screwed by clowns," at which point an image of Louis-Dreyfus faking sex with a clown during a GQ photo shoot appeared on a large Kennedy Center screen. ("I'm seeing you explain it to your mom right now," Nanjiani said of the photo while Louis-Dreyfus whispered to her mother. "I cannot believe it has not come up before today.")
But the most charged political comments came from two women: Fey and Louis-Dreyfus herself.
"Everyone talks about all the parallels between Veep and the current administration, but I think it's more like Seinfeld — just a bunch of selfish dicks who don't give a crap about anyone but themselves," said Fey, to loud applause and laughter. After noting that Louis-Dreyfus grew up in nearby Bethesda, Maryland, and attended the Holton Arms School for Girls — alma mater of Christine Blasey Ford — Fey quipped, "Anyone who knows Julia knows she cherished her high school days boofing out on the quad, playing devil's triangle with her girlfriends. A classic American childhood."
Louis-Dreyfus publicly showed her support for Blasey Ford by signing a letter of support from Holton Arms alumni that circulated prior to Brett Kavanaugh's Supreme Court confirmation. On Sunday night, she showed her support again, in comedy form, during her acceptance speech.
"I attended Holton Arms, a girl's school in the Washington area that has been in the news lately," she said. "Back in fourth grade, I was in a Holton Arms production of a very serious play called Serendipity. You know, it's funny with us Holton girls: I remember every detail of that play. I would swear to it under penalty of perjury. And yet, I don't remember who drove me to the show or who drove me home. I don't remember if Squi or Tobin were there, or if Bart wrote it on his weird wall calendar. So gosh, maybe it never happened."
This being Washington, political figures were in the audience too, including Republican congressman Darrell Issa, recently tapped by Trump to head the U.S. Trade and Development Agency. Issa was sitting a row over from me and he was so stone-faced during every political joke of this nature, he looked like he had actually turned to granite while sitting in his seat.
Eventually, Louis-Dreyfus also addressed her breast-cancer diagnosis, which she received last September, hours after she won her sixth Emmy for Veep and her eighth Emmy overall. (As she told Jimmy Kimmel during an appearance on his show last week, she is now cancer-free after surgery and chemotherapy.)
"Cancer isn't at all funny, but a big part of dealing with it has been finding the funny moments," she said. "The only cliché about laughter being the best medicine is it turns out to be true."
"Which is good," she added, "because that's what our current administration is trying to replace Obamacare with."
It is unclear how many of these partisan cracks will make the PBS broadcast when it airs in November. But Louis-Dreyfus's sincere, verklempt expressions of thanks will definitely make the cut, as will her comments about motherhood.
"When you're a working mother, you really worry about the time spent away from your kids," she said. "You try your best to be there as much as possible. But the truth is that you miss stuff and you worry that they're going to just get all screwed up and suffer all kinds of angst and neuroses when they grow up. And then you get the Mark Twain Prize. I gotta say: It's worth it."