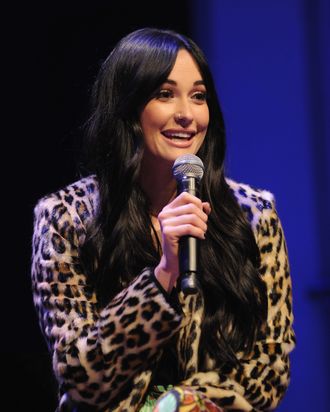 Kacey Musgraves.
Photo: Brad Barket/Getty Images for The New Yorker
Shout it from your cattle ranch in the Cheyenne suburbs or your balcony overlooking the Hudson: Kacey Musgraves is a gay icon, y'all! And the world needs to know! (The world also needs to know about Golden Hour, the best country album of the year. Don't fight us on that.) Such a topic was brought up at Musgraves' New Yorker Festival event on Friday evening, when an audience member asked the songstress how it felt to be an icon within the LGBTQ community — a rare crowning for a country music artist to achieve. While Musgraves said she was honored to be receive such high praise, it spurred a few musings about a more significant topic: the genre's horrible track record when it comes to inclusivity.
"What I think it is — someone told me this recently and it broke my heart — they said, I've grown up loving country music and I grew up gay in a small town, and country music has always felt like a big party that I wasn't invited to. Oh my god, you're invited to my party," she explained. "It's crazy that a certain kind of a person could feel excluded from a genre that's so real — or supposed to be so real. That has always really pissed me off. Because I love the genre so much, I felt, Well fine, maybe I'll just have an all-gay audience." Musgraves said the catalyst for being an ally stemmed from a good friend coming out to her when they were younger, which he only did when they moved away from their repressive small towns.
"I was the first person he told," she recalled. "I had an idea, it was an unspoken thing, but it was so painful and hard for him to tell me, even though I was totally fine with it. Thinking about him and all of those other kids who are like, I love country music, why can't I be a part of this? Why isn't my narrative included? I don't know." What she does know, though, is she'll never stop supporting the LGBTQ community. Yee-haw to that.