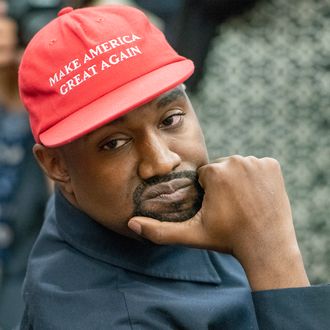 Ye.
Photo: Ron Sachs/Getty Images
Kanye West is — at least for the moment — leaving political discourse behind. Earlier in the week it was reported that West was had designed a line of apparel meant to promote a black-voter exodus from the Democratic Party. There were various shirts and a hat unveiled with the slogans "Blexit" and "We Free" emblazoned across them, and West's new friend Candace Owens told a crowd of people at the Young Black Leadership Summit in Washington, D.C., that, "Blexit is a renaissance and I am blessed to say that this logo, these colors, were created by my dear friend and fellow superhero Kanye West," according to Page Six. "[West] has taken one of the boldest steps in America to open a conversation we have needed to have."
But according to West on Twitter, he had no part in designing the "Blexit" logo, and will now be stepping away from politics to focus on creative endeavors.
He also posted a string of tweets a few hours before announcing his departure from the political sphere, detailing things he does believe in, like common-sense gun laws, compassion for asylum seekers, and support for members of the armed services. In addition to feeling like he'd been treated as a puppet, it's possible, too, that West's recent vociferous support for President Trump and his agenda may have created some strain at home.
Let it be known that Kris Jenner remains undefeated.