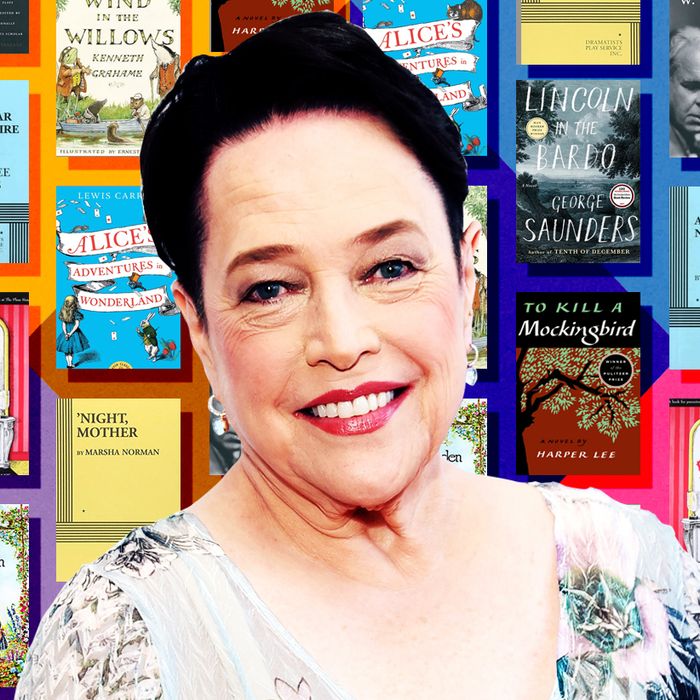 Photo: Vulture/Getty Images
Bookseller One Grand Books has asked celebrities to name the ten titles they'd take to a desert island, and they've shared the results with Vulture. Below is American Horror Story star Kathy Bates's list.
A Child's Garden of Verses by Robert Louis Stevenson
This is the very first book I remember my mother reading to me. The original illustrations by Myrtle Sheldon are mesmerizing. I loved hearing the tempo of the rhymes, over and over until I fell in love with words for life. My favorites are, "In the Land of Counterpane," "The Unseen Playmate," and "Bed in Summer."
Eloise at the Plaza by Kay Thompson
Published in 1955, this delightful book was a gift from my Aunt Lee who worked at Cokesbury Bookstore. She sent us lots of books at Christmas. I loved Eloise's pug, Weenie and her turtle, Skipperdee — often lost, but always found. I got an Eloise doll that Christmas, too. Hilary Knight's whimsical illustrations bring to life this unforgettable character.
Photo: nc
Alice's Adventures in Wonderland by Lewis Carroll
My first big book to read introduced me to the brilliant insanity of a topsy-turvy world that shaped my imagination for life. I learned my brain was the best toy in the whole wide world! Reading is like Alice falling into a hole, where anything can happen. If you're lucky you can get lost in the right direction.
The Wind in the Willows by Kenneth Grahame
I adore this book. In my youth I identified with shy Mole. Now that I'm older, I've grown more like Mr. Toad. Larger than life. Rushing around in his car, wreaking havoc. At Southern Methodist University, Candace Birk directed a wonderful production, and I got to play Mole. I created a voice that sounded as if his nose was stuffed up from digging his tunnels underground.
The Collected Poems of W. B. Yeats
Yeats: say no more. I'm of Irish ancestry so the world of Yeats is magical, mournful and evocative of a faraway time and place familiar to my soul. I often love to read these poems aloud to myself late at night. My favorite is "The Second Coming," with its prescient warning to our world today.
Collected Poems by Edna St. Vincent Millay
I love sonnets, with their iambic pentameter. This collection has most of her best-known works, but my favorite "I Shall Go Back Again to the Bleak Shore," is in her Selected Poems edition. She won the Pulitzer Prize for Poetry in 1923, only the third woman to do so. All her life she was an activist for women's rights.
A Streetcar Named Desire by Tennessee Williams
Blanche Dubois says, "I don't want realism, I want magic. Yes, Yes magic!" For me, that is the essence of Tennessee's voice. We all long for magic, to leave our human shells for respite. That's why I became an actor. But my favorite quote in all of literature is, "Sometimes — there's God — so quickly." To me that means a moment of grace comes when we least expect it, at the moment we need it the most.
To Kill a Mockingbird by Harper Lee
The most magnificent book I've ever read. I've read it countless times. I once read it aloud to myself cover to cover. The lyrical language of the South evokes the oppressive heat, the long days of summer and the appalling racial inequality. Sadly, those hateful times are still with us. This book, more than any other on my list, should be read by every American.
Lincoln in the Bardo by George Saunders
This remarkable novel, which won the 2017 Man Booker Prize, takes place in a cemetery the evening after the burial of Lincoln's son, Willie. The chorus of the dead, an astonishing cast of over 60 characters, are trapped in the Bardo, the state of existence between life and death. Another kind of bardo is taking place at the White House on the night before Willie dies. Historical diaries and letters written by those who attended the grand ball illustrate the struggle in Lincoln's soul. His role is to be president, but he longs to be with his beloved son.
'night, Mother by Marsha Norman (Original 1983 Broadway production directed by Tom Moore)
When read aloud, this play — which takes place during the course of one night in the life of a mother whose daughter wants to commit suicide — is like a poem. Although technically not a book, the journey I made with this Pulitzer Prize–winning play affected my life in a deeply personal level. When my 83-year-old father was facing a leg amputation due to diabetes, he attempted suicide. Naively, I tried to encourage him to hang on to life. He replied, "You know how I feel. You're doing that play." The role of the daughter, Jessie, was originally written for a dear friend, Susan Kingsley, but she never wanted to be a "Broadway star." She wanted to stay home with her babies and her husband on their pig and tobacco farm in Kentucky. In 1984 she was killed in an automobile wreck. Marsha's play was a major turning point in my career, but I would have given it all up, if Susan had been in the play instead of an icy road in Georgia.