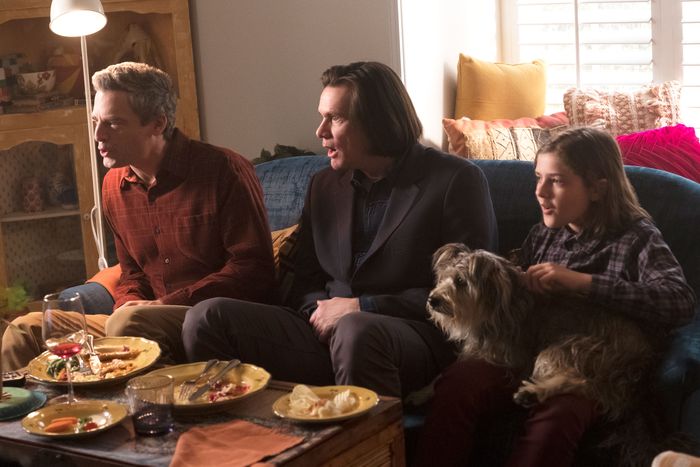 Photo: Erica Parise via SHOWTIME
Mr. Pickles is hitting the road! Sorta. He's flying to LA with Will and Vivian via FaceTime so she can see the beach. Vivian's still in chemo (per Jeff's insistence) and Jeff's allowing more moral nuance into his life (per Vivian's insistence). He and Will fly first class and stay in a fancy hotel right on the beach where he can see dolphins from the balcony — and so can Vivian, via Jeff's new iPad. All of this would have made Jeff nauseated and furious earlier in the season, and there's a kicker — it looks like he's not paying out of pocket for the trip, which was sponsored by a toy manufacturer. Is this the Jeff we know? Is this growth?
Back in Ohio, Deirdre and her family are entertaining a guest: Pickles-san. As alluded to previously, there are franchise versions of Mr. Pickles' Puppet Time around the world, and apparently the Japanese version is a pretty big deal! We watch the retirement of the previous Pickles-san and an emotional handoff to a younger man, the new Pickles-san. Now the younger Pickles-san will be crashing with the Pickles family to learn what it means to be Mr. Pickles. "And occasionally babysit," Deirdre explains, which is so weird. Before he arrives, Deirdre and Scott try to talk out their issues, poorly. Her offer: Let's stay married and you can keep sleeping with dudes. His counteroffer: I'm totally straight, that was a one-time long affair with a guy, don't even worry about. Sounds fake, but okay guys!
I guess as a quid pro quo for sending him to LA, the toy company's got Jeff agreeing to voice the forthcoming Mr. Pickles doll. The doll itself has an uncanny valley head, more or less identical to the ice show head, and it comes across looking a lot like those awful Emma Watson Beauty & the Beast dolls. Jeff is also not so fond of the doll's script. He's supposed to record requests for hugs or demands that children help senior citizens. He's not into it. The executives agree to let him go off-script, but we don't get to hear what that entails. Even later on in the episode, a child pulls the string on a busted Mr. Pickles doll but it's too busted to speak. Instead, its head falls off, Kidding once again employing the image of a Mr. Pickles stand-in being beheaded.
We can extrapolate, though, from a great montage of Mr. Pickles going off-script on his show. In a really cool sequence that I suspect will soon be accompanied by another YouTube behind-the-scenes demo, Mr. Pickles explains the meaning of the phrase "Allahu Akbar," what the Trail of Tears was, and a few other challenging concepts for American children (Pickles-san, who speaks no English, latches onto Allahu Akbar). In bed with Vivian, he excitedly declares that this is what the show should have been all along — he feels like he's finally doing Mr. Pickles' Puppet Time right (also, such a Larry Sanders move for Jeff to vocally obsess over his own show while having sex).
Sebastian, of course, does not agree that this is what the show is. For him and the editor and writers, it's just lots and lots of wasted studio time (though the footage would make for a truly strange 20-years-later documentary, à la Jim & Andy). With their downtime, Deirdre entertains Pickles-san while working on puppets. He doesn't speak English, so he's the perfect person for her to dump her feelings on. Much like Jeff, she feels trapped by Sebastian: both Deirdre and Jeff think of the other one as having all the freedom they wish they had. Then Pickles-san picks up a puppet and suddenly they can understand one another! Kidding again allows space for fantasy and/or surreality as Deirdre and Pickles-san have a full conversation through handpuppets. He's not speaking English, he insists, it's just the magic of puppetry. Deirdre seems to surprise herself with her candor, describing the Piccirillo family as one that "loves from afar." Like her family, she's desperate for connection, and appears to find it in this Japanese puppeteer. When she explains that she feels like she's covered in emotional scars, he tells her about kintsugi, an artistic process that allows for cracks and fissures to be the most beautiful parts of an object. It's something she seems to understand instinctively, as she communicates with a half-finished puppet designed to look distressingly asymmetrical.
Then everything changes. Jeff and Jill have a sweet conversation at the hospital waiting for Vivian to finish up her appointment, which also kind of underlines how characteristically invasive it was for Jeff to start dating someone who's always at his ex's workplace. But whatevs, Vivian has news: She's in remission! Jeff's bullying insistence that she continue in chemotherapy turned out to have an effect Vivian thought would be impossible. Everyone's thrilled, not least of all Sebastian, who is convinced that Jeff will be just fine now (forgetting, it would seem, that Jeff was a mess long before he met Vivian, and dating someone is not really a cure for depression and alienation).
The whole extended clan has a big party, including Jill, Big P, and Pickles-san. Will demonstrates an amazing magic trick that everyone but Pickles-san misses, Jeff and Pete discover a shared love of competitive dog shows, and even Scott seems able to have friendly conversations without crying. Things are going so well it's inevitable that a big disaster is looming, and it doesn't take long: Vivian breaks up with Jeff in front of his whole family. He was her dying-soon boyfriend, and now that she's healthy, she tells him "You remind me of death." It's unpleasant but hard to argue with. Jeff's no one's idea of a great long-term boyfriend. He's old and cranky and his family is really toxic. Nevertheless, the Pickles family is furious, and they all scream "Fuck you" at her until she leaves. Once she's gone, Pickles-san breaks the tension by barfing up his lasagna.
Later that night, Pickles-san again uses puppetry (this time with cutouts and shadow puppets) to tell Deirdre a story about a man trying to save a queen, only to learn that her problems are her own to solve. Just as Deirdre's beginning to appreciate the story's significance, Scott walks in and reveals that Pickles-san has been puppeteering with his penis. Not ideal for this family working on their intimacy issues, probably.
Jeff also cannot function on camera. He has to introduce Viva Las Pages, the puppet based on Vivian, to Pickle Barrel Falls, and it's tough for him. Though the Mr. Pickles dolls fly off the shelf in a toy store stampede, Mr. Pickles has a live television appearance coming up for Christmas that Sebastian is certain will be a disaster. Looking forward to seeing that.
As is his method for forgiveness, Jeff calls his accountant to pay all of Vivian's debt down. This is demonstrably not helping him get over feeling hurt, but it's still a good move. He's still rich and Vivian is still a person who needs money. But after hanging up the phone, Jeff freaks out. He screams, trashes Seb's office, and smashes Seb's TV showing Mr. Pickle's face. This is the episode's only moment that doesn't really land, likely because we've already seen plenty of Jeff freaking out and smashing things. This is a bigger tantrum, but it's still his same old M.O. So as we hurtle toward a sure-to-be newsworthy live televised appearance, it's two huge steps back for Jeff.
その他のメモ:
• I guess we're probably not gonna see any more Tara Lipinski. I hope Pickles-san sticks around for a bit.
• Last week, I said that Maddy's playing oboe. I was completely wrong — it's a clarinet. I owe a huge apology to my various band teachers through the years. Sorry, Ms. Tompkins. Sorry, Ms. Luck.
• I want so badly to believe that the actors learned ventriloquism for the puppet communication scene, but I think it's probably not so.
• One of Mr. Rogers' weaknesses as an educator of children was his insistence that adults must explain the world as being one that makes sense, where all problems are solvable and parents will alway protect children. In the real world, many children must learn elsewhere that this isn't the case. I think the montage of Mr. Pickles talking about genocide is sort of similar — he's a kid's show host who struggles to explain things that are unjust.
• Dog breeding is so bad. Mr. Pickles should know that!