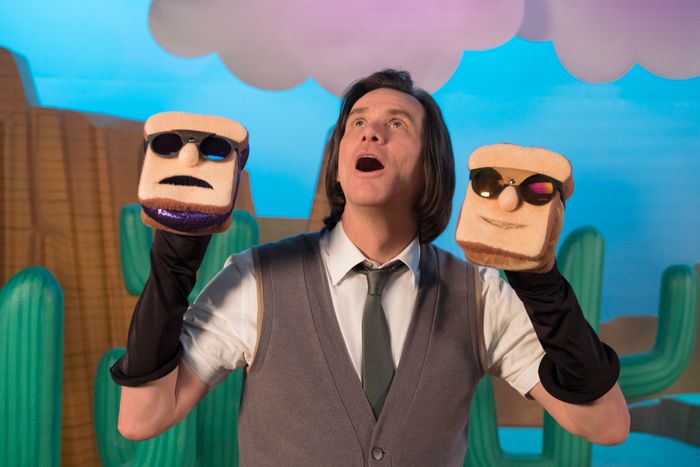 Photo: Erica Parise/Showtime
I guess it's only fair that Kidding would follow up last week's excellent episode with the worst of the season so far. Episodes of Kidding have jumped around in time a bit, usually starting with a strange moment in the present and then explaining it with a flashback later on. In this case, the whole episode is a flashback that gives us a bit of interesting insight into Will and Phil's dynamic but spends most of its time explaining how Derrell got hired on Mr. Pickles' Puppet Time, which was not really a question I needed answered. It really feels like the writers thought it was weird that a black person worked on Mr. Pickles' Puppet Time and dreamed up an elaborate explanation for why that's bafflingly condescending.
Jeff has been corresponding with a death row inmate (Joey) whose execution is fast approaching. He wants to attend the execution but his family isn't sure it's a great idea. For one thing, Joey is a serial killer; he murdered four redheaded women, earning him the nickname the Wendy's Killer. The execution will be attended by grieving relatives who are likely to be confused by the presence of Mr. Pickles. For another, the Pickles clan isn't sure Jeff's really up to watching an execution. He isn't sure himself, but Joey's son wants him there, and Jeff feels responsible for showing up.
Jeff's preoccupation with the case interrupts a magic act by Phil and Will, who are doing a Prestige kind of thing where they pretend to be one magician who can teleport. It's a weird piece of foreshadowing since we know that, like in The Prestige, one of them is going to die. We got a glimpse of Phil much earlier in the season, and we've learned bits and pieces about him since then, but this episode is our first opportunity to spend real time with him and it turns out he's having a difficult adolescence. Unlike Will, who joins his father for late-night chocolate milk and wants to donate money to bee preservation (a cute callback to his work with weaponized bees at the beginning of the season), Phil is angry and inappropriate and struggling for attention in this big civic-minded family.
It turns out that Joey's son who asked Mr. Pickles to attend the funeral is Derrell, the PA from Mr. Pickles' Puppet Time who found Jeff at the end of the last episode and has been a background presence in the rest of the season so far. Jeff sends Derrell his father's letters, thinking they'll bring his family comfort, but Derrell understands it as a good-riddance gesture. He's disappointed that Jeff isn't going to attend after all (he's been successfully browbeaten by his family), but mesmerized by his father's elaborate illustrations of Pickle Barrel Falls. These illustrations, which stretch across multiple letters to Jeff, can be arranged overlapping on Derrell's wall to make a big map of this imaginary town. This kind of magical realism (I'm not sure how someone on death row could plan these perfectly aligned images across multiple letters sent over the course of months) has become one of my favorite parts of Kidding but it annoyed me in this episode.
At school, a big bully exchanges some words with Phil and then Phil clocks him and takes a beating. The school suspends Phil, and when Jill tries to intercede on Phil's behalf, Jeff shuts her down and agrees that it's a fair punishment. I know teachers hate it, but it's a big bummer when parents don't advocate for their kids against the Byzantine tyranny of school disciplinary measures. This is part of the issue that Phil and Jeff seem to be having: Jeff doesn't seem to know what to do with Phil's anger but he hates it.
As a compromise, the Pickles family takes Derrell and his mother out to dinner to chat. It's painfully awkward, made more so by Phil's inappropriate questions, leading Jeff to drag Phil aside to scream at him about being quiet. Then comes the worst monologue on the show so far. Derrell tells a story about race and class to explain his father's behavior. It's a sad story about Joey missing a career opportunity because he didn't know what to do in a situation that middle-class white people would (he didn't know about the concept of "following up"). This career disappointment led him to a confrontation in a Wendy's, and he "snapped." Alex Raul Barrios's performance is good; that is not the issue. But it really feels like utter nonsense for Kidding to try to blow your mind by explaining that a serial killer who murdered four redheaded women was driven to do so by a racist system. There are many transgressive acts that can be chalked up to frustration with an unfair system: Serial murder of women is not one of them. Whatever.
Jill and Jeff continue fighting over Phil's behavior, and when Phil slams into the catcher rounding home in a Little League game, it all starts to come into focus: Jeff can't handle Phil because Phil is exactly the way he was as a child. Jeff freaks out at the baseball game because he's remembering his own violent hockey experiences. In his case, Seb encouraged his violent tendencies and something got him to start repressing them. Now he's demanding that Phil repress his rage, too, and it's not any more healthy. Jill hits the nail on the head: "He doesn't listen because you don't listen." This thread is a strong one in this otherwise irritating episode.
Jeff ends up attending the execution anyway, and watches the needle enter Joey's arm right in the middle of his tattoo of the fly from Mr. Pickles' Puppet Time. This scene also includes a kind of funny visual of the room full of people watching the execution: They're relatives of Joey's victims, so the room is full of redheads. After the execution, Jeff hires Derrell to work on the show. These white heroes give Derrell a job, for which he's enormously grateful. He loves the workplace, loves his desk, and when we cut back to the present, when Derrell finds Jeff destroying Seb's office, we see that he now has the same fly tattoo his father had. Derrell is, to my recollection, the only black staff member on Mr. Pickles' Puppet Time, so Kidding gave us a flashback episode to explain why he was hired. Really not a great look. Here's hoping things can only go up from here.
Names Written On The Back of Fortune Cookies:
• Deirdre doesn't go to Belize for charitable reasons! She goes to take a break and get high! That's a fairly big revelation except also it's like, yeah, she's a wealthy person who takes a vacation once a year. Shocking.
• I really hate to complain about this, but does Judy Greer's nudity on this show sometimes feel gratuitous?
• This episode also shows us how Jill and Pete meet, which is … not that interesting.
• We also see the origin of Phil's hollowed-out book with girl's names stashed in it which is also … not that interesting.
• A commenter on last week's recap pointed out something I missed. The shot at the end of the episode, with Jeff's face on TV smashed up, is itself a kintsugi. The commenter finds hope in that, that maybe Jeff sees how he can be pieced together more beautifully than before. I'm not sure I share that optimism, but it's a great thought.
• IMDb informs me that Alex Raul Barrios, who plays Derrell, was a stunt performer on Dumb and Dumber To. So Kidding is kind of a reunion for him and Jim Carrey.
• Mr. Pickles won a Peabody Award for an episode where he shared a cup of coffee with a man who was HIV positive. I want to see that episode.
• I really appreciated Jeff's turmoil when the waitress at the diner told him whatever he'd order would be named after him. He wanted unhealthy food but ordered a salad so his name wouldn't encourage kids to eat unhealthily.
• You, too, can write someone on death row. It's a kind way of helping someone make a human connection.