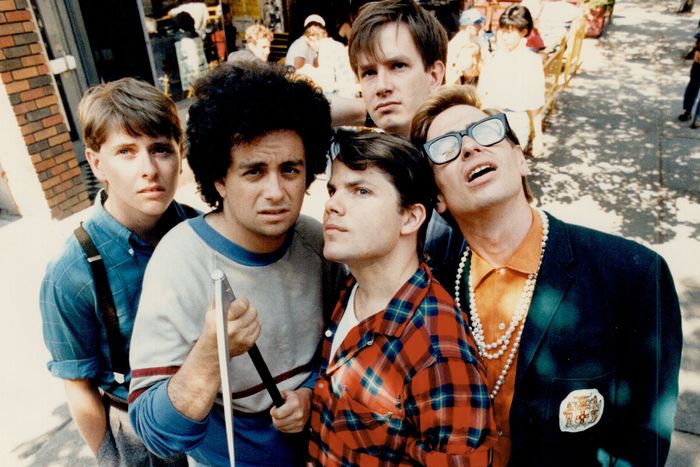 The Kids in the Hall.
Photo: Eglinton; Rick/Toronto Star via Getty Images
Paul Myers usually writes biographies about rock stars, and he used that approach to create The Kids in the Hall: One Dumb Guy, the story of possibly the greatest comedy troupe of all time, and Canada's greatest world citizens, the Kids in the Hall. Myers conducted interviews with pretty much everyone ever associated with the Kids in the Hall (and The Kids in the Hall) to produce the first authorized book about the five-man group, and which tells their complete story, from separate improv troupes through their dominance of the Toronto comedy scene to their five-season late-night show and even their film, Brain Candy and reunion mini-series Death Comes to Town. It's been a remarkable, comedy-changing journey for us and a life-changing journey for the people involved, so here are some of the most fascinating nuggets presented in One Dumb Guy.
1. They wouldn't have been the same without the Cigarette Smoking Man.
Troupe member Kevin McDonald, who grew up in poverty because of an alcoholic, perpetually unemployed father, received a full scholarship to Humber College's drama program. He was expelled after one semester, right around Christmas 1980. He says his improv teacher hated him "because I always fell asleep in his class," while the dean "called me a 'one-legged actor,'" meaning he lacked versatility, "which was ironic as he was himself an actual one-legged actor who'd lost a leg when a lighting grid fell on it during a production of Pippin." But one Humber instructor saw something in McDonald: William B. Davis. That dude later went on to become one of the scariest characters in TV history: the Cigarette Smoking Man on The X-Files. Disagreeing with the expulsion, he told McDonald that he was very good at comedy and that he should look into improv. "And he wrote down the phone number for the Second City workshops," McDonald said.
2. They were ghosted by Theatresports.
Along with live-comedy institutions (and training grounds) like Second City, UCB, and ImprovOlympic, there's Theatresports, a Canada-born performance format that found comedy troupes competing in challenges in front of an audience like they were common athletes or something. Before their Kids in the Hall days, Dave Foley and Kevin McDonald were part of a Theatresports team called Uncle Vanya and the Three Sisters (so many Chekhov references!), but they hated its "needlessly competitive approach to comedy." So, whenever they got the chance, Foley and McDonald would blow up the format and make up their own "games," including "Best Scene Until Kevin Gets an Asthma Attack." That required McDonald to run around the building until he couldn't breathe and the show would get shut down. On New Year's Eve 1982, the organization had a huge, invite-only party at a fancy Toronto location … and didn't invite Foley, McDonald, or the rest of Uncle Vanya. They went down to the place where the party was being held, and nobody would let them in. (Fortunately, another comedy troupe called the Audience — featuring Bruce McCulloch and Mark McKinney — would move to Toronto just a few months later.)
3. The Head Crusher was born during a bad date.
First of all, Mark McKinney's dweeby, weirdo "Head Crusher" character — the man who would stand far away from people and frame their heads between his forefinger and thumb and pretend to smash them — has a name, albeit a seldom used one: It's Mr. Tyzik. When McKinney was a child, he had bad vision, and to focus on distant objects, he'd look at them through the makeshift lens made by holding his finger and thumb close together. Flash-forward to the '80s, when McKinney and fellow Kid Kevin McDonald were on a double date that "was going very badly," according to McDonald. McKinney somehow decided that the time was right to revive a childhood habit and birth a catchphrase. "To break the tension, Mark started pinching his thumb and finger together, saying, 'I'm crushing your head! I'm crushing your head!' The girls stormed out, but it made me laugh."
4. The show was saved by the CableACE Awards.
After becoming a really big deal in the Toronto live-comedy circuit, the Kids got the attention of fellow Canadian comedy god Lorne Michaels. He arranged a showcase audition and briefly swiped a couple of troupe members to write for SNL in the '80s. It didn't work out, and after the group reformed, Michaels decided they were "of one piece" and dedicated his energy toward getting them their own sketch-comedy show, debuting in 1989 in the U.S. on HBO. It became a cult hit — which is to say, very few people watched it. In 1990, HBO sent word that a second season was likely not happening … until Mark McKinney got a surprise nomination for Best Actor in a Comedy Series at the CableACE Awards and, even more surprisingly, won (he beat Garry Shandling for The Larry Sanders Show). Now, back before cable channels could compete at (and dominate) the Emmys, they had their own awards, the CableACEs, and HBO won pretty much all of them. The network loved the prestige that accompanies awards, even back then, and after the CableACEs, it gave The Kids another season.
5. Brain Candy could have been a movie about carnivorous army ants.
The Kids in the Hall were on the verge of splitting up (in large part due to Dave Foley wanting to move on to NewsRadio), but they gave it one last go in the early '90s, signing on to write and star in a feature film. To figure out what movie they actually wanted to do, the whole group set off for a writing retreat in a lodge in rural Ontario. Kevin McDonald wrote a draft for a nostalgic, 1950s New York–set comedy called Memories, and "everyone just savaged it." McKinney came up with something called The Asshole about an asshole-murdering serial killer. Foley's idea: Planes Are Crashing, a disaster comedy that "involved a chaotic mix-up with air traffic controllers." Foley's other idea: All five Kids play guys hanging out in a bar in a hotel in the jungle, and they all tell their life stories. "The big reveal would be that what ties all these people together is that they are all dead," McDonald recalls. Then, after they're eaten alive by army ants, the bartender reveals that they're actually in Heaven, not Hell. They finally came up with Brain Candy (which had a working title of The Drug), about a medication that makes everybody dangerously happy all the time, when McKinney walked into the room and said one word: "Prozac."