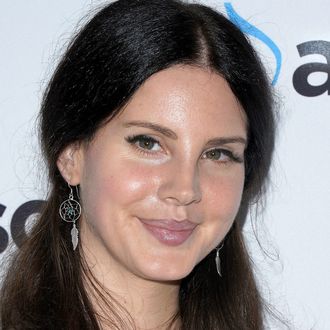 Lana Del Rey.
Photo: JC Olivera/Getty Images
After singer/hot beef machine Azealia Banks criticized Lana Del Rey's criticism of Kanye West's MAGA hat, the Lust for Life singer offered to settle their differences in the least Lana Del Rey way possible: by inviting Banks to stop by and get her clock completely cleaned.
The newborn beef began when the Slay-Z singer defended West from Del Rey's political critique, which she posted as a comment on a recent Kanye Instagram pic featuring his pro-Trump hat. "Trump becoming our president was a loss for the country but your support of him is a loss for the culture," she wrote in part.
Banks subsequently retorted in length on Instagram Story. "I'm tired of white women in Hollywood and their fake ass innocent agendas," she said. Tagging Del Rey, Banks wrote, "I suggest you apologize to Kanye West immediately." On Tuesday, Lana took their beef over to Twitter, Flat Tummy tea got dragged into it and, well, things got a little ugly.
It looks like Banks has, for the moment, moved on to posting just full topless videos, but we'll obviously update you if this saga ends with a Flat Tummy tea salesperson bodily restraining these two in the driveway of some romantic mansion in the Hollywood Hills.