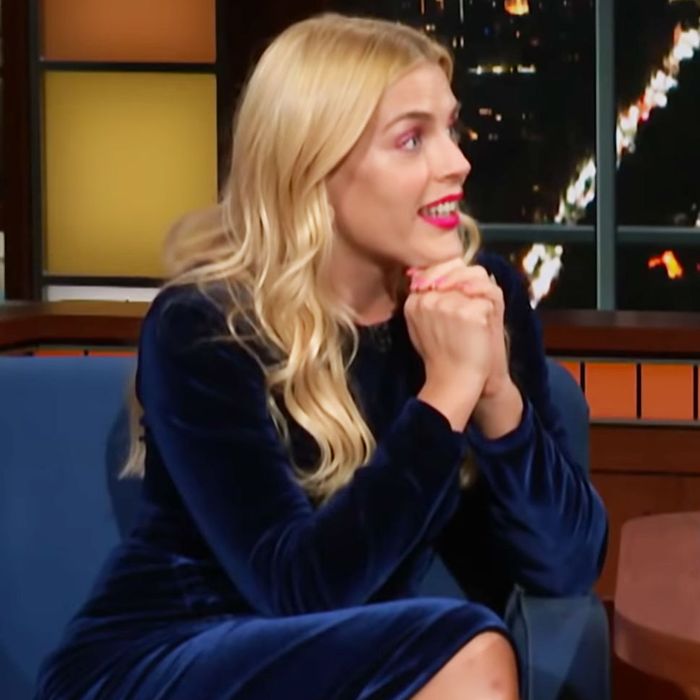 Busy Philipps on
The Late Show with Stephen Colbert.
Photo: CBS
Comedian Guy Branum believes there's skill in a good name-drop. On his truTV series Talk Show the Game Show, there are points awarded for every celebrity mentioned by a guest — until it becomes excessive. Name-drops work like all the gibberish George Lucas put in Star Wars: I don't know where Tosche Station is or what power converters do, but hearing those words get used gives me confidence that there are places and experiences outside of the one moment that is onscreen. Name-dropping builds the world. But the world is showbiz, arguably the best world, and it's always fun to see what stars know each other. (Sometimes Pete Davidson knows Al Gore.) These inexplicable connections let one ponder the interconnectedness and mystery of the cosmos. For example, did you know that Jamie Lee Curtis and Robert Carradine (the nerd from Revenge of the Nerds or the dad from Lizzie McGuire) dated? And that they met on a talk show? Things that were never connected in my brain are suddenly inextricably linked. It's like Crash, but good.
Curtis does my favorite thing a name-dropper can do, which is call someone by their nickname. It's such a flex, underscoring the intimacy of their relationship while putting the viewer at a distance. I don't know who Bobby Carradine is. I know Robert Carradine, after a Google, but Bobby is an entirely new creature. My favorite is when people say "Marty Scorsese." Such an undignified nickname, Marty. This auteur of violence and misery has the same name as a time-traveling goober that almost accidentally fucked his own mom, and Bobby De Niro won't let you forget it. On Watch What Happens Live this week, Jane Curtin brilliantly deployed the celeb nickname-drop when talking about her Saturday Night Live days.
Bill Murray is "Billy," whereas Lorne Michaels is "Lauren." She mispronounces or over-pronounces Lorne's name to emphasize the chilliness of that relationship. And take note of how Harvey Fierstein peppers his non-campaigning for the role of Ursula with the names of all the people with whom he's recently dined who are in some way connected to The Little Mermaid. (Incidentally, is there a way to make a live-action Little Mermaid that is all Ursula all the time? Every person who's expressed interest in the role: Fierstein, Lizzo, Gaga, Tituss Burgess. I want them all to do a heist or something.)
There is such a thing as going too far with name-dropping. On Talk Show the Game Show, it's judge Casey Schreiner's job to yellow card guests that are spackling famous names over an otherwise shaky performance. Schreiner is notably, woefully absent from The Alec Baldwin Show. Nobody is there to stop him. In this inexplicably animated clip, Baldwin tells Bobby De Niro a story about Danny Aiello and his ex-wife Kim Basinger.
I've watched this clip seven times and still do not understand the purpose of the story. "This is my favorite story," Baldwin says at the top. But is it even a story? Stories have beginnings, middles, and ends. This is mostly just the weirdest Kim Basinger impression I've ever heard and maybe a critique of Italian-Americans. The name-dropping is next-level. We start the story with Betty Bacall; Lauren Bacall's real name being Betty Joan Perske. But then we get the prop guy, a restaurant name-check, someone named Jimmy, someone named Frank. Who is Frank? WHO IS FRANK? The only person not name-checked is Alec's ex-wife, which is a different kind of flex. Alec Baldwin wants to project intimacy with Betty Bacall, but keep the woman he shares a child with at a distance.
The best name-dropping of the week has to go to Busy Philipps. And for once, it's not Michelle Williams. On The Late Show, Phillips name-checks Tina Fey, her jewelry designer friend Irene Neuwirth, Nate Berkus, and even Stephen Colbert's wife. But what makes this god-tier name-dropping is that she coaxes an Oprah-drop out of Colbert himself. I now know that Oprah once flew Colbert a basket of avocados, and it makes the world a little brighter.