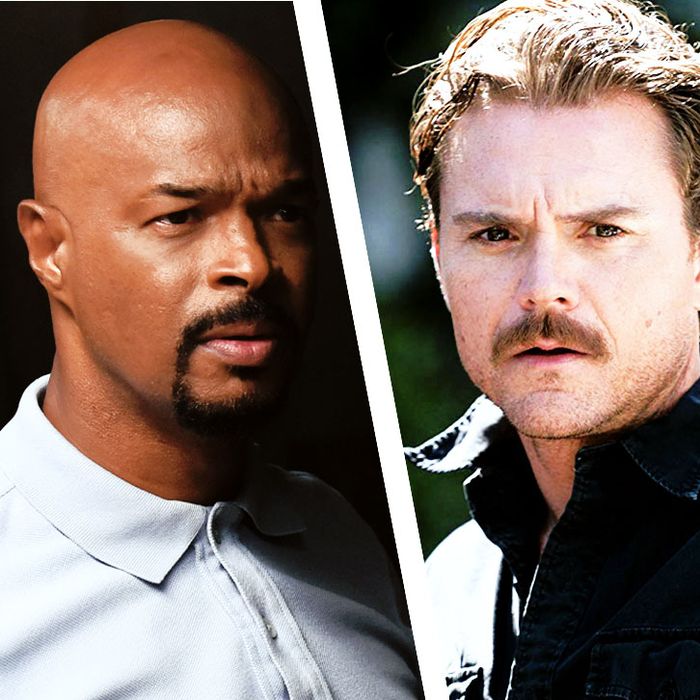 Damon Wayans, Clayne Crawford, and Seann William Scott.
Photo: FOX
We won't fault you if you didn't know much about Fox's Lethal Weapon reboot until it became an unlikely source of headline news earlier this year — we're living in an era of Peak TV, and people can only handle so many network procedurals about a ragtag police duo on any given day! Still, this was a unique case of a decently rated and watched series imploding at an alarmingly quick rate thanks to internal turmoil, which began with the dismissal of lead Clayne Crawford in the spring and culminated months later with fellow lead Damon Wayans saying he's, quite literally, too old for this (thespian) shit and quitting.
As the future of Lethal Weapon seems to be currently hanging in small-screen purgatory, let's take a timeline journey to see how exactly we got to this point.
Late April …
A report in Deadline surfaced that would permanently alter the course of the show. According to numerous crew members speaking under anonymity, Clayne Crawford, who portrays Martin Riggs, had exhibited a "history of bad behavior" throughout filming Lethal Weapon's two seasons. The toxicity of his behavior became so severe that Crawford was "disciplined several times over complaints of emotional abuse and creating a hostile environment," due to the cast and crew feeling "uncomfortable being on set with him." As a result of these claims, Deadline also reported that Fox was seriously considering recasting Crawford's role for the show's third season, should it be renewed — which was all but a guarantee, owing to solid ratings.
… one day later in April …
Much to the chagrin of the ardent fans who rallied behind Crawford, believing the Deadline report might've been a hit piece planted by the network, Crawford released a statement on Instagram to confirm his bad behavior was indeed true and not embellished. Specifically, he said he was formally reprimanded by the network on two occasions during the filming of the second season. "The first reprimand was because I reacted with anger over working conditions that did not feel safe or conductive to good work under the leadership of a guest director and assistant director who, in turn, were angry at my response," he wrote. "I met with Human Resources, I apologized for my part of the conflict, and I completed studio-approved therapy. I even shared a sizable portion of my paycheck with one of the parties involved per the instruction of the studio."
Crawford's second reprimand stemmed from an episode he directed, which doubled as his personal directorial debut. "An actor on set felt unsafe because a piece of shrapnel from an effect hit him," he said. "It was an unfortunate event that happened in spite of all safety precautions and procedures being followed. I take responsibility for the incident because I was in charge of set." Crawford apologized to the show's cast and crew if his "passion for doing good work" got lost in translation because of his behavior, stressing how he always takes "great pride in treating everyone in life with dignity and kindness." At this point, Fox still hadn't announced if Lethal Weapon was renewed for a third season, and if it was, if Crawford would have a job.
… and another day later in April
Deadline released another report that indicated Crawford and fellow co-star Damon Wayans, who plays Roger Murtaugh, had a reached a breaking point. Interestingly, the outlet confirmed that the "actor" Crawford referred to while explaining his second reprimand was Wayans, with this shrapnel incident resulting in a public fight that permanently tarnished their professional relationship. The catalyst for the fight was apparently an accumulation of incidents during the episode Crawford directed: Wayans "had called in sick the first day" of filming, was hit by the shrapnel the following day, and when he returned "set limitations to what he was willing to do in the episode, even if it was in the script, including not holding a gun or running down stairs, citing safety concerns." This was deemed unacceptable by Crawford, who proceeded to use "strong words" to taunt Wayans, which escalating to a point where "high ranks of the studio" had to be alerted to the fight. After this incident, the duo reportedly never spoke to each other beyond the necessary constraints of the set.
Early May
Crawford was officially fired from Lethal Weapon by Fox. Early reports indicated that his role would be recast — a rather unprecedented move for network television. Crawford responded with a seaside tweet that read, "you can't fire me on my day off!"
Mid-May …
Seann William Scott was named as Crawford's replacement, and Lethal Weapon was officially renewed for a third season. However, this didn't turn out to be an exact recasting; rather, Scott would be playing a new character who ends up teaming up with Wayans's Murtaugh at the LAPD. Crawford released a diplomatic message on Instagram hours after the news broke, congratulating the cast and crew on the renewal.
… two days later in May
In a series of now-deleted tweets, Wayans spilled some tea on the reasons behind the bad blood between him and Crawford. "Kiss the dark side of my ass if you don't understand it wasn't just me," he wrote. "@ClayneCrawford has a file of infractions." Wayans also described an assault that reportedly happened on set between Crawford and a fellow actor: "He hit another actor in the mouth with a bottle of green tea and busted his mouth open. He became UNINSURABLE! Relished in making female cry. And stuck fear in cast and crew."
Early June
Variety published an in-depth piece, sourced by 31 past and present Lethal Weapon crew members, that corroborate various accounts of Crawford's toxic workplace behavior. The outlet obtained, among other details, audio recordings of Crawford calling Wayans a "pussy" and saying he only became famous due to his family connections, while another recording finds Crawford shouting profanities at crew members during a scene to keep quiet. As a result of that outburst, the episode's assistant director quit on the spot.
Late July
After about a month of silence, Fox released information about Scott's character and how he'd be fitting into the grander Lethal Weapon universe. As opposed to making him an extended Riggs family member, Scott would be playing a "war veteran and a father" named Wesley Cole, who returns to Los Angeles after a decade of fighting in Afghanistan, in the hopes of reconnecting with his surgeon ex-girlfriend and daughter. He soon connects with Murtaugh and becomes his partner upon joining the LAPD. Maggie Lawson, perhaps best known for her work in Psych, also joined the show as Cole's ex-girlfriend in a newly created supporting role.
Late August …
The first trailer for Lethal Weapon's third season dropped, which is heavy on the bro-y good vibes shared between Scott and Wayans. Crawford's character is not mentioned.
… a week later in August
Twist! In a fiery interview with the Drinkin' Bros podcast, Crawford — who by all means was laying low and choosing to move on from the show at this point — denied some of the allegations that were lodged against him by Wayans and the crew members. Among the bombs Crawford dropped: (1) Fox never officially told him that he he was fired, only finding out on social media; (2) studio president Peter Roth pressured him into publicly apologizing to Wayans so he could keep his job, which he refused to do; and (3) Wayans and his allies previously "blackmailed" him with the recordings Variety ended up obtaining. "Any time they talk about the show, it's my image, my fucking name, to promote their goddamn show," Crawford said, when asked why he was being so open now. He did admit, though, to losing his temper on many occasions: "Hollywood is very sensitive, so I should not have screamed and yelled, right, because it's a bunch of very delicate flowers out there."
Late September
The third season of Lethal Weapon premiered to lower than usual ratings. Unsurprisingly, Crawford's Riggs was killed within the first few minutes, a potential death that was already being set up in the season-two finale. (Long story short: His half-brother shoots him in the chest!)
Early October
Double twist! In an announcement so shocking that Fox didn't even know, Wayans said he'd be quitting Lethal Weapon at the conclusion of its current season, which was an order of 13 episodes. "I'm a 58-year-old diabetic and I'm working 16-hour days," he explained, not bringing up his history with Crawford. "So, I really don't know what they're planning but that's what I'm planning." He stressed that it wasn't because of the show's tumultuous 2018, but rather because he didn't want to be separated from his family any longer: "It's hard for me to play this loving, supportive father, husband, friend on TV, and be the guy in life that is telling everyone, 'I can't, I have to work.' I have seven grandkids. I've been missing recitals and graduations. To me it's just not worth it. There is a better way to live life."
Mid-October
Fox announced Lethal Weapon would be getting two additional episodes for its third season, with Wayans attached to appear in both — upping the grand total to 15. It's currently unclear if this will effectively serve as the show's series finale, or if it'll continue with Scott's character.