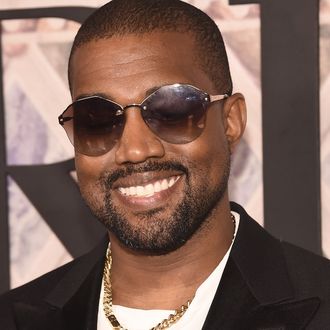 Photo: Gary Gershoff/WireImage
After a brief hiatus, Kanye is finally back on Twitter, working on new music while visiting Uganda with the whole Kardashian-West family and, most importantly, streaming his song-writing sessions on Twitter. He's got a lot going on so, hey, maybe he completely missed this week's SNL entirely!
Ye resurfaced earlier this weekend by posting a rant Saturday decrying the "poison" of social media "mind control" … on Twitter. Now, in addition to some personal behind-the-scenes moments, Kanye has shared an eleven-minute video that offers an interesting glimpse into how West makes a song, i.e. by non-stop riffing and recording everything. Is this full, entirely unedited eleven-minute riff going to be a single track on Yandhi? He's got a month and change to figure it out either way, but our money's on hell yeah.