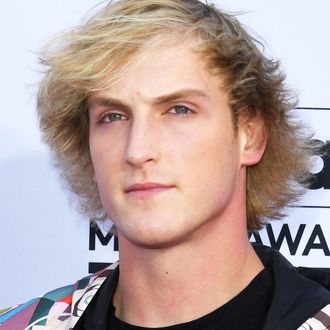 Ugh.
Photo: Mark Ralston/AFP/Getty Images
After successfully incinerating his own YouTube career earlier this year by filming a dead body for spectacle in Japan's suicide forest, Logan Paul has set his sights on a new platform to torch. As part of his redemption tour, Paul tells The Hollywood Reporter that he plans to phase out his YouTube channel and pivot to podcasting. He'll reportedly launch Impaulsive ("a play on my last name and my tendencies," get it?) "in the near future," and has built a full broadcast studio in his home somewhere next to the trampoline, boxing ring, and that other studio where he and his mini-me brother, Jake Paul, make "music." Although THR reports that his channel has somehow managed to grow a million subscribers despite his reputation (or likely because of it), Paul says he's over social-media fame in general: "I don't want to be a Snapchat star. I barely want to be a YouTube star."
Meanwhile, he's still burned by the fallout from his Japan vlog, feeling betrayed by the one person whom he'd least expected to turn on him: Aaron Paul. Aaron (thankfully not of that Paul family) tweeted in the aftermath that Logan is "pure trash" who should "rot in hell." Poor confused Logan thought they were bros. "He came up to me at whatever event we were at, shook my hand, patted me on the back, 'Dude, love what you're doing,' " Paul says. "Then this shit happens, and Aaron Paul is telling me to go to hell? I'm like, 'You told me you were my boy when we met! It was all good! We have the same publicist!'" Welcome to Hollywood!