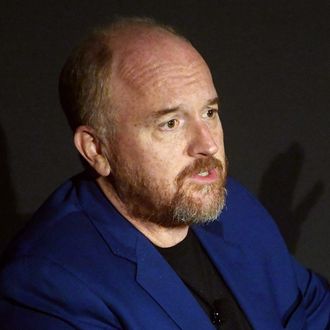 Louis C.K.
Photo: Ben Gabbe/Getty Images
About a month after Louis C.K. made headlines for performing a surprise drop-in set at the Comedy Cellar, the disgraced comedian is at it again. Both Gothamist and Page Six are reporting that C.K. performed yet again at the Comedy Cellar last night, delivering an unannounced stand-up set sometime after midnight.
The two outlets have slightly conflicting accounts of the reception C.K. got for his appearance at the Cellar. Page Six claims that "patrons were not happy about it," while Gothamist — which listened to audio of C.K.'s set — says it was more of a mixed response "in which any boos or gasps of recognition in the audience were drowned out by the cheers and clapping."
According to both reports, C.K. did not address the multiple sexual misconduct allegations he admitted to last year during last night's set, but he did make a comment along the lines of "I've been off for a while, 'cause everyone needs a break." Additionally, several women walked out of the venue in protest; their checks were reportedly on the house in accordance with Comedy Cellar owner Noam Dworman's decision last month to start a "swim at your own risk" policy at the club: "We don't know who may pop in that's not on the lineup. If someone does come in that you don't want to see, you are free to leave, no questions asked and check completely on the house," he said at the time. "Having said that, we don't expect Louis back anytime soon." Apparently, "soon" to the Comedy Cellar is anything under a month — beyond that, fair game.
Update: The Hollywood Reporter posted an audio clip Monday night that they identify as the audience's reception to C.K.'s intro and, well, it sure sounds like the crowd was into it.