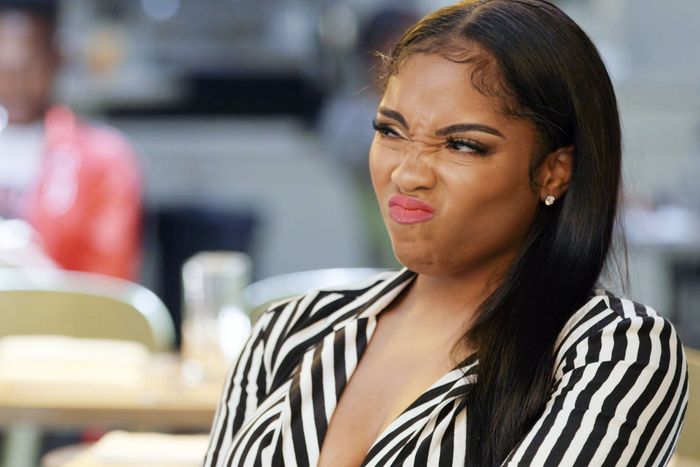 This week on Love & Hip Hop: Metropolitan Los Angeles, Moniece and A.D. break up via text. I can relate to the pain Moniece feels because recently a man I was not even dating texted me to confirm we weren't dating. It was embarrassing and confusing (mostly because I didn't have his name stored in my phone). It's not easy for Moniece to bring people in and out of her son's life, and explaining why A.D. is gone truly breaks Moniece's heart. I find this all dizzying because last episode A.D. showed up for the first time in episodes to tell Lil' Fizz how much he loved taking care of Kam. Maybe A.D. actually loves Moniece and is breaking up with her to help Moniece produce a good storyline. Sometimes love hurts, but we need it to make our plots better.
I am so upset at Mona Scott-Young for making me think about The Man I Shall Not Mention. How is Teairra's ex-boyfriend posting an Instagram Live berating her anything short of abusive? Anyone looking at this video to prove a point about Teairra's hypocrisy is sort of missing the point. This episode, we get the return of Not Sade whose hair is the only lovely thing about her. She's mad because polyamorous husband is handling his business with Teairra on social media. I'm mad because these people are on my television screen. It feels like we're adding The Man I Shall Not Mention to the cast, because we honestly see more of him than Nikki Mudarris. Satan's son explains that he keeps dealing with Teairra because it hurts her legal case against him. He believes he's a mastermind, but if he was even remotely intelligent, he know would not say these thoughts aloud or on camera. But of course not, because he's an idiot.
On the other side of town RoccStar meets up with Teairra to talk about her ex troubles. It is my belief that RoccStar is not physically capable of speaking below a yell. His voice is at 12 decibels even when he's talking to friends. I know this is his first season on Love & Hip Hop: Los Angeles and Surrounding Counties but someone needs to tell him the mic and the boom are able to pick up his inside voice. But … I digress. I am shocked by this conversation between RoccStar and Teairra. Here, I thought this man hated all women, but apparently he is cool with some. In fact, RoccStar makes a good point that the ladies of this show actively ignored, which is that Teairra's ex is using her to drop her legal case. Whereas Brooke, Moniece, Paris, and Nikki abandoned Teirra in her time of need, RoccStar is committed to defending her. I can support that. Even if his personality makes me want to run into a rusted sword.
In some dimly lit combination restaurant/coffeehouse/bar/closet, Marcus forbids Brooke from seeing RoccStar. What is there to say about this … Now I know I promised to stop thinking so deeply about Love & Hip Hop: The Valley and All Adjacent Suburbs but this scene brings up complicated dynamics on masculinity. Marcus believes that because Brooke is his fiancée, he has ownership of her time and behavior. Brooke rejects this premise because she doesn't like to be controlled. Marcus is completely wrong, although the problem is Brooke really shouldn't hang out with a man that has made enemies with her fiancé. But, this has to be Brooke's choice. Marcus drawing this line and taking agency away from Brooke is a recipe for disaster in their marriage. Not to mention, Brooke is working with RoccStar professionally. (It's worth noting that this work came to her because she hopped on Moniece's record as she was being escorted by an ambulance … but it's still work nonetheless.) Sometimes, you have to work with people you hate, that's why it's not called "fun." Now if Brooke was a bigger artist, she would be able to choose which producers she worked with. But, Brooke hasn't had a hit since Paris Hilton had a Sidekick, so Brooke has to take what producers come to her. I don't know what she should do, but I am 100 percent sure she is going to enrage Marcus. And maybe that's what he deserves for telling her what to do.
Shun Love and Amber Diamond meet to get pedicures. Recently, Shun stopped managing her daughter to develop a closer relationship with her. I'm sure that's a positive for their connection, but honestly Amber needed that representation. She hasn't been on the show in a while, and somehow her mother has usurped her role. That's probably because nothing is really going on with Amber Diamond except that Marcus Black slid into her DMs. Now, why would this man who is soon to be married like naked photos of a woman on Instagram? It's pretty audacious considering Marcus just got finished dictating to Brooke who she can't fraternize with.
Speaking of, Brooke meets RoccStar in the studio to tell him she can't work with him anymore. It takes absolutely no convincing for her to abandon this idea in favor of recording a song with the producer. Her logic is that if the song is good, maybe Marcus won't care about her conspiring with his enemy. Hmm … These two are not getting married, are they? If these are the issues at the beginning of their relationship, I can't imagine they walk down the aisle. RoccStar informs Brooke that he'd love for her to co-host an event with Teairra Mari in honor of his album L.O.V.E. (Loss of Valuable Energy). I don't know what it is about RoccStar today but I don't hate him this episode. Usually he makes me want to rip the flesh off my skin, but tonight, I find myself just lowering the volume slightly. This is progress.
A.D. meets at Lil' Fizz's house to try to negotiate having a relationship with Kam despite breaking up with Kam's mother and not dating Lil' Fizz. I'm unclear why she thinks she's entitled to any of this child's time. If she wants to hang out with a child she should adopt one or volunteer at the YMCA! Otherwise, she has to respect boundaries. Moniece gets to the apartment to have one last argument with A.D. The two women exchange hurtful digs at each other, with A.D. saying that the worst thing about her is that she clearly chooses the wrong women to date. Wow. That would hurt my feelings. I will be sure to use this line next time a man breaks up with me when I wasn't dating him in the first place. Ultimately, Moniece resolves to not have A.D. around her son, because … it's her son. I'm still not sure what A.D. was hoping to accomplish. But, I appreciate Lil' Fizz eating ice cream as the two women go back and forth, almost as much as I appreciate him supporting Moniece.
The ladies are at RoccStar's album release party and the mood is anything but L.O.V.E. Teairra and Brooke see each other, they exchange a little shade, and keep it moving. Amber and Teairra see each other, they exchange a little support, and keep it moving. The event is fine until Not Sade shows up for no apparent reason to defend her no-good lowdown dirty "husband." Brooke and Bridget act as Greek chorus, sounding off on Teairra and Not Sade's rebuttals. Nothing is ultimately accomplished but we do get Teairra reiterating that she's not going to fight over a man she's not with. Good for her! Also, props to Not Sade for doing her best to audition for Love and Hip Hop: Dallas.
Teairra has been called into her lawyer's office to explain what is going on with this revenge-porn case. Her lawyer, Walter, saw the Instagram Live drama, and now he's having doubts about representing Teairra. To see Teairra's legal case in jeopardy because of her poor decisions makes me sad. I want her to stop dating the devil, but she has to want this for herself. Walter warns that the Bloom firm will pull out of the case if she meets up with her ex again. As a writer I can spot this foreshadowing from a mile away; she is definitely going to make this mistake again.
We finally get to the RoccStar vs. Lucifer showdown in Teairra's honor and wow this is the most anticlimactic thing I have ever seen in my life. RoccStar yells at Teairra's ex for bullying women. And Teairra's ex insults RoccStar's ridiculous red sweatsuit. Truly is nothing accomplished but the speakers of my TV getting blown out. Until next time!