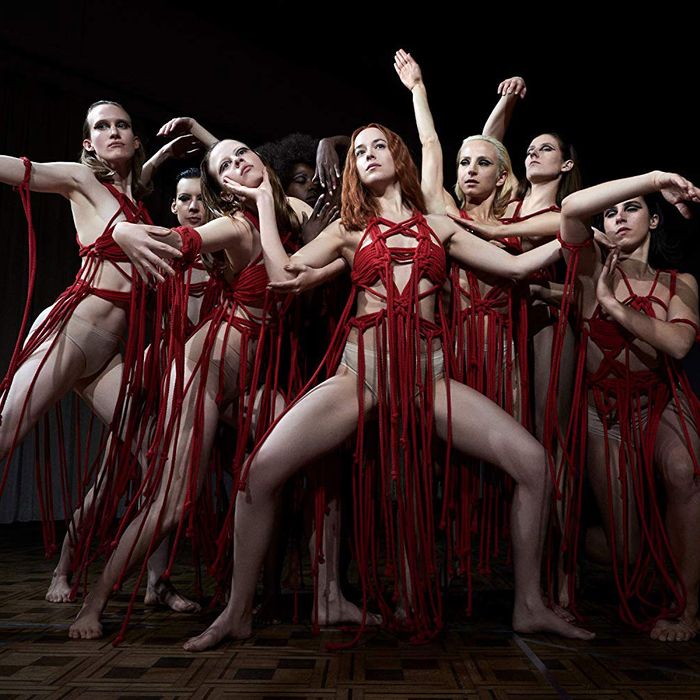 Suspiria.
Photo: Courtesy of Amazon Studios
Way-hay up on the list of remakes nobody needed is Luca Guadagnino's Suspiria, which takes everything deliriously surreal — gaudy and madcap and more fun than flesh-shredding has any right to be — in Dario Argento's 1977 Grand Guignol fairy tale and lumbers it with post-Nazi German history, gender studies, and cloddish, Pina Bausch–like dance/performance art. The movie would be a hoot if it didn't drag on for two and a half hours and feature witches who talk so much that Hansel and Gretel would fling themselves into the oven to get it over with.
The dull Dakota Johnson replaces Jessica Harper (a lyrical Alice in Terrorland) as the American dancer Susie Bannion, who arrives at an elite Berlin female dance academy the day after another dancer (Chloë Grace Moretz) has fled in fear. Susie's percussive, spasmodic style — she throws out her long limbs to sundry thuds — stirs the witchy sixth sense of Tilda Swinton's Madame Blanc, who hurries from another studio to watch Susie do-do her voodoo. Could Susie be the right vessel for a certain coven, deep in the academy's gothic bowels?
I have a soft spot for the original, the first film I reviewed professionally, as a high-school intern at the Hartford Courant. I underrated it, unduly influenced by its stilted dialogue ("Bad luck isn't brought by broken mirrors, but by broken minds"), but eight or nine subsequent viewings have revealed to me its richness. Maitland McDonagh's indispensable Broken Mirrors/Broken Minds: The Dark Dreams of Dario Argento charts Argento's influences, from Snow White and the Seven Dwarves to H. P. Lovecraft to Thomas De Quincey's opium dreams, but the mocking sadism (scored to the plangent howls of the rock group Goblin) is all Argento.
At first, it seems as if Guadagnino (Call Me by Your Name) is trying to concoct a Camille Paglia–like fever dream, a deep wallow in women's chthonic nature. But he's a very literal-minded fellow. The idea of this Suspiria is that the witches who serve the so-called Mothers have been in hiding since the Third Reich and that their subterranean frothing combined with Germany's repression of its Nazi past is manifesting in social unrest: the kidnappings and the terrorist antics of the now–captured Baader-Meinhof gang. Madame Blanc — who has always sought to give women financial autonomy — seems to be itching to ease the group into more progressive stances, but it's Susie who proves to be the corrective historical force.
An interesting take. The problem is that Guadagnino can't cast a decent spell. He concocts some piquant montages and Fellini­esque writhing-witch tableaux, and someone had fun mixing whispers, moans, and random clatters into the side and rear speakers. A distorted mirror in the dance studio offers an interesting, alternative view of the human body in motion, though I imagine it would be frustrating for dancers who'd like to work on their form. Otherwise: deadly. As a stunt, Swinton appears as Moretz's elderly male therapist (under the amusing name "Lutz Ebersdorf"), but the sex change adds nothing to the movie's themes and the makeup is distracting. I kept waiting for the revelation that it's a witch in disguise, but Swinton and Guadagnino have been maintaining Ebersdorf actually exists. Even their hoaxes fizzle.
*This article appears in the October 15, 2018, issue of New York Magazine. Subscribe Now!