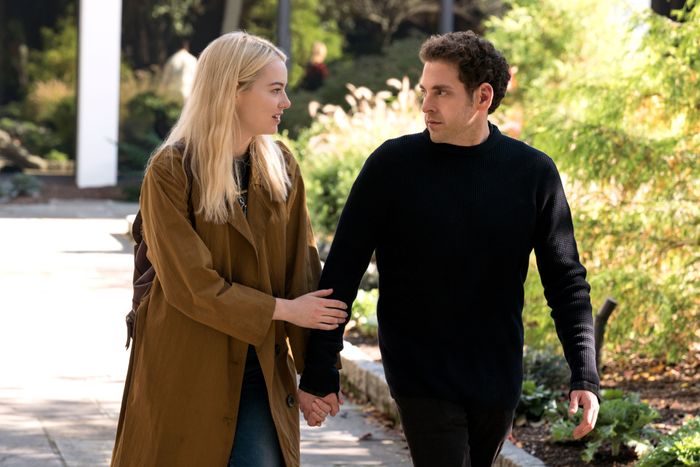 Photo: Michele K. Short / Netflix
"Congratulations, you're healed!" Dr. James K. Mantleray shouts, through tears and gasps, as his subjects leave the treatment room, red and sweaty and now surely traumatized all over again. But, are they? They're bewildered, certainly. And grateful for the checks slipped into their hands at the door. But healed? Of all their trauma? I certainly hope not — what a half-hearted way to live.
Dr. Mantleray himself certainly hasn't changed much in the past two days — despite temporary blindness, the collapse of his life's work, and abject humiliation in front of a group of subjects who witnessed his mother embracing him in the death squeeze of a poisonous snake. He still wants to live up to his mother's standards, still desperately needs her approval. She tells his boss that James should no longer be allowed to work in the industry, "for his own sake," but he's still hoping for a "brief lunch." And she's still a cold pompous monster who is apparently, suddenly, going on a "47-city book tour to all seven continents," and won't be able to see her son for, well, maybe forever.
For both Owen and Annie — and really, all of us — healing is a subjective thing. The severe emotional whiplash of the past few days has ripped off all the Band-Aids holding them together, but both are leaving the trial with heavy familial weights hanging on them. Like anyone at a therapy session, retreat, or vacation, the problems are waiting for them just outside the door. They're too displaced to even sit down for the heart-to-heart that most of us were expecting.
For Annie, however, the process of mending her relationship with her father (played by Hank Azaria in a very dad fuzzy plaid bathrobe), is relatively painless. While she's been undergoing a pharmaceutical lobotomy, he's emerged from the A-Void — seemingly "healed" himself — and though he maybe hasn't put on real pants or left the house yet, he's making coffee and progress. And so for the first of two times this episode, Annie gives a lovely little speech about her feelings to someone who isn't in front of her. "I need to tell you that it's not okay for me out here all by myself," she chokes out, and there he is, on the outside (well, leaning out the window), there to console and reassure. It's a little too neat, but heartwarming at the same time.
Owen too is bent on working his way through a condensed version of AA's 12 Steps, first writing Olivia a letter to apologize for his "blip," and then sitting down again with his family's lawyers to prep for Jed's trial. Before Owen's time at Neberdine his father appeared beneficent, kind even, but merely determined to put Jed's scandal to rest. Now he's much more like the mob boss of Owen's fantasies, albeit one without a physical weapon. "This is a one-time thing," he says after they receive a call about a possible settlement, "my son made a mistake. Any settlement would ruin our family name."
Except the only thing ruining the Milgrim name is Jed himself, who is accused of sexually assaulting (or perhaps raping, it's slightly unclear) a woman. Porter knows this — he knows Jed did it! — but doesn't find any fault in his son. It's a depressingly realistic take on the methods the rich use to maintain their power by aiding and abetting hideous acts. But it's Jed's duress, and so-called "real tears" that convince Owen to lie on the stand and explain that he knows Jed was with him that night for four hours, because that's how long it takes him to beat Jed at Risk.
Changing your testimony after watching evidence that directly contradicts it isn't quite heroic. It's not as if Owen waltzed into the courtroom (and this must be a civil trial, because why else is the victim sitting at the prosecution's table?) and declared that family be damned, he must tell the truth. But it still takes guts for Owen to retract everything he says after the prosecution shows the single most damning piece of videotape evidence in modern history (and please, don't forget what we learned earlier about Jed — that he pissed on this poor woman). Worst of all for him, Owen is disappointing Adelaide — there's a reason the camera keeps such a tight focus on her face as he testifies.
If you'll permit the tangent, however, there's a point to be made here about the tape itself. This woman, an employee of Jed's who is surely a few rungs down the ladder at Milgrim Industries, has made claims of sexual assault. Her assailant's brother is his only alibi witness. And yet, until her attorneys pull out a tape showing the assault in all its enraging detail, she's set to lose the case. And even then, after the man who is obviously sitting at the defense table turns his head and looks directly into the camera, the attorneys still need the assailant's brother to admit that it is indeed the man on trial. It sounds wild and far-fetched, but assault cases have been lost on tighter evidence than this.
Exorcised, exiled, and committed to a (very chic, perhaps Orla Kiely-designed) mental health facility, like some sort of Victorian novel run amok, Owen lapses back into the mind-set that he can't believe in anything he sees, even Annie. That's why he hasn't reached out to her, he explains to his therapist, because the only two options are (a) that she doesn't really exist, or (b) that he'll become fixated on Annie and "then it will all fall apart."
So when Annie shows up, signing into the facility as Linda Marino, her lemur-rescuing alter ego, he has every reason to refuse her visit. Owen really and truly is not always capable of knowing what's real, and spending two days tripping his ass off in a drug trial probably didn't help. The entire treatment of mental illness at the end of this episode is problematic. The Neberdine drug didn't "heal" Owen and Annie, though it did urge them further down the path to self-reflection. Therapy certainly hasn't healed either one of them, and Greta Mantleray is a walking embodiment of the false promise of miracle cures. But friendship isn't a magical pill, either.
Don't get me wrong, the ending brought me to tears (small ones that stayed in my eyes, but still). I cried a little bit knowing that Jed made good on his earlier threats to Owen and sent anthrax to the governor in his name. I cried in empathy over Owen's feelings of worthlessness. And then I really let a few roll when Annie brought Jed into the bathroom, helped him change into her father's clothes, and then made a break for it, saying "because I'm your friend and that's what friends do." Annie was absolutely right that having a diagnosis doesn't make Owen crazy or dangerous. But a road trip isn't a cure, either. And as they laughed and sped out of the gates, away from the pursuant guards, I worried about the two of them out there in the world.
Side Effects
• The Mantlerays treat the end of the experiment like a wedding receiving line. "So nice of you to come!" Greta exclaims jubilantly, as if a smile and handshake will erase all the mind-f*ckery. Then again, this is exactly how all our doctors usher us out the door after four-minute consultation that solved zero of our medical issues but did earn us a new prescription.
• I have Second Season Fatigue for a few shows that really don't need to go on, but I wouldn't mind a sneak peek into what's happening on those other floors at Neberdine.
• Azumi's car is the Mercedes with flames that Owen drove in his Mafia fantasy, and I can't make out exactly how it came to exist inside his mind, since he'd certainly never seen it. Did Azumi somehow build it into Gertie's mind? Is there something else we don't know?
• FriendProxy Owen's proposal is an excellent little jab at the way that algorithms are always getting us wrong, and it brought up an interesting point. Annie and Owen's relationship seemed to be crescendoing toward a romantic union — and Owen himself seemed to express that desire — but instead they settle into a happy place of friendship. It was a smart expectation for the show's writers to upend.
• Annie's new dogs name is named Harpo, and if you remember, Ellie's dog (who Annie lost) was named Groucho. Nice little symmetry there.