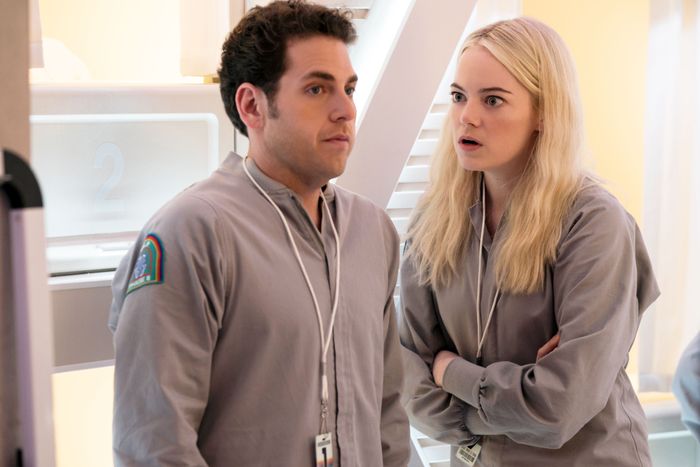 Maniac
Larger Structural Issues
Photo: Michele K. Short / Netflix
If it wasn't your mom that screwed you up, it was probably your dad. That's just the way therapy goes. After several 50-minute long sessions and a cool grand that your insurance company is absolutely not going to reimburse you for, that light-bulb moment is the alleged payoff. You trace say, your string of bad luck with alcoholic boyfriends, back to the time your dad got drunk at a family barbecue, passed out on the sofa, and didn't come tuck you in at night. But from there, the obvious but unstated course of action is to … get over it? Tuck it away back in your past? It's not like therapy ever ends; it just keeps digging up new traumas and reframing all your life's failures around them. If therapy worked so damn well, we wouldn't still be going after all these decades, would we?
The subjects of the Neberdine trial know this — they're all desperate for a cure-all, a magical set of three pills that will send a guillotine through their pain, detaching it permanently from their psyches. The administrators of the trial know it, too; therapy obviously hasn't done much for Dr. James Mantleray, the man who "copulates with software" and melts into a proverbial puddle when faced with a telephone call to his mother. But the belief that we'll all miraculously "get better" someday — release our trauma, confront our demons, live in the here and now, whatever other bullshit line you can think of — is a commodity that they're all buying into, or in the case of Dr. Greta Mantleray, healer of wounds and master of inappropriate slurpy parental kissing, cashing in on. Nobody here will be fixed by the end of Maniac — and thank God, because this show is far too smart to wrap it all up with paean to the magical powers of self-reflection and Big Pharma.
The episode essentially belongs to Sally Field and Justin Theroux, a Batesian mother and child who dance an essentially perfect box step of pseudo-Oedipal horror. Screw Annie and Owen, I want a prequel that features a both of them pre-wig, post-Mr. Mantleray's departure, and mid-passive-aggressive meltdown.
James's driving force to eliminate therapy, it turns out, is that he wants his mother, "a venomous egotistical charlatan" with a tiny flair for the dramatic, out of a job. According to Dr. Fujita, she was once a respected psychologist, with an awe-inspiring Ph.D. dissertation. Now, as the author of No Fix Just Bliss, See Her See You See We, and the GOAT, I'm OK, You're a Bitch, she's basically just a — GASP! — pop psychologist out to offer the mental-health equivalent of get-rich-quick schemes with one hand and cash checks with the other. We don't wanna name names here, but she just might have been drawn from some real-life best sellers whose books you could find under your seat in Oprah's live studio audience.
But when Fujita fills Mantleray Jr., in on the severity of the study's issues after his suspension from the team, they're hard-pressed to come up with any other solution besides inviting Mater Mantleray to the lab. They're on their 50th iteration of this study (Side note: Is this allowed? Any FDA employees among our readers?) and runs 48 and 49 didn't go so hot. It turns out that when participants entered the "C" phase of the drug trial, some — called McMurphys, after the One Flew Over the Cuckoo's Nest character who is lobotomized and ends up a potato — were getting stuck inside their own brains. So Fujita slipped in some code that would give Gertie just "a tiny bit of empathy" — if she could see when subjects were struggling in the dream state, she could then yank them to safety. And it worked! Unfortunately, Gertie is now also sentient and has written Fujita a letter declaring: "I need to know myself."
So who is Gertie? Well, she's … Greta Mantleray, essentially. (Don't tell me you didn't already notice that Gertie's real name is GRTA, which happens to be just one letter away from Greta.) Or some earlier iteration of Greta who didn't pursue the path of hug therapy (that letter Greta is reading aloud when we first meet her in her apartment is about the healing power of a hug — another nice little nod to The Leftovers, which had a character who claimed he could heal people with a simple embrace). Fujita admits she essentially took the ideas from Mantleray Mater and coded them into a computer, which means that Mantleray Junior is in fact pursuing his mother's life work and that he decided that an adequate re-creation of his mother would be devoid of empathy. Which, judging by her tendency to discuss her sons masturbation jags in mixed company, is … more than fair.
Greta is hiding something, too. She's obviously ill — her face is wan, she's lost her hair, making it across the room to answer James's call is a struggle. But a chance to interfere in her son's workplace is just too ripe a cherry to pass up.
GAS UP THE MIATA! (I'll be yelling this to my husband as we head out the door for the rest of the year, apologies in advance, dear.)
And when she waltzes in wearing that divine red coat, lips lacquered and slick, damn was I ready. That sick, extra juicy DOUBLE kiss on James's lips is even better than realizing that both of them are wearing wigs, and neither of them may realize it about the other. Watching James talk her through what he needs her to do is like viewing a kidney stone being passed in real time — he is quivering, sliding in his chair, shaking, twitching, and generally unable to control his motor neuron functions. And all credit to Justin Theroux for the sublime use of his body here, especially his facial contortions as he calls her on the phone. Obviously, Greta has no limits, at all, and James is right when he claims that she "sells happiness and then it crumbles the minute you're out of earshot of her magical thinking." But he is also putty in her hands, and their entire relationship is like a high-class episode of Maury Povich in which two psychologists realize that they are, essentially, in the most fucked-up relationship on the planet.
To get into the right frame of mind, Greta will essentially freebase some of Dr. Muramoto's leftover magical rainbow dust and then … slip into the computer's brain? The tech here is a little wishy-washy, but it's no matter. "The moment I light this I need you to put your lips around the tip and suck," says James, apparently without irony. But Greta, obviously pissed that her son has stolen her identity and turned her into a supercomputer that is bent on eliminating her income stream, has plans of her own. That may or may not be her, telling Owen that isn't really schizophrenic, and claiming that she wants to "collect" Annie.
Regardless, the subjects go under the influence of the "C" pill. Now, it's time for that confrontation to begin.
Side Effects
• Fujita describes the relationship between Dr. Muramoto (RIP) and Gertie, the computer, as "an inappropriate workplace affair."
• Greta claims that James has paraphilia — in other words, he has unnatural erotic feelings toward inanimate objects like the SuckTube. James "rejects that diagnosis," a theme that carries over into other patients. Owen's diagnostic report says he schizophrenic. Annie's says she has borderline personality disorder. The man she's chatting with who says he uncontrollably eats things obviously has pica. But none of them want that label, and they all deep down believe that their diagnosis is actually a barrier to healing.
• We finally learn the origins of the Don Quixote fixation! Ellie read it as a child, and her and Annie's father fixated on that fact, basically declaring her a genius. Yet another notch in the Blame Your Parents for Everything tally.
• Annie and Owen's interactions this episode felt a little cursory, like they were thrown in lest we forget that they're our main characters. But Owen did own the saddest line of the series: "You know that movie It's a Wonderful Life? If that happened to me there'd be no difference in the world. What's wrong isn't that I'm sick, it's that I don't matter."
• Annie enters her "confrontation period" and she is … Legolas? Julia Garner somehow looks majestic, even in elf ears.