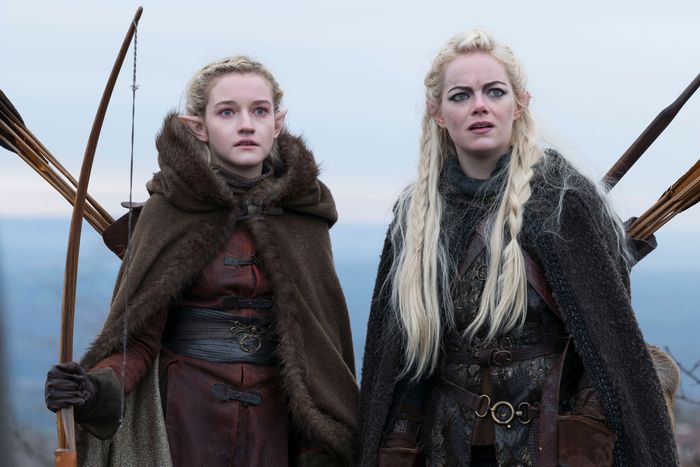 Photo: Michele K. Short / Netflix
I know you can't see straight right now because all you can think about is the fact that Owen turns into a goddamn hawk at the end of this episode and essentially flies into Mordor to find Annie where he gets zapped by a little bolt from Greta Mantleray/Queen Gertruth's hands like a lite version of the Emperor electrocuting Luke Skywalker in Return of the Jedi. You didn't sign up for this, I know. None of us signed up for Transfiguration. But can I just push you a wee bit to think that maybe, just maybe, this kind of TV, that doesn't take itself so damn seriously, is kinda … fun?
We're back in Owen's and Annie's "confrontation phase" surrealist fever dreams — he's still the mafioso's son with a heart (and some teeth) of gold, and she's a half-breed elf on a quest to bring the Princess Ellia to the Lake of the Clouds to heal the royal elf's fatal ailments. Except Annia is now self-aware that this isn't real, that she's inside her own head: a rather dangerous, or at least alarming, place to be.
Remarkably, Annie tries to wake herself up (after an encounter with some local grubs who are begging not to be eaten). It'd be the logical response of almost anyone — once you realize you're in a perilous dream, you almost always want out. Except Annie once spent days drugging herself so that she could see her sister die over and over again — such was the level of her desperation to simply spend time with Ellie again — and here she is, urging herself out of a far more pleasant (at that point) fantasy in which she can carouse and share stories with her long-dead sister. Is she … healing? Could this ass-backwards non-therapy be working?
At first Ellia, of course, sees Annie's protestations that this is all a fantasy as the ravings of a madwoman. But during a sweet conversation around the campfire the two manage to find each other, recounting stories — with markedly different twists — they both recall about their childhood. Eventually, they don't seem to be speaking past another anymore. They're connected, sisters again. And no matter how many hawks swoop in yelling "Annie I'm coming for you!" scenes like these secure the deep humanity of Maniac.
After winding their way past the burning tree that Lady Nora indicated they would find, the two women come to the lake itself. "This is it," Ellie says, now fully herself, "This is the place where I died." It's an exact replica of the cliff Annie and Ellie drove over, complete with the same spread of jagged rocks a hundred feet down below. The Lake of the Cloud won't heal Ellie by making her well again — it will (potentially) heal both women by forcing them to confront Ellie's inevitable death and Annie's loss.
Back in the diner, Owen and Olivia are re-creating their pasts too, making good on that plan to study together. Paranoia slips like a liquid into every available crack and crevice in Owen's mind. Olivia, his crush in real life and his new darling in this dream, last dated a man involved in "criminal enterprises" and as she vociferously denies that she acted as a mole in any way, both Owens are starting to sweat. Mafia Owen is the literal son of a don and fearful that Olivia would scorn him at once if she knew; he's also wearing a wire himself. Real-life Owen, whose mind is occasionally slipping through the artifice of the dream state, can't stand to see his relationship with Olivia implode again because of his fears and delusions.
The next sequences are such a fast-paced churning of events that I began to feel a bit queasy. It's an almost Modernist attempt at stream-of-consciousness filmmaking, where activity swirls around a character as he works to take in and make sense of what he can, while flashes of his deepest fears come to life in the guises of the people he loves and those he barely abides. Owen arrives at the hotel room to insist that he can't wear the wire anymore — his father has killed his brother, he knows he's next, and even though his dad doesn't possess that "sixth sense" for rooting out disloyalty, he's still burrowing into people's brains with a drill and Owen is certainly on his list for a Home Depot lobotomy. The cops agree that they can pull him out, and then place a call to an unnamed person, leaving a nonsensical message. When there's a knock on the door just seconds later, everyone assumes that it's the cops' contact, come to collect Owen. But it's Jed! I mean Jed Grimsson (get it? Grim son?) and he's the long-lost son Owen's father told him about and he's here to kill Adelaide and the second cop and then, most likely, Owen. Except here comes Owen's father's attorney, busting in the door, and blasting Jed's boss in two with Death Becomes Her hilarity. He's been undercover for 36 years, he says, and he's there to spirit Jed away!
Phew.
Finally, Owen ends up where his heart has always wanted to be: he convinces Olivia to run away with him, to marry him, and the two skate off … into a nightmarish sunset of resentment and encumbrance. Squealing children adorn practically every inch of their apartment (I counted seven in all), including up in hammocks suspended from the ceiling. The apartment, you may have noticed, is the minuscule studio that appeared too small for just Owen in real life. This future with Olivia — or at least this version of a future with Olivia — is no better than eternal solitude or a drill bit into his gray matter. It's hard to know if this is Owen's brain manufacturing a deterrent to even imagining a better life, or Greta intentionally crossing wires to scare Owen from fully healing.
Or maybe it's Owen's way of providing his own brain with an exit from a fate he'll never inhabit. After all, the last thing he says before leaping out the window in a pathetic re-creation of his suicide attempt at his brother's engagement party is that he isn't supposed to be there.
And then, he turns into a hawk.
I suspect this is the moment where any viewers on the fence about Maniac have wished they could fly far far away from their televisions. And at first, I wanted to as well, irritated that the show felt the need to turn a character into an anthropomorphic hawk who yells the most obvious lines poassible ("Annie, I'm a hawk!") while soaring over majestic landscapes like some sort of Nature Channel special. Then I remembered the most outlandish — and my personal favorite — scene from Les Grossman's The Magicians, in which his protagonists (who are in training at a college for magic) are turned into geese for a season, and forced to inhabit the bodies of creatures entirely preoccupied by their most basic, fundamental needs. That scene — so unexpected — made the novel. It proved that Grossman was willing to overstep the invisible but taut lines keeping fiction in check. In Maniac the product is far campier, but it fulfills the same role.
As Owen the Hawk glides over the Lake of the Cloud, Queen Gertruth/Greta Mantleray/Gertie comes flying in like the White Witch through Narnia, making no promises, but seemingly telling Annie that if she agrees to stay in the magical realm that she can live happily with Ellie forever. Fantasy is Annie's least favorite genre, which may be why she's unfamiliar with its tropes — a promise that's too good to be true is always just that. But Annie ignores Ellie's sage advice to say good-bye, and hops in the queen's pickup. As the truck careens away from Ellie, Annie also gives up on the chance of walking away from Ellie on her own, a feat that might bring her closer to closure.
Side Effects
• When Owen is going down the steps into his father's office we hear his dad say "Put those Converse sneakers in the furnace. And roll out that periwinkle coffin, it's calming."
• The Milgrims have a new system for ensuring that the drill battery never again fails them in a time of need.
• The scene in which Greta confronts Gertie, and the two duke it out for dominance inside the computer's mind, was delightful in its execution ("This is all your hysteria, Greta") and unsatisfying in its brevity. Was the entire plotline contrived just so it could end … like this? I hope not.
• Why a hawk? Remember the story of Jed's childhood gerbil, eaten up by a hawk that Owen rescued from the park? Now Owen gets to embody that hawk, a symbol of strength, and attempt to rescue another woman from peril. He's simultaneously reliving his most tender moments and his most heroic.