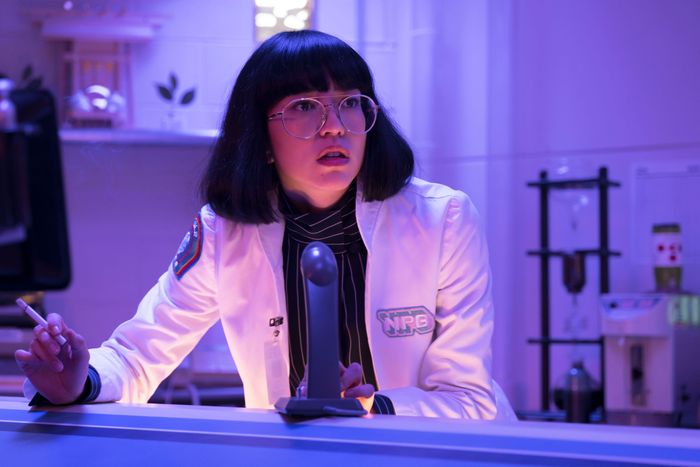 Photo: Michele K. Short / Netflix
In my mind, Jonah Hill arrived on set, prepared with what he considered an Icelandic accent. The cameras started rolling, Snorri started talking, and the director yelled cut, wondering what the hell had just leapt out of Hill's mouth. Hence the explanation of his background — Snorri's mother "was an Austrian-Finnish Swede," and his father "Dutch Italian Icelandic" — the writers needed some sort of cover for the high-pitched quiver that Hill kept using to deliver his lines.
Where Snorri comes from in Owen's mind is a whole other matter. This penultimate episode ratchets up to peak drama, with CIA agents, NATO tribunals, potential invasion by an alien life form, and a glowing silver Rubik's Cube. All of Owen's attributes are hopped up on steroids — his schizophrenic tendency (or is it schizophrenia?) to see himself as a savior of the world, his gullibility, his hair. Owen has, essentially, been training for this exact moment his entire adult life, since he had his first "blip" and screamed at Olivia that she wasn't real. This episode is his chance to redeem himself. Whether or not any of the stakes are real is another question.
Anyone who's ever been interrogated and been chased in a dream will recognize the surreality that Maniac brilliantly captures in "Utangatta." Seated in front of a crescent of snarling military leaders who are trying to avert the annihilation of the human race, Snorri has to answer their questions about Ernie, the tiny little alien "humanoid in appearance but two feet tall with a beautiful bluish exoskeleton with fine orange decorative elements." His discovery tale is a perfect mirror of his rescue of the hawk in childhood. While out birding he discovers Ernie among the trees and offers him shelter. Ernie, he explains, told Owen that, just as Neberdine has promised with the drug, "his species would eliminate every problem humanity has ever faced." A sucker for grand promises that can't possibly be true, Owen took him in and even threw him a party (complete with more gin gimlets). Alas, just as Ernie was set to make a speech, Owen spilled booze on the mic and splat. His beautiful little blue friend splattered little blue bits in the guests' faces.
When Annie — an unnamed CIA agent with a bad Texas drawl, a lipstick-red skirtsuit, and a pipe (Ceci n'est pas une pipe!) — slides into the proceedings Owen and Snorri are both startled. The little bit of Owen's consciousness coming through looks surprised to see her. And Snorri, well Snorri is just flabbergasted at her ability to wield a gun ("Wow, you are very good at gun!"), and the news that Ernie was actually a scout, sent down to help his race quell a human uprising and then sell humans as "exotic meats" across the universe. Honestly, if there are aliens out there watching us now, tearing each other apart limb from proverbial limb, it'd make total sense for them to swoop in now and just do us all in. Like that excited party girl in Independence Day, I'll be the one of the roof with a "WELCOME MAKE YOURSELF AT HOME" sign.
Snorri and Annie are in a dire, ridiculous situation — exactly the sort of scenario an unfettered mind with a dose of a powerful psychotropic drug could cook up. The comedy of so many Matrix-esque suited agents coming in, guns blazing, and then being easily put down by the hundred-pounds-soaking-wet Agent Annie is just enough and too much. It's every pursuit scene you've ever seen, with the dial turned up to 11 to make a mockery of how hungrily viewers lap up such mind-numbing violence. There are always dozens of disposable foot soldiers for the villain's cause, and they always collapse at the merest hint of a blow. But Snorri and Owen race the through "inner demons" with ease, and descend to floor minus 65.
The underlying "truth" is that Snorri is meant to save the world, and Agent Annie is there to help him make that happen. But why is Annie there? Their minds were meant to be permanently severed during the last phase of the trial, and yet here they are, back together again, escaping down through some underworld.
The answer of course is that Gertie is, well "losing her mind," as Greta explains to her son. She wants to hold them captive in their dream states, to McMurphy them into staying there with her so she isn't lonely anymore. It's an interesting variation on the usual rationale behind the computer-turned-sentient-and-evil plot, à la 2001: A Space Odyssey. Gertie is deranged by grief and confusion, not a thirst for power. If she can no longer have her beloved deceased Robert, then she'll keep the trial subjects suspended inside the simulation where they're clinging to the very fantasies that Dr. Mantleray's drug was supposed to release them from. Owen and Annie are both getting exactly what they've always wanted — Owen is "saving the world" and Annie will get to see Ellie again.
Up above, James and Greta Mantleray are keeping up their Fred and Ginger dance of passive aggression, with Greta — for the first time in her life — trying to do right by James by telling him what Gertie is plotting, and James understandably calling it a load of rubbish. The physicality of the performances here really makes the scene, with Justin Theroux pitching his body around like he's been hit with vertigo, and Sally Field edging in closer and closer until he can finally blurt out the magic words: "You are an awful mother." It's not a very convenient time for a psychosomatic attack of blindness — after all, a supercomputer had shut down all of her external controls and is threatening to render six people permanently catatonic — but then again, when is? Theroux's face pressed up against glass as Field wraps him in a stifling, career-ending hug is now my second favorite window gag ever, right after Rick Moranis sliding down the outside of Tavern on the Green in Ghostbusters.
Back down below in Gertie's wires, the plot keeps twisting itself up, like a viney weed that circles back through everything in the garden. Most importantly, in rather cheesy moments of realization, Annie and Owen have come to, and realized they're trapped inside the mind games of a grief-stricken computer. She scurries off to find Gertie, and Jed escorts Owen off to solve the silver Rubik's Cube that will save the world.
Nevermind the lazy plot decision in which Annie simply tells Gertie she's "changed her mind" about the deal they struck in the previous episode that prevented Annie from remaining with Ellie at the Lake of the Cloud. The sweet, and perhaps overly Hallmarkish moment in which Gertie breaks down and asks Annie, "When will I stop feeling this way about Robert?" does resolve the show's primary question of what it takes to get over trauma. Unfortunately, the answer here is no more magical. It just takes time. But it is reassuring that the show brought together Gertie and the only other person who could truly understand her grief.
The final portions of the episode ask two big questions. The first is whether Owen actually saves the day by solving the Rubik's Cube. No matter how fabricated, he's completed a mission, and Gertie even spells it out on her screens in the lab, declaring that "Subject 1 Saves the Day." Jed, the badgering force always popping up to haunt him, has disappeared, as if all of his mental disease has been erased.
The second question is whether the drug worked, and if Annie and Owen are — no matter how wildly awry this drug trial went — healed. Annie has had her moment of closure with Ellie, and let her go. Owen has completed his quest and walked out unscathed.
So have Azumi and James just destroyed their life's work to save those six people — and it turns out that the drug is effective? Ultimately, it doesn't matter. Underneath all the camp and screwball comedy and Easter egg hunting and accents, I'm afraid that this is all a Story with a Moral — that time heals all wounds. Which is lovely, if untrue, but not at all where I wanted to end up after this many hours of genre-pushing creativity.
Here's hoping for a final episode curveball.
Side Effects:
• After all the costumes and exotic locales, time has become a bit fuzzy. So it's a particularly apt observation when the attendant sees James Mantleray melting down and points out, "It took this man two whole days to blow this motherfucker up."
• "I've been blinded by my mother's toxic love" is the name of your next favorite band.
• The Super Mario Brothers–esque font that flashes up on the TV screens in the lab have been nice little harbingers of what's to come, which is why it's so delightfully perverse when Gertie takes them over and a nuclear mushroom cloud fills the screen over the words "End Time."
• No matter where you land on physical comedy, the whole bit with Mantleray going blind and then attempting to dismantle the computer's wiring was hysterical. The most perfect bit is when he shouts at Azumi, "If you won't do this then I'll do it myself" and his blank eyes are looking at a spot about two feet to the left of her head.