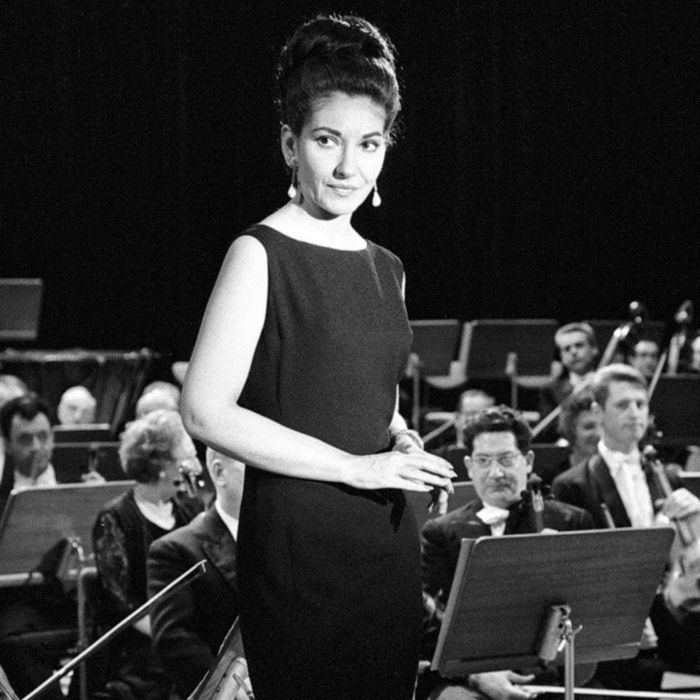 Maria Callas.
Photo: Chevrier, Georges/Sony Pictures Classics
Perhaps the greatest gift of Maria by Callas that gives it an advantage over so many recent biographical music documentaries is how willing it is to let its subject just perform, uninterrupted. For artists whose time has passed, especially deceased artists, the object of the documentary naturally becomes to convey what was so powerful about them in their prime. Thankfully, director Tom Volf doesn't overthink it: a few arias, straight and uncut, ought to do the trick. The first we are treated to is perhaps her most famous, the "Casta Diva" from Bellini's Norma, and Volf's team brings it to vivid color, making the perfection of its emotionality all the more timeless. There's something deeply lived-in and known about how Callas approached these performances, some seriously grown-up-woman stuff. Of course we would want to know the life that inspired them.
The embrace of performance footage is a fitting approach for a documentary that, as the title suggests, aims to present the 20th-century opera prima donna in her own words, whether sung, written, or otherwise. Volf, an actor who became fascinated with Callas after a chance visit to the Met sent him down the rabbit hole of the opera world, and who has since written several books about her, builds his story from archival footage and previously unpublished letters and correspondence. It's a convenient way to skirt the question of hagiography, but while Callas certainly seems biased by the voice of its own subject, it's also an intimate primer on her and her work.
It also feels incomplete, not cut short so much as belatedly commenced. Aside from some very brief references to Callas's childhood in America and rigorous musical tutelage in Greece, the story really starts quite far into her life as a star; never do we get the story of the rise, the public's head-snapping "who's that?" moment. In doing light background research for this piece, for example, I learned that the Callas we see in Volf's film is 80 pounds lighter than the Callas who first made her entrée on the international stage; she was later pressured to lose the weight (and some say her voice suffered for it). These sorts of growing pains and early, cruel collisions with the demands of show business are missing from Callas; even her first marriage is sort of tossed in as a given, as if there was nothing to report before the mink coats and the yacht rides with the Onassises and the glamorous arrivals on the jetway, surrounded by paparazzi. (There are so many "fabulous" exits from airplanes in this film that by the end you'll never want to see another airplane again in your life; whether or not this is intentional, I'm not sure).
This, despite the abundance of primary sources (and warm, emotive readings of Callas's letters by opera star Joyce DiDonato) makes it hard to connect to a woman whose life is seemingly so all-caps, so far-flung and outsize. Her longtime love affair with Aristotle Onassis is the primary emotional anchor in the film, but it's hard to get a toehold on much else, or understand the life and childhood of a world-famous opera star who insists in every interview that she'd rather be barefoot and pregnant, given her druthers, that being a mother and wife is the only true job of a woman. It's perhaps a surprising statement coming from a woman whose performances both on and off the stage made such an impact, and whose family life — besides her mother's forceful push toward show business — is never really touched on.
Perhaps this is because she herself didn't invest her childhood with much emotional weight in the picture of her own life — not nearly as much as her love affairs. Perhaps the most emotionally wrecking moment is in a painful chapter of the latter, right before Onassis leaves her to marry Jackie Kennedy. DiDonato reads her final plea for him to stay, and it's as eloquent and wrenching as anything she ever sang onstage: "This is not a child's letter. This is a hurt and tired woman's letter." In that moment, the decadence and the diva trappings melt away, and Callas the human is briefly available to us, before ducking into the Rolls Royce and speeding off once more.