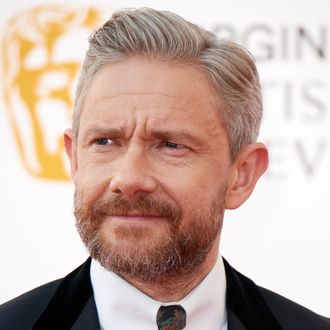 If you're thinking about having kids, Martin Freeman has got the perfect show to distract you while you wait for the pregnancy test to give you a result, your surrogate to call and/or the adoption agency to give you the good news. According to The Hollywood Reporter, the Sherlock actor will star in the upcoming FX comedy, which just got picked up for a ten-episode straight-to-series order.
If you have absolutely no interest in babies, however, it looks like Breeders is probably still for you, since it reportedly "exposes the parental paradox that it is possible, in the very same moment, to love your child to the horizon of the universe, while being apoplectically angry enough to want to send them there."
Episodes actress Daisy Haggard will star alongside Freeman, who plays "a caring father discovering he's not quite the man he thought he was." So if he can bring a life into the world, surely you can too. Unless, of course, his character completely blows it and alienates his child for life. We have no way of knowing without screeners. A lot can happen in ten episodes.