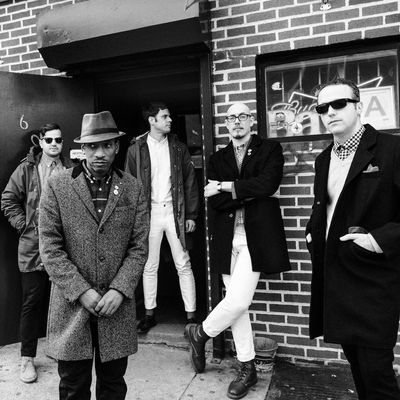 The mood playlist is perhaps the purest form of service journalism a music curator can offer the world in this internet era; bravely spelunking into data-clouds oversaturated with media to emerge with carefully selected gems that fit into people's actual lives. Numerous streaming services offer this kind of curation, humans and helpful algorithms working together to supply you with your Coffee Shop Workflow playlist; your Precocious Kid Party playlist; your Intense Cardio playlist; your nostalgic Shower Karaoke playlist and — best of all — your Beach Resort Tropical House playlist. But while these cybernetic DJ teams may be unparalleled in their ability to fit a mood, it is beyond their combined powers to change the mood. For in these days of deep states, proliferating trollbots, and rising fascism, all moods are actually one mood: Dread.
Whatever playlist you cue up can only hope to mute the sound of screaming-on-the-inside; the low-key panic, punctuated only by intermittent bursts of high-key panic, that is the order of the day; a Zeitgeist that lives up to its haunted Germanic name.
We are not, of course, the first generation to live with fascism or face the possibility of end times, and any serious music fan probably already has a decent start on their Armageddon playlist. No rhythm, for instance, braces the listener for apocalyptic times quite like a particular strain of reggae, the heavy rockers and dub of the late '70s. The year 1977 — when "two sevens clash" — was the subject of many dire predictions, warnings of blood and fire that reggae's Rasta troubadours attributed to Marcus Garvey. Not surprisingly the first, angriest wave of U.K. punks drew considerable inspiration from the sound, expressed in street-level clashes with the police and National Front skinheads as much as in their songs. Ironically, however, this particular mood seems to be almost entirely missing from the current musical landscape, in spite of reggae's seemingly ubiquitous presence on the global playlist. The tropes of Jamaican music pop up (in Sean Paul's cameo on a Sia hit or the one drop tempo of an Ariana Grande chestnut) almost as often than the 4/4 of EDM or the augmented 808s of trap, but nary a mention of blood, fire, or biblical plagues is to be heard.
This absence was also felt, notably, by Montreal/Brooklyn indie rockers Tim Fletcher and Gus Van Go, former lead singer and producer (respectively) of the New York–based band The Stills. In fact, putting together an apocalyptic punky reggae album was a longtime ambition the two friends had been talking about for years, a sort of rainy day/doomsday project, that eventually became a real band, called Megative.
"The beginning was many, many years ago," Van Go says. "Tim and I are on a superlong overnight drive in California listening to [The Clash's] Combat Rock …" Fletcher corrects him: "It was actually the daytime. We were driving from San Diego to L.A., it was just us two and we had Ratt Patrol From Fort Bragg which was like the Mick Jones director's cut version of Combat Rock, an unedited track list with all kinds of different versions of tunes, all kinds of samples, different lyrics. It's a terrible mix. It sounds like someone bounced a cassette tape to another cassette tape to another cassette tape and then left it in a shoebox for five years. But a couple of tunes that got left off the record are amazing. All the Clash albums are amazing but Combat Rock is the saddest, the strangest, and the most poetic. It's like an opium dream." Van Go sums it up this way: "We said, One day! One day we have to make the B album of this double album that never was".
After years of conflicting schedules, "one day" turned out to be four days at the top of 2016. In those four days, Van Go and Fletcher wrote and recorded three songs: "More Time," "Can't Do Drugz," and "Have Mercy," which still form the core of their self-titled debut, working in the studio with hip-hop producers Jesse Singer and Chris Soper who both joined the band as keyboardists and helped give the tracks the rhythmic and sonic weight appropriate to Armageddon songs.
In fact, despite of a powerful one-off cover of "Ghetto Defendant" — Combat Rock's darkest and dubbiest bop — Megative's sound might not, on first listen, be recognizable as an attempt to explore the world suggest by CR. Fletcher's haunting vocals have a cool distance and an airy quality that belies the often heavy lyrics (the text of "More Time" for instance, comprises the internal monologue of someone facing their own mortality, realizing they've spent their life pursuing all the wrong things) while Van Go's sinuous bass-playing is anchored by hard-edged drums that sound more like classic Mobb Deep than any punk or reggae record you could name. "More Time" opens with a heavy detuned bass drum and flangey snare pattern that recalls Massive Attack's experiments in post-modern dub (or perhaps the Gorillaz at their least cartoonish) but then gives way to an overflowing synth that sounds more like Timbaland glossing 8-bit electronica, in counterpoint with echoey melodica and an elephantine flugelhorn.
"Really what we took from CR is just the idea that you can be dystopian but really beautiful," says Fletcher. "You can be catchy and have choruses and pop appeal but be weird at the same time. You can fuse totally disparate things together."
In spite, or perhaps because of this refusal to be too precious about their very specific inspirations, Megative undeniably arrived at a gravity — that force-of-nature power that infuses the best dub and rockers reggae — that is worthy of being described as dread. "What I like about dub is that the anger that comes through is like GOD IS WATCHING. He's not happy with the way shit's going down and this is what it sounds like when he's not fucking cool with it," says Fletcher. "It shakes your spirit, it shakes your consciousness from the foundations. When it's done right it makes you super uncomfortable." Appropriately, at just this point in the conversation, rain forces us to move from a breezy beer-garden into the somewhat claustrophobic darkness of Van Go's Williamsburg studio, a low building with cars parked in front that manages to pull off a convincing impression of East London bedsit just a block or so from the Brooklyn waterfront.
There, the impressive arsenal of both digital and vintage analog gear Van Go has assembled to enable Singer and Soper to re-create their dubby studio weirdness in a live show is visible. It's equally clear that Megative can hit exactly the level of supremely satisfying discomfort, in part because both Fletcher and Van Go have put in their 10,000 hours with dub as a form, both as listeners who grew up on punky reggae and as instrumentalists who have mastered the nuances of up-chanks and down-chanks within the most deceptively simple line of rhythm guitar ("It's all about the down-chank," Fletcher confides. "That down-chank is a lifestyle."). It's a feat that's almost hard to imagine a band formed in the era of Auto-Tune pulling off. Fittingly, Megative has already received the nod of approval from some punky reggae legends, including Fishbone guitarist Chris Dowd (who has reportedly invited Van Go's input on that legendary band's next record) — as well as the man who is arguably the original punky dread, Don Letts himself.
On May 6, Letts, the British DJ, documentarian, and impresario who introduced the Clash (and many others in the first wave of punk) to the sound of reggae, debuted Megative's soaring sing-along chant "No Fear" on his BBC Radio 6 show "Culture Clash." It was Letts who took Joe Strummer to see reggae stageshows in Hammersmith, resulting in the Clash song "White Man in Hammersmith Palais." It was Letts who befriended Bob Marley when he played another Hammersmith venue and brought him 'round to the punk scene in the mid-'70s, almost certainly the inspiration for the Wailers' "Punky Reggae Party," which calls out the Clash by name in its lyrics. His recognition was a major boost for the band, who have been building buzz with a string of live shows across Canada as well as a scarce handful in New York.
Speaking by phone from London, the dread icon doesn't have much time for the bollocks. "The first thing is that I don't play any music on my show I don't like, and I haven't for ten years. This ["No Fear"] is no-nonsense music that justifies the space it occupies." That in itself is high praise, coming from the muse and unofficial fifth member of the Only Band That Ever Mattered. "I guess what spoke to me was this obvious extension of the whole punky reggae thing, that culture clash of sounds couldn't fail to speak to me. Actually," he stops himself. "That's not true. It could have been a load of shit. But they picked up on this bass thing that's very much a part of my inner being. When I listen to it, I can see where they're coming from but I didn't feel like it was a tribute thing. I really felt like it's a now version of what we've been doing back then. I actually hear Megative as part of an ongoing journey."
Clearly, the band was hitting all the right down-chanks. Yet something was missing. Or someone.
"Before we found him we were calling him Elijah," says Van Go. "We were leaving these empty verses out, because we knew we wanted another voice; a dancehall MC, somebody as far away from Tim as possible. The same way on Passover you leave a seat open for Elijah, we were leaving this place out in the songs. We started hunting around, put the word out to all our compatriots in N.Y., and eventually a DJ we know connected us with Screechy Dan. We checked out his stuff online and we were like, Oh my God. It has to be this guy."
Screechy Dan emigrated to Brooklyn from Kingston, Jamaica, in 1977, the same year the island capital was almost paralyzed by fears of apocalyptic disasters when the 7s clashed on July 7,1977 — the same year demonstrations against the U.K.'s fascistic National Front broke out into riots in Birmingham and other U.K. cities. Hailing from Trenchtown, the same downtown Kingston shanty which Bob Marley called home, you could hardly ask for a better ambassador of Jamaican music. "I still remember the address," the dancehall veteran says 20 years later, speaking by phone from Montreal during Megative's first run of live shows: "Two and 1/2 13th Street, Kingston 12. On 13th Street my next-door neighbor was Toots and I used to hear Toots and the Maytals as they rehearsed. Behind us on 12th Street there was a singer called Willow Wilson. In Willow Wilson's yard we used to have Johnny Clarke, Dennis Brown, Tom, Dick,and Harry — everybody!"
Along with a handful of other artists and producers (including Red Fox and Shaggy) Screechy Dan is responsible for helping to establish New York as a credible source of dancehall and reggae, on par with Kingston and London, a role immortalized most visibly via his massive 1993 dancehall hit "Pose Off" (a duo with Red Fox) but accompanied by a musical résumé far too long to list here. Bringing his long experience of ghostwriting and improvising live at stage shows and sound-system clashes, Screechy found his style fit perfectly with Megative's "missing verses." "He did all his verses' parts for those three songs in like two days," Van Go says of their first session together. "He's like, a writer's MC …" adds Fletcher. "Lot of first takes." Or as Screechy puts it: "I just listen to Tim and try to tap into his whole vibe. The concept is there so that makes it easier for me to bring the words."
With the natural musical fit and easy collaboration that flowed from Screechy's addition to the band, development of the Megative sound and recording on the album began in earnest. But that process also happened to coincide with a reactionary swing in U.S. politics that eerily mirrored the darkest moments of 1970s and '80s, right down to street-level violence between anti-fascist demonstrators and alt-right heirs to the National Front's fascist ideology. Against this backdrop, the newly formed band fleshed out its personnel in a way that embraced the more utopian side of their punky reggae roots, consciously reaching across racial lines to build an inclusive (if all all-male) lineup that could handle the band's reverently weird approach to dub, a recruitment process that added Alex Crow on guitar, Demetrius "Mech" Pass on drums, and Jonny GoFigure, the youngest selector from New York's Deadly Dragon Soundsystem, who handles percussion and opens the band's live shows with a proper selection of reggae 45s.
A Guyanese-American and self-confessed closet two-tone fan whose family also has branches in the U.K., Megative's newest crew member is nevertheless one of the best spokesmen of its vision: "You got 45 in office, there's a lot of crazy things going on in the world, but I feel the power of music will overcome that. It's such an important thing that we have something like Megative in 2018 to remind us, Yo, we can really all get together and do something with like minds. Doesn't matter if I'm black, you're white. To me, that's solidarity."
Not that the easy, brotherly love among the band members has dulled their tendency toward the dark and dystopian. As Fletcher says, "Whenever there's a choice to be made in the studio, I'm just like, Go with whatever is the loneliest, scariest, weirdest-sounding thing possible. I want to ride that fader till the max, the alienation fader. Otherwise people are not going to hear the alienation."
"If you accept the premise that we live in a world where we all divided and disconnected," says Van Go, "… as an artist you have two choices; make music that's so full of joy it brings people together. Or what we do." In another bit of the conversation, he finds himself describing the way the contribution of the various bandmembers meshes together as "fusing punk reggae and indie rock and hip-hop all in one happy soup." But then he pauses. "Or actually, one terrified soup. Then we can all be unified and angry and scared together. But it's fun to be terrified when you're in this band."