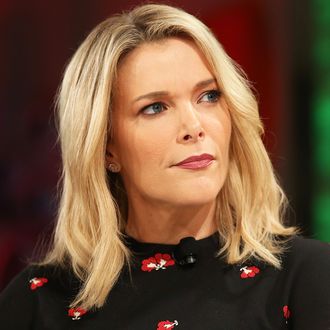 Photo: Phillip Faraone/Getty Images for Fortune
NBC and Megyn Kelly's legal representatives were in contact Thursday to set up a meeting regarding her future at NBC News, as reports circulated that Megyn Kelly Today will end in the wake of comments she made on air defending the use of blackface in Halloween costumes.
Kelly's attorney Bryan J. Freedman has asked that former NBC correspondent Ronan Farrow attend the meeting as a witness, which could happen at the earliest on Friday. On her show in September, Kelly called for an independent investigation into why NBC News refused to air Farrow's Harvey Weinstein exposé, a story which later earned him a Pulitzer Prize at The New Yorker.  "Is this retaliation? That's what this is about," a source familiar with the conversations said.
Kelly's team is expected to bring up several topics in the meeting, including the controversies surrounding MSNBC anchor Joy Reid's homophobic rhetoric on old blog posts and Real Housewives of New York City star Luann de Lesseps dressing in blackface as Diana Ross for Halloween. "Both of them still work there," the source said. "All Megyn did was talk about it and apologize."
In recent months, prior to the blackface controversy, tensions have reportedly grown between Kelly and NBC News management. Sources with knowledge of the situation say that NBC News chairman Andy Lack disapproved of Kelly aggressively covering stories about sexual harassment on her show, particularly those stories related to NBC and disgraced anchor Matt Lauer, who was fired last November.
Though Megyn Kelly Today has struggled to attract viewers since its debut in September 2017, Kelly's latest troubles began Tuesday when she debated on her show whether wearing blackface is racist, claiming that it was okay as long as "you were dressing up as a character." She later apologized to her NBC colleagues and on air to viewers the next day.