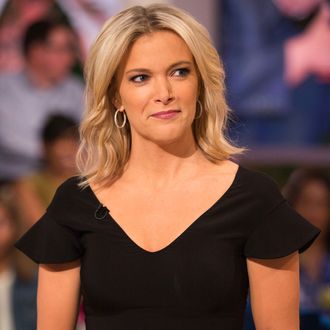 Megyn Kelly.
Photo: NBC/NBCU Photo Bank via Getty Images
Megyn Kelly's time on Today has come to an end. "Megyn Kelly Today is not returning," an NBC spokesman confirmed Friday. Vulture had learned that her lawyers will meet with NBC executives as soon as today to discuss her future. According to NPR's David Folkenflik, Kelly "will not return to the network," though the network has not made a statement about her larger future with NBC.
Earlier discussions between Kelly and NBC higher-ups about her role reportedly started a few weeks ago, according to The Hollywood Reporter, placing them well before her comments about blackface Halloween costumes not necessarily being racist — comments for which she has since apologized, and which prompted NBC News chairman Andy Lack to say at a company town hall Wednesday, "There is no other way to put this, but I condemn those remarks, there is no place on our air or in this workplace for them. Very unfortunate."
According to THR, "The discussions are at least an acknowledgment that the experiment is not working and that Kelly would prefer to be covering more as she did with the Brett Kavanaugh hearings." The former lawyer and Fox News host, as THR points out, "has often seemed to chafe at the lighter requirements of the job" on Today. (You'll recall that early interviews with Jane Fonda and the cast of Will & Grace did not get Kelly off to a strong start in her new job.) Lack apparently added at the town hall meeting that, "As we go forward, my highest priority remains, and as we sort through this with Megyn — let there be no doubt that this is a workplace in which you need to be proud and in which we respect each other in all the ways we know is foundational to who we are."
Kelly, who has a three-year deal with the network that comes with a reported $69 million payday, was said to be displeased with the chairman's condemnation of her following her various apologies for those very poorly chosen blackface comments. In recent months, tensions have reportedly grown between Kelly and NBC News management. Sources with knowledge of the situation say that Lack disapproved of Kelly aggressively covering stories about sexual harassment on her show, particularly those stories related to NBC and disgraced anchor Matt Lauer, who was fired last November.
On Friday morning, the Today show reported that Megyn Kelly and NBC were indeed in exit negotiations. "Conversations have already started about Megyn's exit from the network," a source told NBC reporters Thursday night. Another source said it looks "extremely unlikely" that she'll stay at the network, and that Kelly's representatives are expected to meet with NBC on Friday. Likely among the negotiations: How much of Kelly's $69 million contract — she's paid $23 million per year, on a three-year deal signed in January 2017 — she'll receive upon her exit.
With the announcement of Megyn Kelly Today's cancellation, the NBC spokesperson added that "Next week, the 9 a.m. hour will be hosted by other Today co-anchors."
This post has been updated throughout. Maria Elena Fernandez contributed reporting.