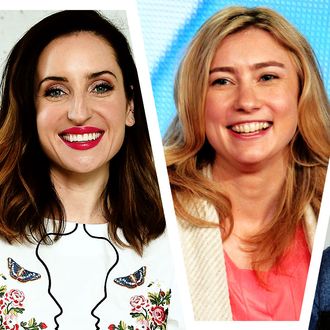 Zoe Lister-Jones, Liz Meriwether.
Photo: Getty Images
Liz Meriwether is keeping busy these days with another TV project in the works at ABC. According to Deadline, the network has given a put-pilot commitment to a single-cam comedy from Meriwether, Life in Pieces star Zoe Lister-Jones, and Jason Winer titled Woman Up. Written by Lister-Jones, the show centers on "two former teen moms who have worked their asses off to see their daughters all the way through high school graduation. And now, at 37, they're ready to make up for the youth they never had."
In addition to starring on Life in Pieces, Lister-Jones most recently wrote and directed last year's independent film Band Aid. Meriwether, meanwhile, is also behind the upcoming ABC comedy Single Parents starring Leighton Meester, which was given a series order back in May. Winer serves as an executive producer on both Life in Pieces and Single Parents.
Update, January 31, 2019: ABC announced today that it's ordered Woman Up to pilot.