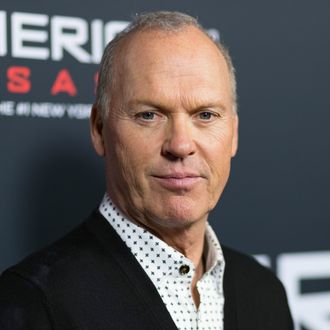 Photo: Christopher Polk/Getty Images
Much like the tech magnate himself, the perpetually-upcoming John McAfee film King of the Jungle has proved an elusive get. According to Deadline, however, the movie, based on Joshua David's 2012 Wired article "John McAfee's Last Stand," has just nabbed Michael Keaton and Seth Rogen for the film's leads. Keaton will portray the McAfee antivirus software tycoon in the film, which recounts McAfee's life as an wealthy ex-pat living on a compound in Belize.
Rogen, meanwhile, will portray "Wired magazine investigator Ari Furman" who travels to McAfee's estate to write a profile and, well, reportedly gets "pulled into McAfee's escalating paranoia, unhinged reality, and murder." McAfee, suspected of allegedly killing his neighbor Greg Faull (an accusation he has denied), subsequently fled the country for Guatemala and eventually the United States. McAfee later ran against Gary Johnson to be the Libertarian Party's 2016 Presidential candidate, which is a built-in sequel if we've ever seen one.