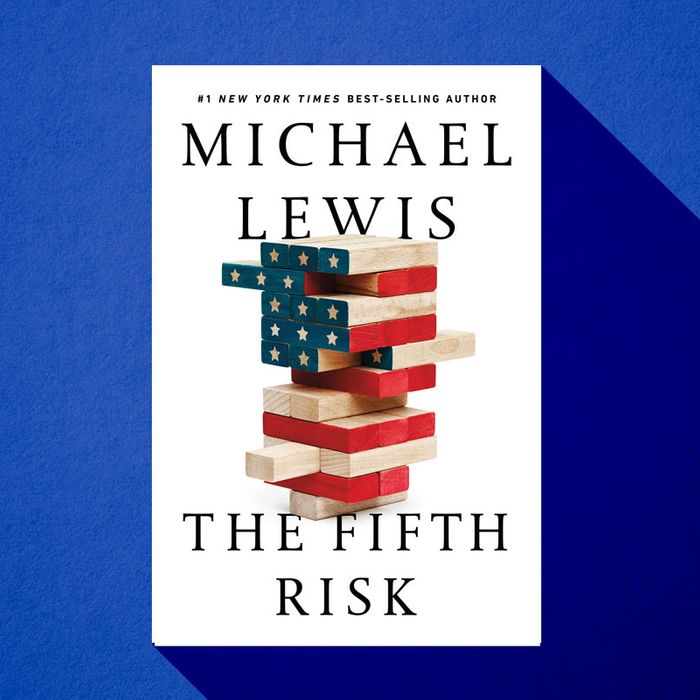 There are no dramatic television shows plumbing daily crises at the Departments of Commerce, Energy, and Agriculture — no Sorkin walk-and-talk procedurals where sharply dressed scientists toss around solutions to some of America's most important, least understood potential catastrophes. But the writer Michael Lewis has a pretty good track record for spinning wonkery into captivating best sellers that become Oscar-bait blockbusters. So in the wake of high praise for his new book, The Fifth Risk ( "his most ambitious and important," per the New York Times), the National Oceanic and Atmospheric Administration's days in obscurity might be numbered.
A compilation of two virally popular Vanity Fair stories and an Audible original, The Fifth Risk, according to virtually every reviewer out there, does the impossible. It makes bureaucracy — hell, even bureaucracy about farming — "spellbinding" and "fascinating." It makes soybeans and nuclear-waste storage and the census "exciting" by, essentially, reminding us that we know next to nothing about how the government works daily to keep America from sliding into an existential (or literal) sinkhole.
Any book by Michael Lewis — "the poet laureate of computer-driven data analysis," per Joe Klein in the New York Times Book Review — is met with the book-publicity equivalent of ticker-tape parades. He chats with Gayle King and Terri Gross, and does the full complement of seven-minute guest spots on national TV. (He also happens to be quite telegenic.) As the New Statesmen's Sophie McBain explained, "Lewis has a gift for identifying seemingly dry, inaccessible subjects … and spinning them into epic stories with Hollywood appeal." So a Lewis book about the Trump administration speaks to multiple demographics — certainly wonks, and probably also fans of Christian Bale wonking out in the film version of The Big Short.
But these are tough times in which to vie for America's fickle attention. The clamor of books about politics — especially about the red-tied black hole of ineptitude, corruption, and indignity occupying its dead center — is deafening. The month has barely begun, and already, in addition to Lewis's book, there is Washington Post reporter Greg Miller's The Apprentice, on "the Kremlin's attempt to destroy Hillary Clinton and help Donald Trump win the presidency," and Stormy Daniels's Full Disclosure. These releases follow Michael Wolff's barn-burning Fire and Fury and Bob Woodward's Fear, West Wing chronicles of terrifying high jinks, scandalous intrigue, and unchecked partisan absurdity.
But The Fifth Risk veers in another direction. The most valuable thing about the book, one reviewer notes, is that it "is not some 'deep state' manifesto; Lewis does not lionize efforts to secretly undercut Trump administration policy from within, and none of his heroes seem like types who would write anonymous op-eds proclaiming their resistance." As Klein writes, Lewis "doesn't proselytize or offer solutions to fix our ailing democracy, which makes The Fifth Risk all the more effective as a call to arms." Instead he focuses on the nonpartisan problems that the Trump administration has outright ignored due to a contagious "incuriosity," what-if scenarios that ought to scare the shit out of all of us: plutonium leaching into Washington State's rivers, deterioration of the National Weather Service's tracking and warning abilities, a sarin gas attack courtesy of North Korea. As Politico's Timothy Noah put it in a review by way of Twitter thread, "While major media outlets have been transfixed by mayhem at the White House, they've largely ignored much more consequential mayhem at the Cabinet and independent agencies, where the actual business of governance takes place."
It's a "love letter to federal workers," for sure, but it also largely ignores politics and ducks underneath the red tape. Maybe it'll wake up more people than Woodward and Wolff ever could. Or maybe even plutonium seeping into a major watershed is now a partisan issue, and we're all doomed.