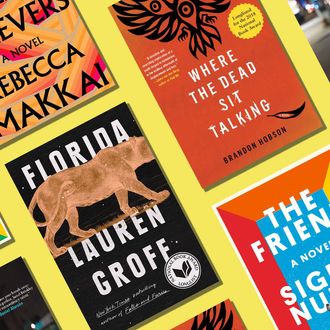 Make some room on your bookshelf. The 25 finalists for this year's National Book Awards have officially been announced. Some writers have been here before — Terrance Hayes, who won the poetry award in 2010 for Lighthead, and Lauren Groff, who made the fiction short list in 2015 for Fates and Furies — but there are plenty of newcomers, and a few new developments. This year marks the first time in decades that the National Book Awards have added a competitive category — a prize for Translated Literature, which hasn't been awarded since 1983. Former finalist and Pulitzer Prize–winner Jhumpa Lahiri is up for the new award, for translating Domenico Starnone's Trick from its original Italian.
This was also only the fifth year the National Book Awards released a long list of finalists in September. In the fiction category, the short list excludes two notable sleeper literary best sellers that made the long list: Tommy Orange's There There, a linked story collection concerning Native Americans in Oakland, California, and Tayari Jones's Oprah-certified An American Marriage, a tale of racial injustice in the South.
Winners will be announced at the 69th National Book Awards ceremony on November 14. See the full list of nominees below.
Finalists for Fiction:
Jamel Brinkley, A Lucky Man
Graywolf Press
Lauren Groff, Florida
Riverhead Books / Penguin Random House
Brandon Hobson, Where the Dead Sit Talking
Soho Press
Rebecca Makkai, The Great Believers
Viking Books / Penguin Random House
Sigrid Nunez, The Friend
Riverhead Books / Penguin Random House
Finalists for Nonfiction:
Colin G. Calloway, The Indian World of George Washington: The First President, the First Americans, and the Birth of the Nation
Oxford University Press
Victoria Johnson, American Eden: David Hosack, Botany, and Medicine in the Garden of the Early Republic
Liveright / W. W. Norton & Company
Jeffrey C. Stewart, The New Negro: The Life of Alain Locke
Oxford University Press
Adam Winkler, We the Corporations: How American Businesses Won Their Civil Rights
Liveright / W. W. Norton & Company
Finalists for Poetry:
Rae Armantrout, Wobble
Wesleyan University Press
Terrance Hayes, American Sonnets for My Past and Future Assassin
Penguin Books / Penguin Random House
 
Diana Khoi Nguyen, Ghost Of
Omnidawn Publishing
Justin Phillip Reed, Indecency
Coffee House Press
Jenny Xie, Eye Level
Graywolf Press
Finalists for Translated Literature:
Négar Djavadi, Disoriental
Translated by Tina Kover
Europa Editions
Hanne Ørstavik, Love
Translated by Martin Aitken
Archipelago Books
Domenico Starnone, Trick
Translated by Jhumpa Lahiri
Europa Editions
Yoko Tawada, The Emissary
Translated by Margaret Mitsutani
New Directions Publishing
Olga Tokarczuk, Flights
Translated by Jennifer Croft
Riverhead Books / Penguin Random House
Finalists for Young People's Literature:
Elizabeth Acevedo, The Poet X
HarperTeen / HarperCollins Publishers
M. T. Anderson and Eugene Yelchin, The Assassination of Brangwain Spurge
Candlewick Press
Leslie Connor, The Truth as Told by Mason Buttle
Katherine Tegen Books / HarperCollins Publishers
 
Christopher Paul Curtis, The Journey of Little Charlie
Scholastic Press / Scholastic, Inc.
Jarrett J. Krosoczka, Hey, Kiddo
Graphix / Scholastic, Inc.