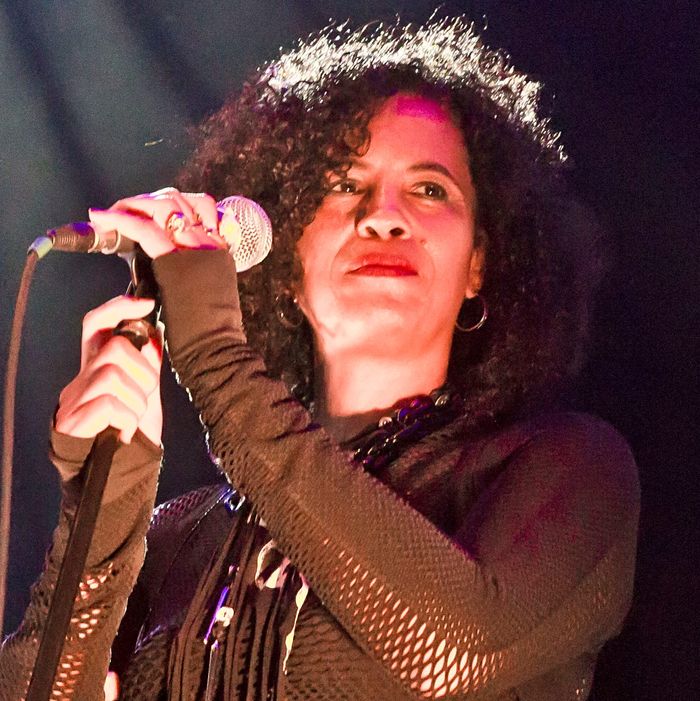 Photo: Frank Hoensch/Redferns
Not quite ten minutes into Neneh Cherry's latest album, Broken Politics, she purrs atop a delicate vibraphone line: "It's my politics / living in the slow jam." That line captures Cherry's peculiar sense of space in music. Though Broken Politics is only her fifth solo album in 30 years, Cherry remains a stylish icon, spanning punk, pop, dub, hip-hop, dance, and all sonic spaces in-between, ever exploring herself and her place in the world. Neneh was born into a particularly creative household: her mother Moki was a striking Swedish visual artist, and her stepfather, the musician Don Cherry, was one of jazz music's most fearless explorers, both alongside Ornette Coleman in his classic quartet and elsewhere. (The vibraphone mentioned above is played by Karl Berger, a longtime Don Cherry collaborator, which brings the Cherry connection full circle.) As a teen, Neneh fell in with London punks like the Slits and Rip Rig + Panic, before her own solo career led her to the top of the charts with "Buffalo Stance."
Judging by the title, Broken Politics is a comment on our present moment. But it also speaks to interiority, as well: The 12 songs are by turns ruminative, angry, disappointed, and quietly defiant. So what does it mean to have your politics be living in a slow jam? "I was tapping into my sense-memory of being 20 and how important the dialogue of music has been for me, politically," Cherry said, speaking from her home in London. "I was trying to remember that feeling of being in a room with people and everything makes sense. You often feel misunderstood and you're in this warm place of sound and feel included." So while her latest might scan as her most political to date, throughout her life, her music has always had a political current running through it. Vulture asked her to discuss a few significant songs from her long career.
Don Cherry and Organic Music Theatre, Live in Italy, RAI Studios, 1976
This is a performance from Don Cherry's Organic Music Theatre, recorded and broadcast on Italian television in 1976. About thirty minutes in, we see you seated between Don and your mother Moki. Then you get up and dance.
I have seen this video. In fact, we watched it soon after my mother's funeral. The day after the funeral we watched this on the big screen in the family home, where a lot of that music came together. The idea that Don and Moki had for the Organic Music Theater incorporated life; the way that they were living played a big part [in] how they were creating the music and the art. The family was at the core and center of that. Eagle-Eye [Neneh's half-brother] and I were a big part of that life-force for those ideas. It was a continuing thing, the creativity as a part of the life and the home. The music was made at the same time we were playing or while food was being made. Whatever else needed to happen. My mother wrote a great collection of words describing that: "The stage is the home and the home is the stage."
My parents were very much committed to finding your own voice. They liked to work with artists who could share but who also had a strong, individual core. Don enjoyed playing with the genius jazz players, but he was also committed to more naïve musicians that had an openness and innocence to what they were doing. The doors weren't closed. I got to a point in my life now where I'm appreciating how the valuable groundwork my family laid has given us this platform we're on now. A lot of their ideas then were ahead of their time, but they were 'in time.' I feel those threads are vital spinal cords, I'm connecting to them more and more. The journey I have taken, that's the root. That lifestyle and way you lived and where the ideas were born was very political. The music was political. They were creating a kind of independence. At the core, these were freedom songs, searching for freedom within all of the things that take place around you.
Rip Rig + Panic, "Constant Drudgery Is Harmful to Soul, Spirit & Health"
[Laughs.] None of the Rip Rig + Panic songs had titles that had anything to do with the songs. I never know what song is being referred to. I joined the group near the end of the recording. I ended up with the London punks because of my family. All the seeds were planted where I grew up in Sweden. I met Gareth Sager (from Rip Rig) when Don was on tour with the Slits. There was a strong influence from [Don Cherry's 1975 album] Brown Rice and the music my family was a part of and that's maybe why there was a strong connection. It was monumental in my coming out, because I found a freedom in punk. The music was familiar to me. It was musical and avant-garde and free with a simple kind of spirit, but for my generation. We were carrying it on in our own way. I never felt I was doing it because of my family or my upbringing.
I was only 16, but it didn't matter. It was about doing it and what we were saying. It's interesting to me when I think about self-made politics, what it means to be a human being, the aspect of being and sharing thoughts and ideas as a family. Maintaining and being true to yourself, how important and how powerful that is. How powerful the voice of survival in politics is, telling the stories and telling your stories through music. Definitely the music I grew up with is very much about that and I think all the music that appeals to me has always been about questioning or answering back or provoking a riot with frequency.
1981 was a fraught time in London with Margaret Thatcher in power and race riots in Brixton, Birmingham, Leeds, and Liverpool. What was the feeling in the air at that time?
It was a mixture of a very volatile energy and edginess, a sense that it would take very little to tip the pot. There was frustration and anger and at the same time, that is provoked by consciousness. You're on the edge because you're conscious of the fact that things are wrong. We live in a time like that now. There's a thin line because people are frustrated and unhappy [with] the way that things are going and there's a very strong sense of neglect. Education is crumbling, health care and economic survival, fascism, racism, we're right there and it's washing over us everyday.
But it's interesting, isn't it? You're also provoked into having to think about things, you're challenged by these elements everyday. It makes for a very important dialogue at the end of the day, because you can't contain it in a box and pretend it isn't there. That era is like that. I got into following sound systems like Jah Shaka at the time and there was this consciousness and this sense of pride and uncompromising spirit, and a lot of youth men and women carrying their heads high and strong.
Raw Sex, "Stop the War" b/w "Give Sheep a Chance"
What had been punk evolved into a place where a lot of those ideas and sounds people were making were cross-pollinating. Reggae and dub was a huge influence. The Falklands War was happening at that time. I had been offered a one-off with Island Records. It was the first time I combined melodic singing and some rapping. That was where my head was at, listening to hip-hop in downtown NYC clubs.
Wars make a lot of money. They kill a lot of innocent people and cause a bunch of shit. But wars are a bloodsucking device to have more power, to get elected, to get reunited with the White House, and it turns over a lot of cash. On a regular basis, people want to go to war for those benefits. It's a vampire. Those same mistakes are [made] on repeat.
Neneh Cherry, "Buffalo Stance" (live on Top of the Pops)
You performed your big hit on Top of the Pops while pregnant with your second child, which caused a furor in the U.K. This was a few years before Demi Moore appeared on the cover of Vanity Fair and decades before the likes of M.I.A. and Cardi B also showed off their baby bumps during performance.
Was it revolutionary? No one comes into the world without passing through a woman. That's the only way in or out! I had already been pregnant and doing gigs until seven months along. I didn't feel that it should be done any other way. I was interested in caring for and carrying my child, but I think that actually it gave me spirit and it worked for me. I was more interested in doing it that way. I wasn't going to go away from the public eye or wrap myself in a big sheet or have them film me from the neck up.
I'm interested in change, in changing things. I'm allergic to the confinements of society saying, "You can't do that." I didn't do it to be provocative, I just want to get on with this, and that's what we did. It was weird signing a solo deal and being conscious of that oppression lurking for women out on their own, the entrapment of sexy: "Be sexy; be smiling all the time."
Neneh Cherry, "Manchild"
"Manchild" has been described as being about a full-grown man who has a little more growing up to do. Are men held to a different standard and not held accountable for their actions?
There was a lot of attention given to the fact that I was pregnant during this time. Director Jean-Baptiste Mondino came to my house a few weeks after my second daughter was born. It was a continuation to have the baby with me for the video. He built this camera that rocks side-to-side so the video has this cradle effect. I'm definitely a woman, but "Manchild" was an attempt to communicate through my womanhood to relate to what it might be like to be a man. I was trying to have some insight. It's not easy for men to be human. The role-playing of men, I was trying to sympathize with those notions of being a man. It's not a dig, but empathic.
Youssou N'Dour featuring Neneh Cherry, "7 Seconds"
This song reminds me of what your father did, crossing and interacting with other cultures. I was also surprised to see it has over 60 million views on YouTube.
Music is one place where there shouldn't be any boundaries. We don't have to be stuck behind borders; music is a dialogue. For me and Youssou, it was important to make that reach and make an exchange culturally and sonically. Youssou was a new generation and a pioneer of Africa. Now Africa is so strong, look at Afrobeats and what's coming out of South Africa and the music is just flying through. There was the politics of that, our different languages, and Youssou went beyond that tag of "world music" and that's what we were trying to do, celebrating diversity and representation and making a sound of "now."
Neneh Cherry, "Kong"
The video touches on ideas of colonialism and the current refugee crisis and yet there's a sense of futility in the line: "I'm a member of shattered illusions."
I feel very sad and angry about so many things. Broken Politics are broken promises. Thinking about refugees and people who have to leave, very desperate situations. That is what's forgotten. People who [are] leaving their family, who they love. I don't want to take someone's place and these are real stories. I was just trying to feel myself where I'm leaving, where I'm heading to a place where maybe there's been a promise that I can provide for my family, I can find something better. I take this crazy life-threatening journey to come to this environment of promise and wealth and stability. And your illusions are crushed. You instead face this thing where you're an afterthought and seen as a creature who just feeds off the land. The diversity is what makes it beautiful. When I walk around in London, the combination of everything is what makes it.