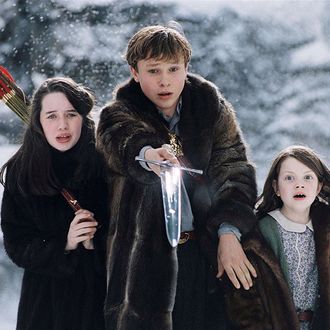 Think of all the British children this will employ!
Photo: Walt Disney Pictures
In the wake of Game of Thrones, it looks like all future TV or movie-like content must be fantasy. Today, Netflix has announced plans to develop "new series and film projects" based on C.S. Lewis's The Chronicles of Narnia book series. From the sound of it, this won't be one unified series, but a collection of "classic stories from across the Narnia universe" that get will be adapted into various projects. Mark Gordon of Entertainment One (eOne), Douglas Gresham, and Vincent Sieber are acting as the executive producers for potential series and as producers for features. According to Netflix, this is the first time one company has held the rights to all seven Narnia books — just think of how many Christian allegories Netflix has at its disposal.
The news comes after Amazon announced plans for its own fantasy projects, including an adaptation of the Wheel of Time books as well as future work with Neil Gaiman. It's also invested heavily in some sort of Lord of the Rings series. HBO, meanwhile, will air the BBC's splashy adaptation of the His Dark Materials books worldwide. Just wait until CBS All Access gets the rights to the D&D game your cousin ran in ninth grade.