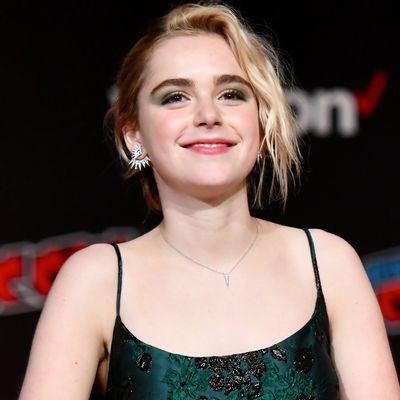 Photo: Noam Galai/Getty Images for New York Comic
At New York Comic Con 2018, the network that already knows what you like brought a new meaning to Netflix and Chill — the streaming giant debuted its new batch of alternatively gothic, off-beat and flat-out terrifying horror TV series and films. In a rather two-and-a-half hour panel featuring the cast and creators of The Umbrella Academy, The Haunting at Hill House, Dark Crystal: Age of Resistance and Chilling Adventures of Sabrina, with a screening of the first full episode of Sabrina, Netflix revealed several flavors of freakishness and frights befitting the Halloween season. Here's a list of five things to know about these new shows and movies.
The Umbrella Academy is an adaptation of a comic written by an alt-rock star and starring an X-Man, a former super-powered Misfit, a Hamilton star, a U.N. ambassador and an award-winning international R&B sensation, several of whom learned some new skills for their roles.
The Umbrella Academy is an Eisner Award-winning Dark Horse Comics series created and written by Mr. Black Parade himself, Gerard Way of My Chemical Romance. This adaptation, about an estranged family of siblings with superhuman abilities who must come together to solve a case about a murder, includes a cast of heavy-hitters with a wide range of star appeal: Ellen Page, who's starred as Kitty Pryde in the X-Men movies; Robert Sheehan, popularly known as Nathan Young from Misfits; Emmy Raver-Lampman, of the national tour of Hamilton; teen actor Aidan Gallagher, a U.N. Environment youth activist; and Queen of Hip Hop Soul Mary J. Blige.
… And speaking of Miss Mary, Blige channeled her inner ninja-assassin-warrior for the role, saying, "I've never played anything close to this. I've always wanted to be the superhero or supervillain or an assassin or something that you have to learn martial arts or learn how to shoot a gun [for] because I wanted to learn how to shoot a gun, I wanted to learn how to do martial arts. It was perfect. I picked up some skills." But Blige wasn't the only one who picked up some new skills; for a dance montage, the cast had to groove in ways that were a bit unorthodox. Tom Hopper recalled his particular challenge for the scene, saying, "It was in the script. I start doing the watusi, and I was like, 'What the hell is the watusi?' I had to look that up." And for Page, whose character is a master violinist, her challenge was the stringed instrument itself: "Kudos to anyone who plays the violin because holy fucking shit, just holding the goddamn thing is hard."
The Haunting of Hill House will mix horror with trauma and family drama across different timelines.
This series, premiering October 12 just in time for a pre-Halloween binge, is based on the Shirley Jackson book but takes a different approach to the story of a family in a haunted house. The series presents the tale over the course of two time lines, in the past and in the present, and focuses on how the different family members deal with the trauma they've endured. "The way the show is structured is that the first five episodes are basically the same day but replayed from each sibling's point of view, and then the whole show, the present-day show, only takes place over four or five days," said actor Oliver Jackson-Cohen, who plays Luke Crain in the show.
Dark Crystal is bringing back all of Jim Henson's puppets, with not a human in the show.
The ten-episode prequel series will dive into the culture of Gelflings like protagonists Jen and Kira, and focus on world-building. For fans of the 1982 film who remain skeptical, the series creators are aiming to stay as close to the original movie's vibe as possible. Jim Henson's daughter, Lisa Henson, is at the helm as executive producer and wants to keep those kind-of-adorable-but-actually-creepy puppets at the forefront. "I love CGI. We're not using CGI on this one. It's all puppets," director Louis Leterrier assured the crowd. "We have no humans in the show. We did have pretty much every puppeteer in England. I think everyone worked on this show. It was a massive endeavor," said Henson.
Joining Sally Draper in Chilling Adventures of Sabrina are a Time Lord and a Warrior of Rohan.
Kiernan Shipka, the eponymous witchy star of the show, is best known as the daughter of Don Draper in Mad Men, is joined by a darkly seductive Michelle Gomez (Missy from Doctor Who) and Miranda Otto (of course The Lord of the Rings' "I Am No Man" Eowyn from Rohan). But these characters are far from the ones from the '90s series; Aunt Zelda and Aunt Helda are more suspicious (and homicidal) than loving, Salem's first appearance is a bit monstrous and Sabrina, though still infinitely lovable, faces much of her own darkness — as well as the darkness of her world, full of mean-girl witch trios (think the Plastics but goth), scissor stabbings, spider curses, Satan and his devilish agents and toxic masculinity. And that's just in the first episode.
There's still a chance for a Sabrina/Riverdale Crossover sometime in the future.
Roberto Aguirre-Sacasa, the executive director of Sabrina as well as the executive producer of Riverdale, said that there's a chance that the worlds of both of the dark teen dramas can collide in the future: "I love when comic book characters cross over, so it's a dream. Right now we're focused on getting Sabrina out there and making sure Riverdale's as good as it can be but I'm hopeful."