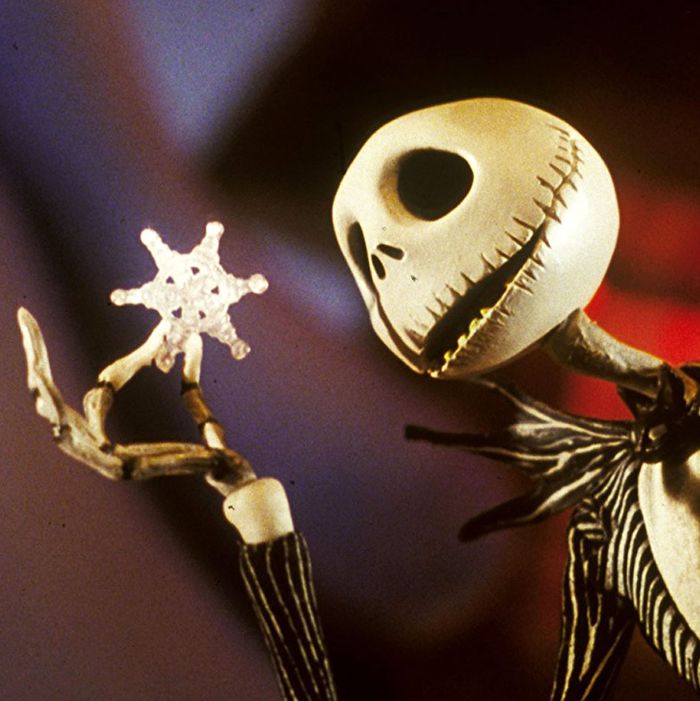 Photo: Walt Disney Studios Home Entertainment
This Week's Highlights
The Nightmare Before Christmas (1993), Hulu
Is The Nightmare Before Christmas a Halloween movie? Is it a Christmas movie? For the sake of recommending it in October, let's call it a Halloween movie — it's about the King of Halloween Town, after all, and Tim Burton's specifically creepy-cute aesthetic (directed here by Henry Selick) lends itself more to the spookier holiday. But the highlight of the film is, of course, Danny Elfman's music, which turns the story of Jack Skellington's (Chris Sarandon) discovery of Christmas and subsequent existential crisis into the most improbable — and delightful — of musicals.
The Awakening (2012), Shudder
Upon first glance, the premise of The Awakening might seem familiar — Florence Cathcart (Rebecca Hall) goes around debunking supernatural hoaxes, and gets tangled up in something that might just be too much for her — but there's a twist. The reason Florence is hunting ghosts is because she's trying to discover whether or not she can bring her old beau back from the dead. It's a marvelously creepy — and underrated — horror film, with Imelda Staunton and Dominic West supporting Hall as she descends further and further into horror and trauma.
Donnie Darko (2001), Amazon
Yes, Donnie Darko is that movie, i.e. you've seen the poster on every college dorm-room wall, you've heard it referenced by everyone trying to prove they're deep (relative to how deep anyone can be in high school, anyway). The point is, it's just strange enough to be worth streaming for the Halloween season. One day, Donnie Darko (Jake Gyllenhaal) starts experiencing visions of "Frank," a figure wearing a black rabbit costume, who tells him that the world will end in 28 days. Is Donnie losing his mind? Is the world really ending? There's only one way to find out.
Wanderlust, Season One (2018), Netflix
If Hereditary shook you up too badly, give Wanderlust a spin to reset your view on Toni Collette. She delivers a much warmer — but just as compelling — performance as Joy, a therapist who comes to the conclusion, along with her husband Alan (the always terrific Steven Mackintosh), that the only part of their marriage that doesn't work is the sex. How to fix it? Start sleeping with other people. Though the plot ends up going in a predictable direction, the show's depiction of relationships is refreshingly honest, and shies away from being sensationalist.
Bend It Like Beckham (2002), Hulu
Besides featuring a soundtrack made up of all-time greats (Blondie's "Atomic," Bina Mistry's "Hot Hot Hot," "Nessun Dorma"), Bend It Like Beckham is a coming-of-age story that deserves more of a place in cinematic history. Parminder Nagra stars as Jesminder "Jess" Bhamra, who starts playing soccer despite her parents' forbidding her to play because she's a girl. She falls in love with her coach (Jonathan Rhys Meyers), sure, but more importantly, there's also her love for fellow player Juliette Paxton (Keira Knightley). The film has everything — it's got soccer, it's got romance, it's got comedy, it's got family drama, it's got a nuanced take on cultural clashes. What more do you need?
Marvel's Daredevil, Season 3 (2018), Netflix
No offense to Daredevil (Charlie Cox), but I genuinely cannot imagine anyone watching Daredevil and not rooting for Wilson Fisk (Vincent D'Onofrio) instead. There are plenty of good things about Marvel's Netflix series, but D'Onofrio's performance might just be at the top of the list. Daredevil season three marks Fisk's proper return since he tore his way through Daredevil's first season, and it's more than welcome. He's just as good — if not even better — in his quest for vengeance against those who've wronged him. (Yes, I am just writing this capsule as if Fisk is the main character.)
For more coverage of the best movies and TV shows available on Netflix, HBO, Amazon Prime, Hulu, and Showtime check out Vulture's What to Stream Now hub, which is updated throughout the month.